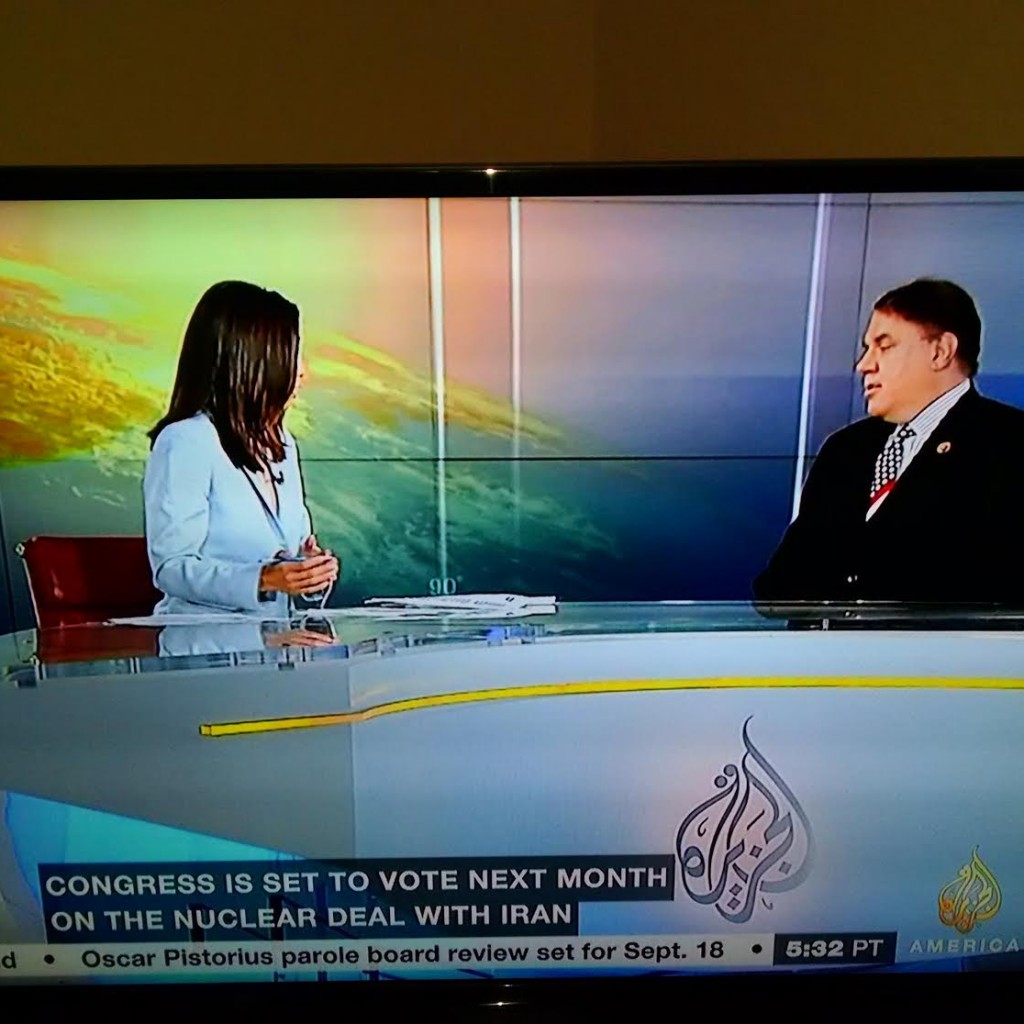 Orlando U.S. Rep. and Democratic U.S. Senate candidate Alan Grayson appeared on Al Jazeera America Thursday morning. During the interview he acknowledged that he's still undecided on the Iran nuclear deal, boasted about his legislative prowess (while disparaging two others running for Senate), and called GOP presidential front-runner Donald Trump "boring."
On the Iran nuclear proposal, where a veto-proof rejection from Congress could block the deal worked on for years by President Barack Obama, Grayson said that he remains undecided and, "frankly, conflicted," about which way to go on the deal.
Ron DeSantis, the Jacksonville congressman running in the Republican primary for Senate, recently criticized Grayson and South Florida U.S. Rep. Patrick Murphy, the other major candidate in the Democratic primary, for their reluctance to oppose the deal: "Sitting on the sidelines won't cut it when America's national security is at stake."
Grayson didn't hint about how he might vote, but his tone was more critical than supportive.
When asked about presidential politics, Grayson wouldn't say whether or not he supports Joe Biden getting into the Democratic race, but did say that the vice president has been a strong proponent of progressive values within the White House, and that he'd be happy to work with him if he's elected.
When asked about Republican front-runner Trump, Grayson reacted with the characteristic bluntness that has  made him a national favorite with progressives.
"I think he's really painfully boring," Grayson said. "I mean, if I were that way, I'd never show my face on TV. He just rambles on and on, never answers the question, never says anything about anything except for himself."
Carey responded that Trump's immigration plan has enough specifics to change the entire conversation within the presidential campaign, where Jeb Bush is now talking about "anchor babies" and there is now serious discussion among some candidates to eliminate the 14th Amendment to repeal birthright citizenship.
But Grayson would have none of it.
"I think it's subliminal racism," he said of Trump's proposal to deport the estimated 11 million to 13 million undocumented immigrants in the U.S. "I think what he's basically trying to do is bash the brown people, because that's what he thinks will win votes in a Republican primary."
Grayson denied any suggestion that his reputation for verbal bombast in any way makes him comparable to Trump, adding that such questions were lacking in substance.
"This is one reason why people don't like the media," he said. "It's not substantive. I'm substantive."
He then went on to tout the number of bills and amendments that he's passed during his tenure in Congress, an early theme in his campaign against Murphy. As has been the case in some recent web videos, he criticized Murphy for not passing any major legislation, and an indication of who he thinks might be his GOP opponent if he survives next August's primary, also knocked Pinellas County U.S. Rep. David Jolly for also not passing any legislation in his short time in office.
"I've been a legislative whirlwind," he said, "and gotten good things done for people by paying attention, finding those opportunities to act bipartisan, and actually getting good things done, something the media gives me no credit for, unfortunately."