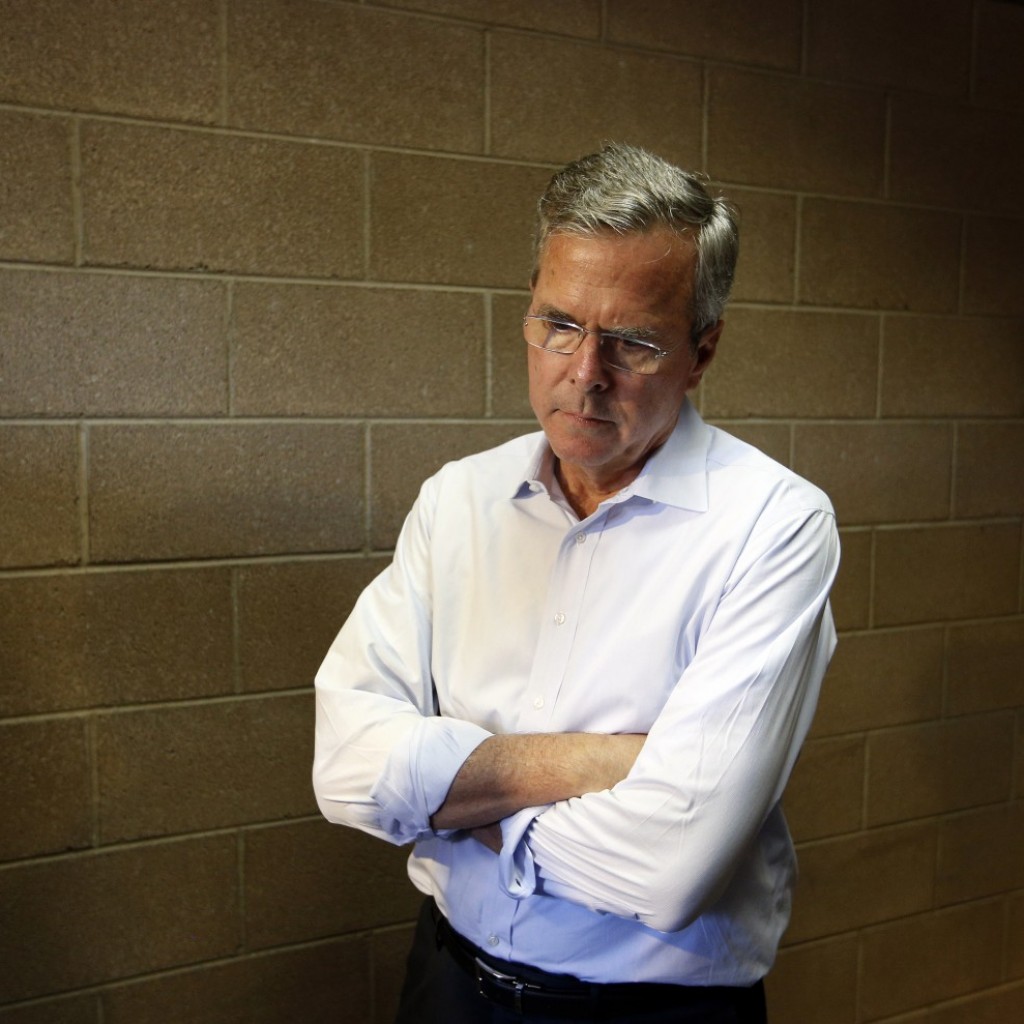 Jeb Bush assured reporters in Cedar Falls, Iowa, on Tuesday that, "We are in it for the long haul," and said he thinks he'll be able to pick up Scott Walker supports in Iowa. Though he has nabbed one such Walker backer – Iowa State Rep. Terry Baxter – he'll need a whole lot more if he's going to be competitive in the Hawkeye State, according to a new Public Policy Poll released Tuesday.
Donald Trump leads the field with 24 percent. Ben Carson is next with 17 percent, with Carly Fiorina now third there with 13 percent.
Next up are Marco Rubio and Ted Cruz, who are tied for fourth at 8 percent. Then follows Bush at 6 percent, where he's tied with Mike Huckabee. Next up is the now departed Walker, who received 5 percent in the survey conducted before he left the race Monday night. Bobby Jindal and Rand Paul are at 4 percent. John Kasich is at 2 percent, Chris Christie and Rick Santorum are at 1 percent. Lindsey Graham, Jim Gilmore, and George Pataki all at less than 1 percent.
PPP says that other than Walker, no other Republican has fallen so much over the past month in Iowa than Bush, who in a previous survey was in fourth place with 11 percent support. His favorability numbers are upside down there, though. He has a 38 percent favorability rating with 40 percent of voters seeing him negatively. His big struggle continues to be with voters who identify themselves as "very conservative": His favorability rating with them is 29/45, and just 2 support him for the nomination, which puts him in 10th place with that group. PPP surveyed Republican voters about Jeb's comment that he smoked pot about 40 years ago. Fifty-nine percent of GOP voters say they don't care one way or another about that, and 7 percent actually say it makes them more likely to vote for him.
On the Democratic side, Hillary Clinton leads Bernie Sanders, 43 to 22 percent. Joe Biden is at 17 percent. Martin O'Malley is tied with 3 percent, tied with Jim Webb. Lincoln Chafee is at 2 percent.