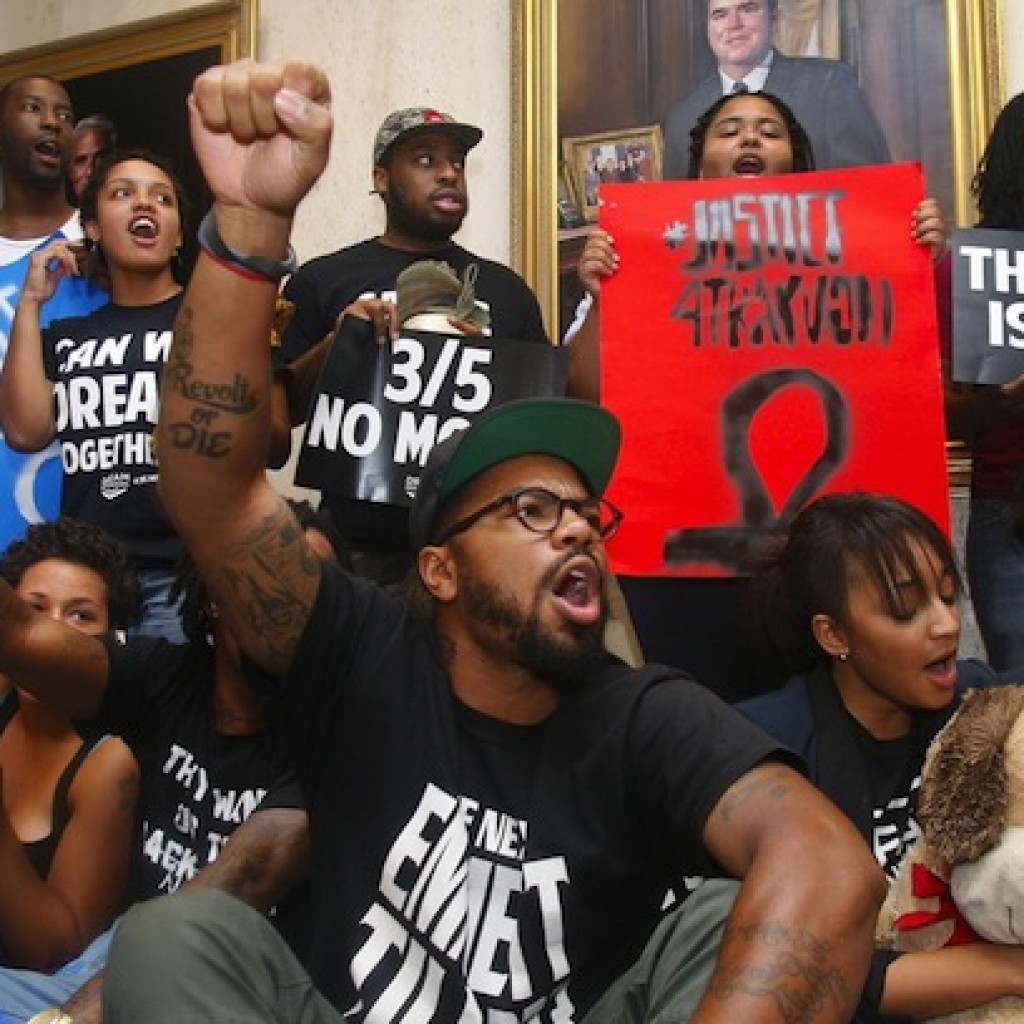 The activists behind a month-long sit-in at the state Capitol two years ago have declared a break from social media, saying "we have lost our way at times."
The Dream Defenders posted the announcement on their website last week. Since then, they've had no new updates on their official Twitter or Facebook pages.
They will, however, continue blogging, they said.
"Social media is a microphone—it amplifies the grassroots organizing work that we are doing to transform our circumstances," said the post, dated Sept. 21. "It does not, and never will, take the place of building deep relationships which are at the core of organizing."
The group explained that its growing social media profile also caused "separation from the voice and work (of) our incredible membership," it said. "In keeping up with the latest hashtags or movement trends/moments, we have lost our way at times … We can blame the culture. We choose to blame ourselves."
"That said, we as an organization have decided to take a step back and take a 'social media sabbatical' of sorts – to adjust, re-center and get it right," according to the post. "We will be back in November with a fresh voice; one that emanates from the grassroots and is a complement to movement work."
The group occupied the Florida Capitol soon after the acquittal of George Zimmerman in the February 2012 shooting death of 17-year-old Trayvon Martin in Sanford.
That turned into a round-the-clock protest that made headlines around the world. Civil-rights pioneers Jesse Jackson and Julian Bond visited with the protesters, as did actor-singer Harry Belafonte and rapper Talib Kweli.
Sit-in participants questioned zero-tolerance policies that they said created a "schools-to-prisons" pipeline. They also asked for a special session on Florida's "stand your ground" law. A vote to come back into session for that purpose failed.
The sit-in forced the state to change its policies on protests inside the Capitol, including no further overnight stays, prohibiting food preparation in the building without prior approval, and requiring members of the public to vacate the premises 30 minutes after the end of any official meeting that runs late.