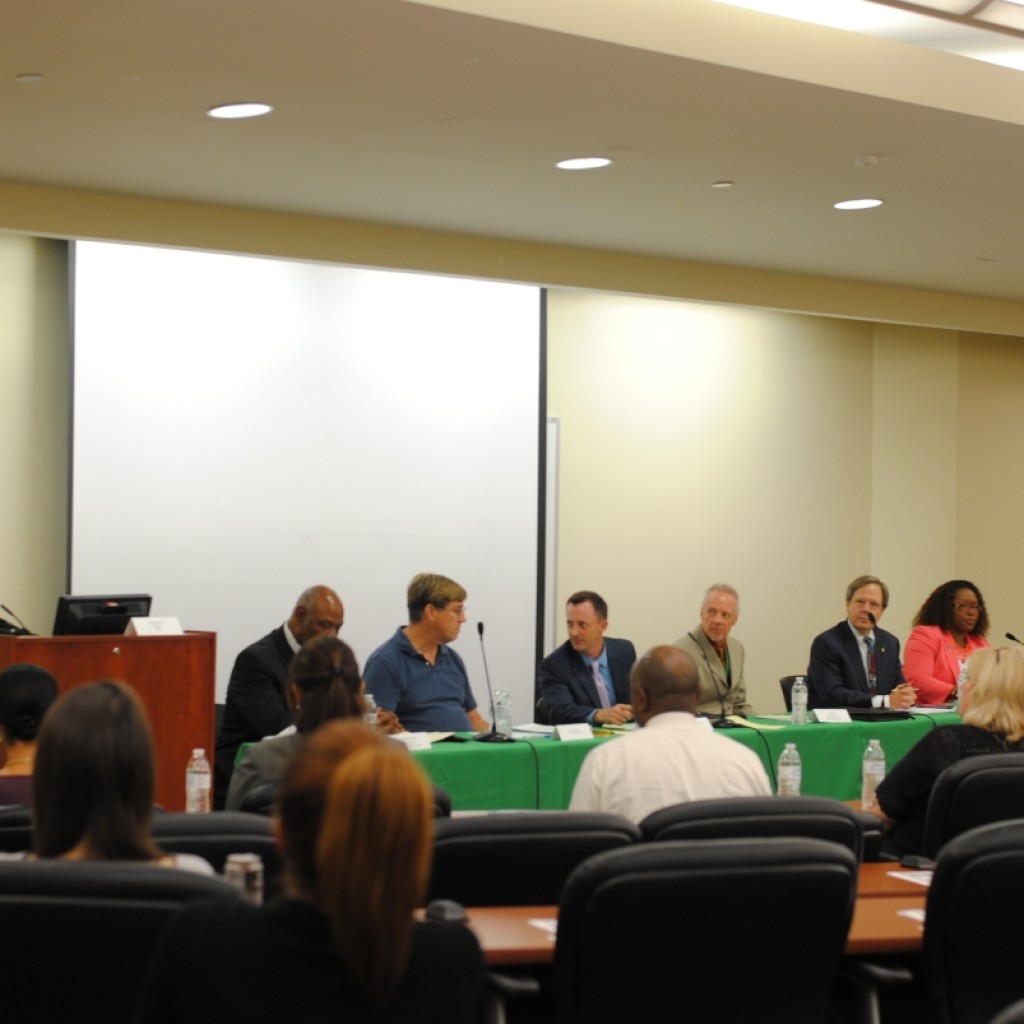 The tone was contentious at the Florida A&M campus in Downtown Orlando Campus on Thursday night, as leaders from government, education, and the legal communities discussed the subject of same sex marriage from two opposing views.
The 6 person panel consisted of Rep. Scott Plakon, Orange County Clerk of Court Tiffany Moore-Russell, Professor Robert Minarcin, Professor and Clergyman Dr. Randolph Bracy Jr., Attorney Blaine McChesney, and Harry Coverston PHD.
Five of the members declared support of the Supreme Court ruling in favor of Same Sex Marriage, with Plakon alone in opposition, supporting traditional marriage.
The make-up of the panel put the Longwood State Representative on the defensive for the entire two hour discussion. The topic turned to his "Pastor Protection Act," which would protect members of the religious community from prosecution if they chose not to conduct same-sex marriage.
"I truly believe there is space for LGBT justice and religious freedom, and this bill creates that space" said Plakon.
The bill was called unnecessary and it's support questioned with Bracy saying "I don't need to be protected. It makes no sense"
The discussion turned the Kentucky Clerk Kim Davis, who was arrested for refusing to issues same-sex marriage certificates. Clerk Moore-Russell said her elected position superseded her personnel beliefs.
"If you work at McDonald's, you don't get to choose who you flip the hamburger for," Moore-Russell said.
Each panelist took turns questioning the need for Plakon's law and criticizing Davis. The opinion of the majority was that Davis should have resigned and the culture was changing among the church to be more tolerant of same-sex marriage.
"What about the religious rights of Americans? Should they not have the same rights?," continued Plakon.
"If you are a Christian person that believes that marriage is a sacred act. Where is the tolerance for these types of beliefs? These are the same beliefs that Barack Obama and Hillary Clinton had five years ago. Why can't there be these kind of accommodations?" Plakon inveighed.
There was a fellow member of the clergy in the audience who supported Plakon and called Bracy's decision to support same sex marriage into question.
"I've evolved," Bracy said.
"The word of God doesn't need to evolve," replied the clergyman.
Despite the contentious tone of the discussion the event ended on a high, mutually respectful note. Organizers apologized for the unintentional, one-sided opinion of the panel, and commended Plakon for his gamesmanship during the discussion, which resulted in applause from the majority in attendance.