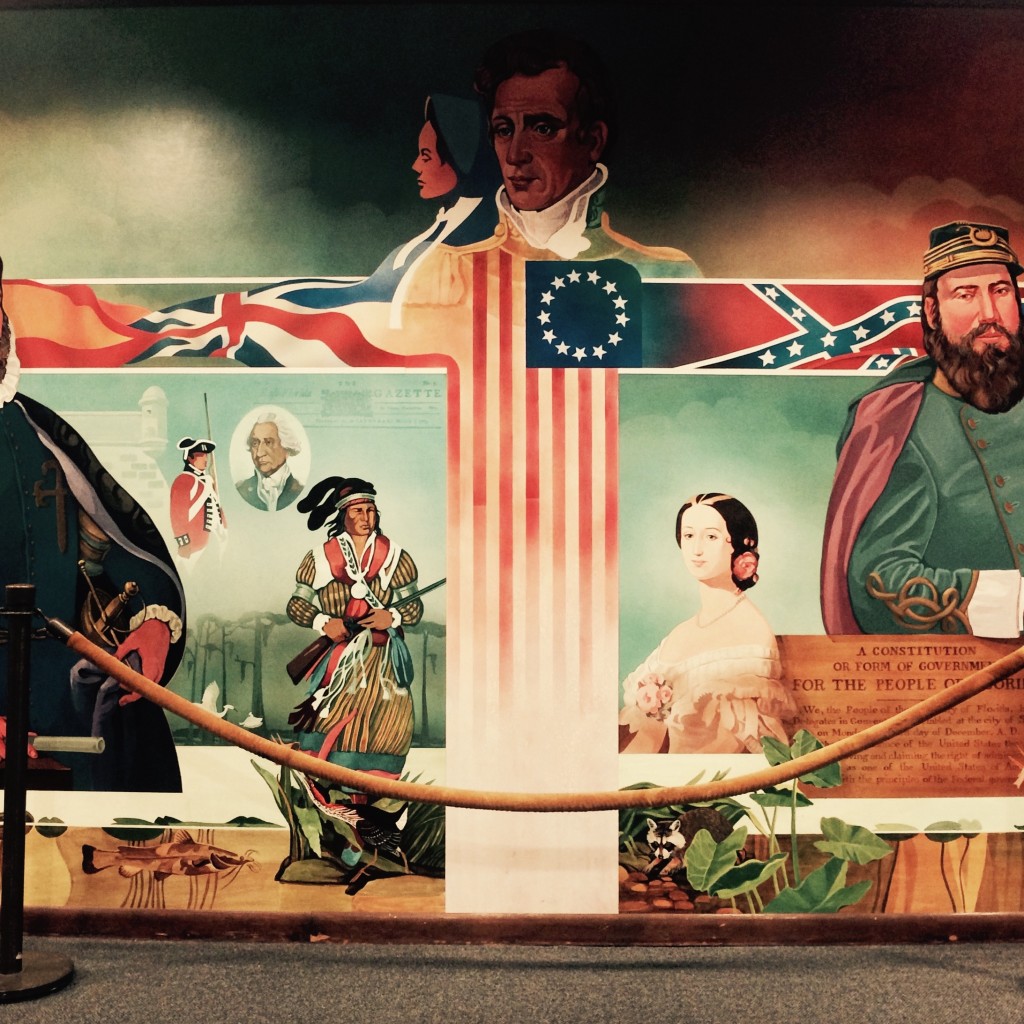 A band of "concerned citizens" – including the Republican Party of Florida's treasurer – is asking Senate President Andy Gardiner to save the decades-old mural that greets visitors to the chamber's public gallery.
Earlier this month, Senate spokeswoman Katie Betta said the mural will be removed from the wall because it's showing signs of age, including fading and peeling. What happens to it after that isn't clear.
The "Five Flags Mural" also happens to depict a Confederate flag, which the Senate voted to remove from its official seal and insignia. The current Florida state flag is now depicted in place of the rebel colors.
In a letter sent Thursday, Tallahassee lawyer Jeff Howell said the 10-foot-by-16 foot painting should be "preserved and moved to a place where it can continue to be viewed by Floridians."
Saving the mural "is an entirely separate and distinct issue" from the Confederate flag, Howell wrote. "Put simply, the mural is art which should not be destroyed."

Howell is a Republican state committeeman, in addition to being the state GOP's treasurer.
Later on Thursday, Betta said Gardiner would not be opposed to moving the mural so it can be displayed across the courtyard at the old Capitol, "but we have not yet had a chance to (further) discuss this option with the President."
The name of the mural refers to the five flags that have flown over the state: U.S., Confederate, Spanish, French and British flags.
The flag is over the shoulder of Gen. Joseph Finnegan, commander of the Confederate forces at the February 1864 Battle of Olustee in north Florida, the largest Civil War battle fought in the state.
Since a gunman killed nine black churchgoers in Charleston, South Carolina, this June, there's been a renewed debate about Confederate symbols, including the battle flag ubiquitous in the South.
Dylann Roof, who was charged in the slayings, had photographed himself holding the flag and made clear he was motivated by racism. South Carolina legislators later voted to remove the Confederate flag from the State House grounds.
In his letter, Howell asked for a meeting with Gardiner to "discuss what options are available to assure continuing public access" to the work. That meeting has not yet been scheduled.
The mural's artist, Renee Faure, told FloridaPolitics.com she found it "quite hard to believe that this defacement of artwork is being considered."
"After all, the mural depicts the history of Florida, which did fly five flags … not four!" she wrote in an email.
Her daughter, Dreanna Bane, also posted on Facebook about the mural's removal. The post generated 50 comments, including one that said, "ISIS destroys works of art. Why are we trying to be like them?"