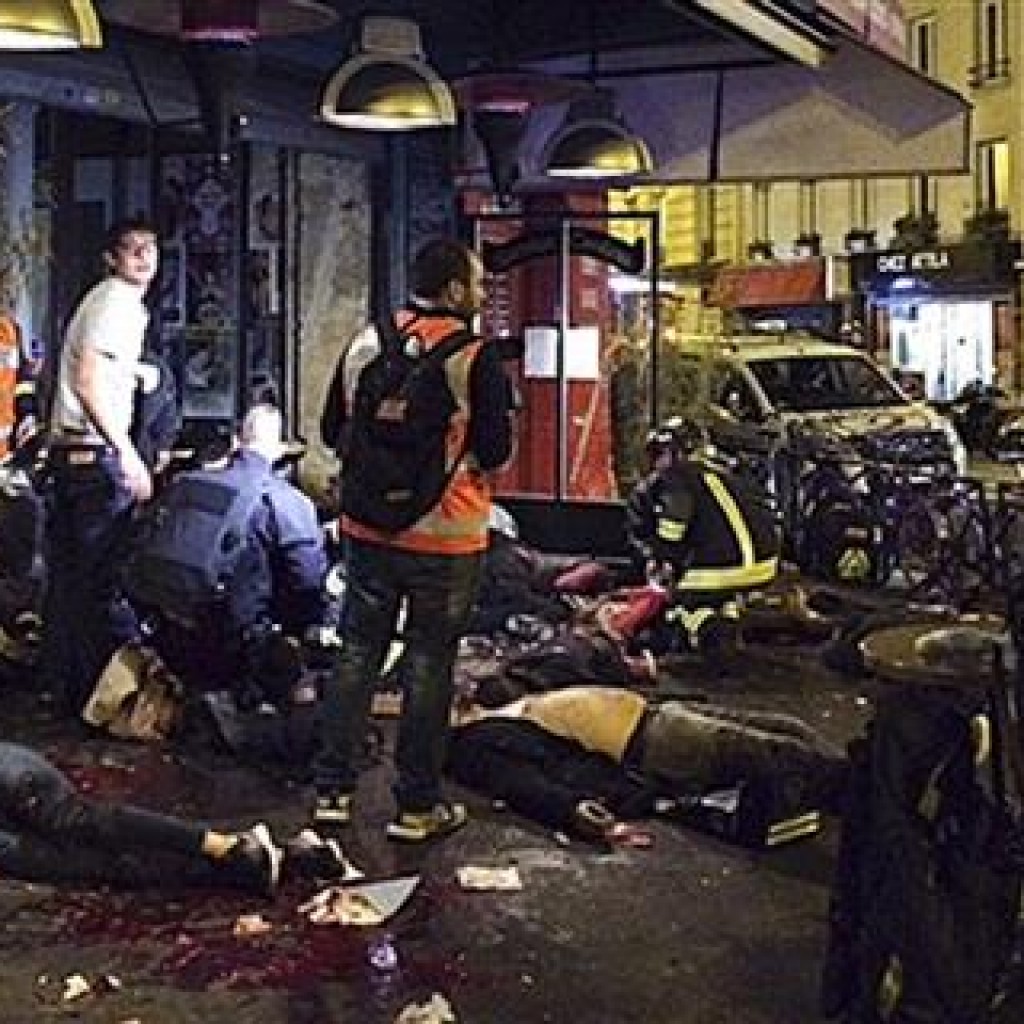 The hundreds of activist Republicans attending the Florida GOP's Sunshine Summit are waking up to a different world than the one they went to sleep in last night.
A series of attacks targeting young concertgoers, soccer fans and Parisians enjoying a Friday night out at popular nightspots killed at least 120 people in the deadliest violence to strike France since World War II.
The assailants' weapons were those of war: automatic rifles and suicide belts of explosives. The killing was indiscriminate, spread across a swath of the city, in at least six different sites. An ordinary Friday night in Paris transformed into a bloodbath. The word Parisians used over and over as they tried to make sense of the horror was "carnage."
At the packed Bataclan concert hall in eastern Paris, the attackers opened fire on a crowd waiting to hear American rock band Eagles of Death Metal perform. One witness told France Info radio he heard them yell "Allahu akbar" — God is great in Arabic — as they started their killing spree and took hostages. The city's police chief, Michel Cadot, said the assailants also wore explosive belts, which they detonated.
About a mile from there, attackers sprayed gunfire at the Belle Equipe bar, busy as ever on a Friday night with patrons unwinding from their week. One witness, also speaking to French radio, said the dead and wounded dropped "like flies" and that "there was blood everywhere. You feel very alone in moments like that."
By now, participants of the Sunshine Summit have learned the news, checked in on social media. They've seen images like the one accompanying this post.
Friday, the Republicans in Orlando were there to hear from Marco Rubio and Jeb Bush and Donald Trump and Ted Cruz.
Saturday, it's very likely they will hear declarations of war.
The Paris attacks took place during the heart of the first day of the Sunshine Summit. The on-message candidates probably did not know enough to comment on them as they spoke to the crowd. However, as news of the attacks spread, the presidential and U.S. Senate aspirants began to condemn the terrorist's actions. Ben Carson was the first.
Carson said currently there's no leadership in America to give our allies confidence we'd follow through with a military response – suggesting Obama isn't up to the task.
You can probably expect more comments like Carson's at the second day of the Sunshine Summit.
Comedian John Morgan is scheduled to speak to the Summit at 10 a.m. I wonder if his appearance is still appropriate?
U.S. Rep Ron DeSantis is slated to speak Saturday morning. He has an opportunity in his speech to demonstrate what kind of statesman he is in the face of the attacks.
Presidential candidates Rick Santorum, Jim Gilmore, Bobby Jindal, Rand Paul, Chris Christie, and John Kasich all will address the Summit scheduled Saturday. Count on Santorum and Jindal to let slip the dogs of war.
What will be interesting to hear is what Paul, Christie, and Kasich have to say. Will Paul stick to his isolationism at a moment when our oldest ally needs us? Can Christie or Kasich use the Summit's platform to show what kind of commander-in-chief they would be during a crisis like this?
Florida GOP Chairman Blaise Ingoglia certainly did not expect a world-changing event like the Paris attacks to occur during the two-day Summit he planned. But such an event has happened. And that means it's not just the 1,000 Republican activists there who are listening to what the candidates say.
The audience for the Sunshine Summit is now much larger.
Material from The Associated Press was used in this post.
Photo credit: Anne Sophie Chaisemartin via AP.