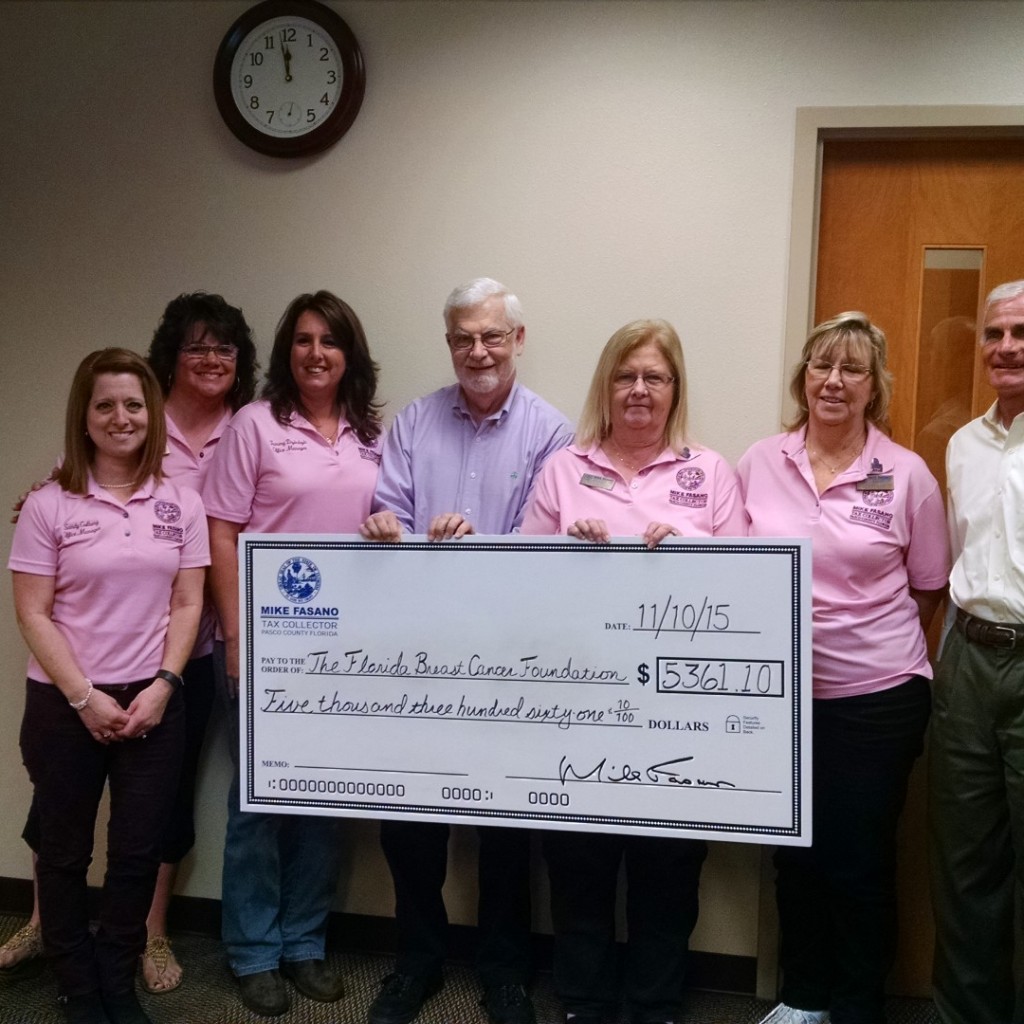 Pasco County motorists came to the aid of local officials in October for the fight against breast cancer, one of the most deadly diseases in Florida.
Last month, five offices of Pasco County Tax Collector Mike Fasano joined the Florida Breast Cancer Foundation to help raise awareness and funds – nearly $5400 – for breast cancer, its symptoms and treatments.
As national Breast Cancer Awareness Month, October gave the tax collector's office an opportunity to feature the Foundation's "End Breast Cancer" specialty license tag.  Second only to skin cancer, breast cancer is the most commonly diagnosed cancer among women in Florida, with an estimated 12,000 new cases diagnosed each year.
Pasco County promoted the sale "End Breast Cancer" license specialty license plates as well as suggest voluntary check-off donations on automobile registrations. Through their efforts, 46 plates were sold in October, and county employees raised $5,361.10.
"The Florida Breast Cancer Foundation is grateful for all of the support the Pasco County Tax Collector's Office has given us during the last two years," said Florida Breast Cancer Foundation Executive Director Russell Silverman.

Silverman noted that there are 562 "End Breast Cancer" license plates are now on vehicles in Pasco County. Also in October, more than $18,000 will be contributed to education.
"It was our honor to once again team up with the Florida Breast Cancer Foundation to help shine a spotlight on the needs of breast cancer patients," Fasano said in a statement.  "The Foundation works tirelessly to fund institutions that work on finding a cure for breast cancer as well as creating better treatment options for breast cancer patients.  Additionally, the Foundation helps raise awareness of the disease and encourages regular screenings to detect breast cancer in its earliest stages. The proceeds from the sale of this plate will go a long way toward ending a disease that afflicts so many."
More information about the Florida Breast Cancer Foundation is available at www.FloridaBreastCancer.org.