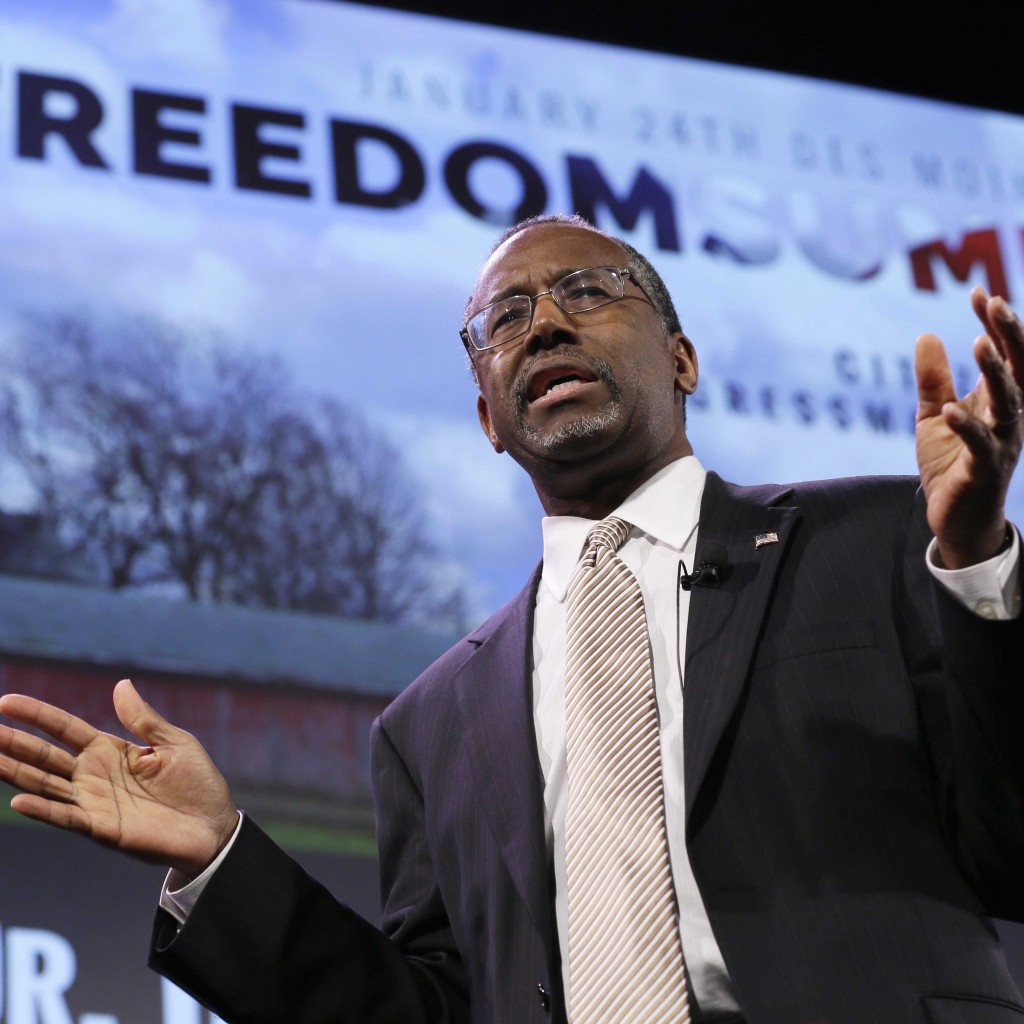 Republican presidential candidate Ben Carson is calling on Congress to withdraw funding to resettle Syrian refugees in the United States, arguing there is no credible way to tell the difference between an Islamic State militant and an innocent citizen fleeing war.
In a letter to House Speaker Paul Ryan, Carson urged congressional Republicans to "extinguish" Syrian resettlement programs, saying the United States "cannot, should not and must not accept any Syrian refugees."
Carson joins other GOP presidential candidates expressing caution or outright opposition to resettling Syrian refugees in the U.S. Elsewhere across the political landscape, at least 10 governors, including Michigan and Alabama, have taken action to block resettlements or said they are exploring their legal options. Members of the Republican-controlled Congress, too, said on Monday they will try to use must-pass government spending legislation to block President Barack Obama's plans to increase the flow of Syrian refugees into the U.S.
Obama earlier this year announced plans to accept as many as 10,000 Syrian refugees this fiscal year, up from 2,000 in fiscal 2015. The State Department manages refugee resettlement with the aid of private organizations like Catholic Charities. Democratic presidential candidates have called for the U.S. to continue to let in Syrian refugees, but only after proper background checks.
Carson suggested no such practical solution exists where Syrian migrants are concerned. "This is a relatively unique situation for our country," he said.
Carson, who is near the top of many GOP presidential preference polls, joins Texas Sen. Ted Cruz, former Arkansas Gov. Mike Huckabee and Florida Sen. Marco Rubio as candidates who have called for closing American borders to Syrians.
Former Florida Gov. Jeb Bush suggested over the weekend that the United States restrict admission only to Syrian Christians. Louisiana Gov. Bobby Jindal on Monday issued an executive order intended to block Syrian refugees from being resettled in his state.
Obama on Monday chided Republicans he says are effectively imposing a "religious test" on people fleeing war. "That's not American. That's not who we are," the president said.
Carson retorted, "Of course we don't apply religious tests, but we should apply an ideological test. I would be very reticent to bring in people ideologically opposed to the ideals of America." He did not explain the distinction between testing for ideology and religious belief.
As for the Syrian refugees already in the United States, Carson said, "I would watch them very carefully."
Carson's idea of cutting off funding would face roadblocks on Capitol Hill, particularly in the Senate, where Republicans do not have the votes to stave off a Democratic filibuster.
But House Budget Chairman Tom Price issued a statement on Monday saying the United States "must suspend our refugee program until certainty is brought to the vetting process."
Republished with permission of The Associated Press.