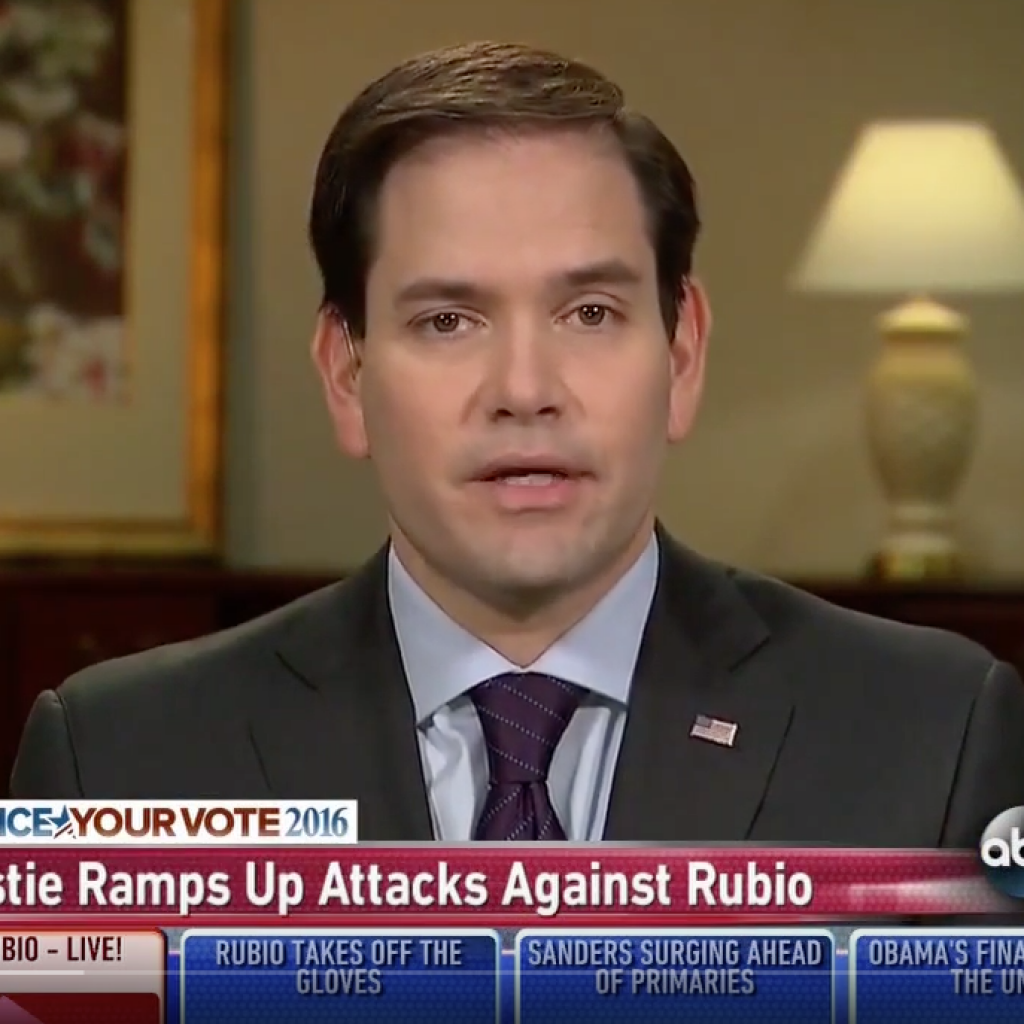 Marco Rubio disparaged Academy Award-winning actor Sean Penn on Sunday, calling all of the attention on his just published interview in Rolling Stone this weekend with famed Mexican drug lord El Chapo "grotesque."
El Chapo, whose real name is Joaquin Guzman, was captured on Friday in Mexico, six months after a daring prison escape last July through a mile-long tunnel.
"Look, I think Sean Penn is someone I don't spend a lot of time thinking about," Rubio told George Stepanopolous on ABC's This Week. "I didn't even know he was still around. I think he made movies a long time ago or something. I don't — he interviewed El Chapo, we I'll guess use the interview that he had in order to find him. That's — the Mexicans did, that's fantastic. I hope they extradite El Chapo the United States."
But instead of just leaving it that, the Florida Senator opted to take a gratuitous shot at the Hollywood-based actor, who has alienated conservatives with his outspoken criticisms of Republicans over the years.
"If one of these American actors who have benefited from the greatness of this country, who have made money from our free enterprise system, want to fawn all over a criminal and a drug trafficker in their interviews they have a constitutional right to do so it," Rubio said. "I find it grotesque."
Rubio also defended his support when he served in the Florida Legislature for a bill that would provide in-state tuition of the children of undocumented immigrants. A similar bill passed the Florida Legislature in 2014.
"It was very narrowly tailored to high performing students who found themselves in a situation where they were brought here by their parents when they were five, didn't even speak another language except English, and therefore, couldn't attend college because they were being charged like they were from out of state," he said. "They still had to pay for college, but they paid for what people paid when they lived in Florida."
Rubio added that "we didn't legalize anybody" in the proposed legislation.
Questions regarding Rubio's bona fides on how tough he is on illegal immigration have surfaced in the past month, particularly from Texas Sen. Ted Cruz.
Rubio's support for a comprehensive immigration bill in 2013 has left him vulnerable on the issue in a Republican presidential primary season. Rubio no longer supports the thrust of that legislation, instead talking about that the southern U.S. border must be secured before moving on about what to do about the estimated 11 million undocumented people in the U.S.