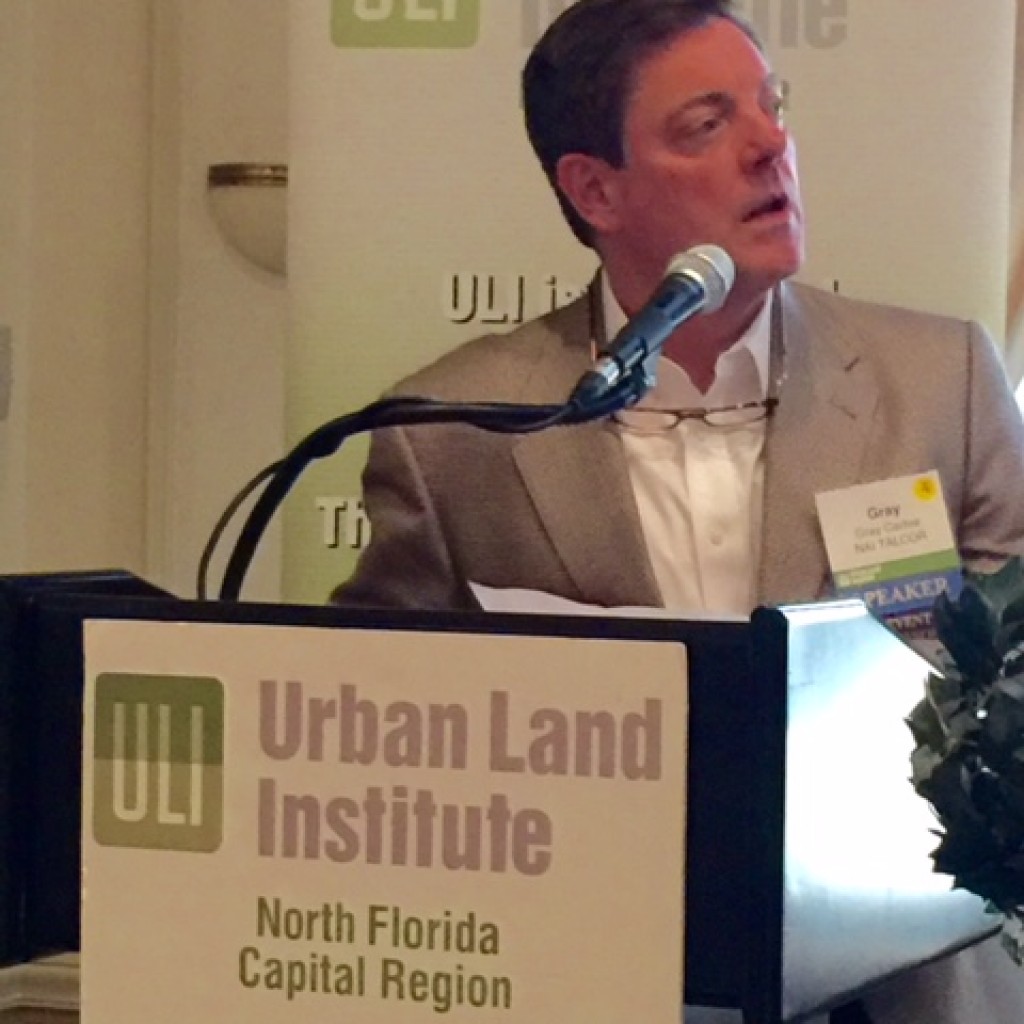 "Sticks and bricks" were on the agenda at Tallahassee's "Emerging Trends in Real Estate," seminar where updates were given on seven major development efforts totaling more than $1 billion.
Nearly 200 people attended, representing a variety of interests including commercial real estate, banking, engineering, city, county and state government, and construction. It was held at the University Center Club, a particularly apropos venue since it's surrounded by an active $85 million construction site adding more than 100,000 square feet of indoor and outdoor seating and entertainment space to Florida State University's Doak Campbell Stadium.
Gray Cartee of NAI TALCOR spoke about the new Ballard Partners office building at the corner of Monroe Street and Park Avenue, where construction is slated to begin "any day now," on the six-story building, he told the group. With 62,000 square feet, the $15 million to $20 million office building is the first new construction in Tallahassee's downtown since 2009, he said.
Ballard Partners will occupy the top two floors of the building, and Cartee's firm is responsible for leasing out three other floors as Class A office space. He said they were negotiating with two companies that would fill the remaining space when the new building is completed after an estimated 18 months of construction.
While plans call for a high-end restaurant in the 6,000 square feet on the street level, Cartee said a lease for that space will probably lag behind the office space. Ballard has asked the Downtown Community Development Agency for $525,000 in property tax rebates to help secure a restaurant tenant.
It was announced this month that Brian and Kathryn Ballard were donating a contiguous bank building, part of the property purchased for the new office complex, to FSU's Jim Moran Institute School of Entrepreneurship. The 18,000-square-foot building, worth $1.1 million, will be the downtown headquarters for the Jim Moran School of Entrepreneurship and the Jim Moran Institute for Global Entrepreneurship.
Other local projects presented to the group included Bannerman Crossing, a new shopping complex in northeast Tallahassee and an urban grocery store in the Gaines Street area that all and sundry assume is a Publix. But Claude Walker of Summit Commercial Group was playing coy — at least for a little while longer. "We're deep in the red zone with them; we're probably on the 5-yard line," he said. "I think we're going to punch it in the next week."
Gary Yordon of The Zachary Group told of a new outlet mall planned near Interstate 10, Mark O'Bryant of Tallahassee Memorial Healthcare described a new surgical center, Kim Gabbard of Blackwater Resources talked about the vision for the shopping/entertainment venue Centre of Tallahassee, and Dennis Bailey of FSU spoke about several capital projects planned or underway at the university, including construction near the Donald L. Tucker Civic Center of an "Arena District" with a price tag that could go as high as $500 million.
The event was presented by the Urban Land Institute (ULI) North Florida, a nonprofit research and education organization particularly focused on development in urban areas.