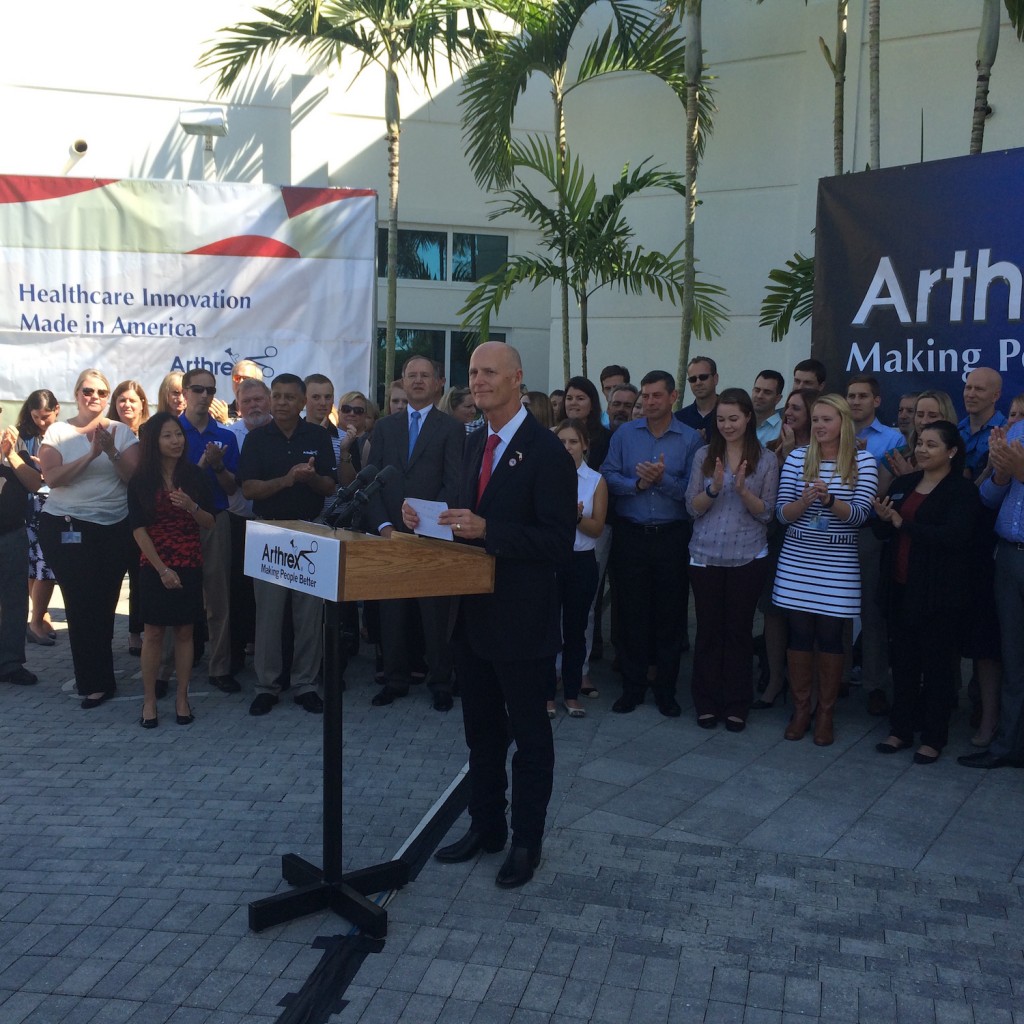 Gov. Rick Scott used a stop in Southwest Florida to whip up support for his $1 billion tax cut proposal and $250 million Enterprise Florida fund.
"Three years ago, we cut the sales tax, for only three years, unfortunately, for machinery equipment. We need to make that permanent," said Scott during a stop at Arthrex in Naples. "The way you can make that happen is to call your House members and your Senate members and let them know the importance of that to your community."
Scott was in Naples on Thursday to announce the company, which specializes in developing medical devices and medical education in orthopedics, was expanding its operations.
The company plans to expand its operations in Ave Maria, located in eastern Collier County. The expansion will create 218,000 square feet of manufacturing space and 350 new jobs.
"Arthex can manufacture products anywhere in the world, but your leadership and support of private enterprise and job creation helps us choose Florida," said Reinhold Schmieding, president and founder of Arthrex. "Keep up the great work in Tallahassee and give us the confidence we need to keep investing in Florida's future."
Schmieding said applauded Scott for his leadership, and said since Scott took office the Naples company has added nearly 2,000 new employees.
"We appreciate your policies and your positive impact, like the sales tax exemption on manufacturing equipment," Schmieding said. "This exemption gives Arthrex the confidence to once again invest millions of dollars into manufacturing and, as a result, add even more jobs in Florida."
Scott proposed cutting $1 billion in taxes in his 2016-17 budget. That tax cut proposal includes eliminating the tax on business income for Florida manufacturers, as well as permanently removing the tax on manufacturing machinery and equipment.
The state House approved a tax cut measure includes the tax exemption on manufacturing equipment. A Senate bill addressing the manufacturing tax exemption still needs to make one more committee before it heads to the floor.
"Let's keep growing jobs for years to come by making this exemption permanent," said Schmieding.
The Senate has not set aside as much money for tax cuts this year; however, it has backed a proposal to created a $250 million Enterprise Florida fund.
On Thursday, Scott said he was confident his proposals will make it through the Legislature.
"We had a good start of session and I think we'll have a good finish to session," Scott said. "I think we'll have the $250 million for Enterprise Florida, and I think we'll have $1 billion in tax cuts."