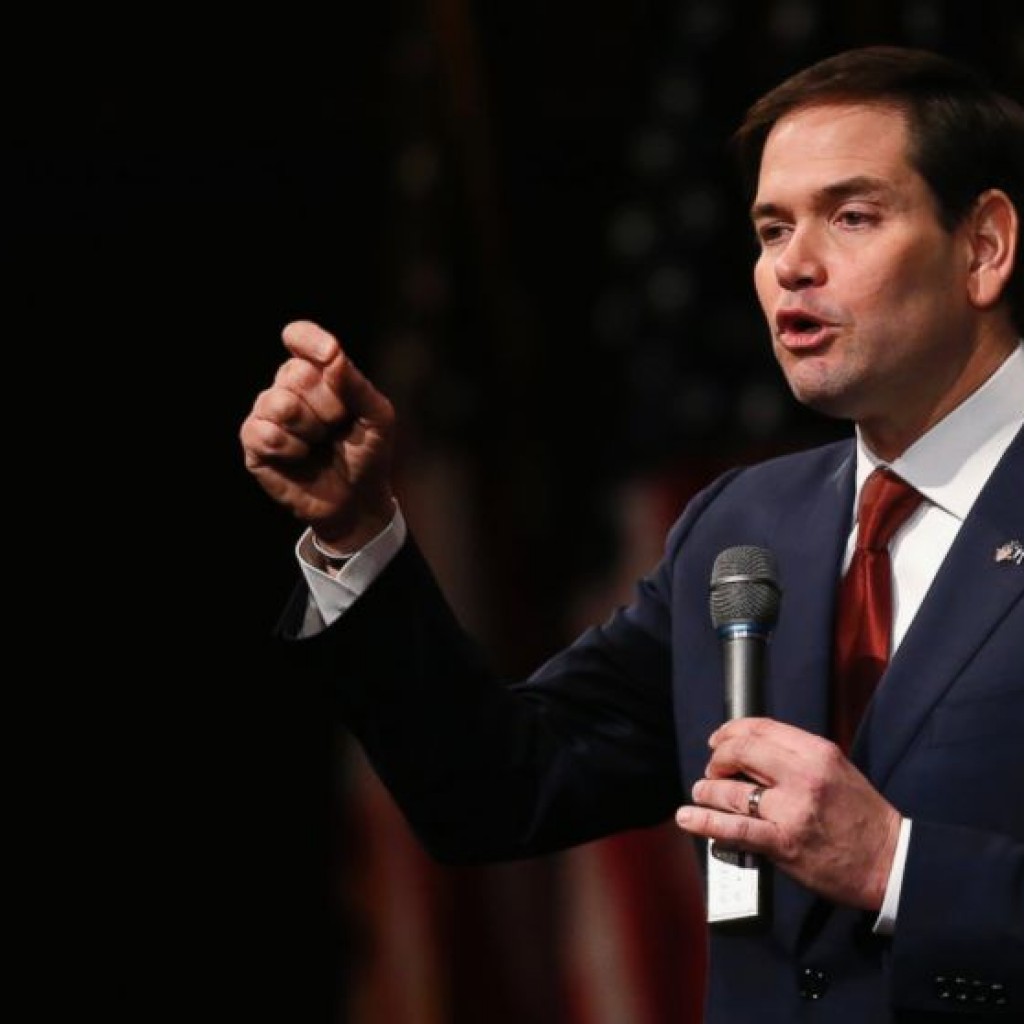 On all four broadcast network Sunday shows, Marco Rubio attempted to position himself as the "optimistic conservative" in a three-man race for the GOP nomination.
On Meet the Press, Rubio was asked why he should "feel good" about coming in a "distant second" in South Carolina.
Rubio's answer boiled down to being the logical alternative to Trump. "Seventy percent of Republicans want someone other than Donald Trump as the nominee" and "more and more, that 'alternative to Trump' vote is coming to us."
Rubio asserted that Trump will find it increasingly hard to "crowd people out" with "outrageous statements" as the field narrows, leaving an opening for his campaign which is "very realistic about the challenges" ahead, yet "very optimistic about the future."
Rubio was asked about his previous immigration position, one that synced up neatly with that of the President, as a relatively devastating attack ad that had Rubio and Obama talking points paralleling each other indicated.
"People don't care about it," Rubio said, "it doesn't matter."
Rubio pivoted to his proposed course of action now: the "only way forward is by doing it in pieces," and that first piece is "securing the border."
Rubio then discussed his national strategy going forward, headed into Super Tuesday, stopping short of guaranteeing an outright win anywhere, while insisting his was a "national campaign."
"All of these states award delegates differently," and the Winner Takes All states are "where we need to win."
On Fox News Sunday, Rubio likewise was on message, saying that the narrowing field will allow "the remaining 70 percent [of non-Trump support] to coalesce" as the field shrinks to three "full-scale national campaigns."
Rubio pushed the narrative of Reaganesque optimism when asked to compare his effort to Trump's, saying his presentation was "very optimistic about the future" with "real answers to real problems," as opposed to Trump's constant messaging about "how bad things are."
"I look forward to having a policy debate," Rubio said, "if we can make it" one.
Rubio also addressed Ted Cruz, who is "very weak on national security," and whose campaign "tenor" has "voters increasingly troubled."
When asked if Cruz had the integrity or character to be President, Rubio noted that "from his campaign it's missing," citing robocalls in South Carolina that charged that Rubio was cutting his campaign short and would end it altogether if he didn't win South Carolina.
Rubio also messaged against the attendance-record criticisms that have simmered around his stints in the Florida House and the Senate. In the House, he said being majority whip necessarily hampered his ability to make some committees, such as the special committee on 9/11 related issues. And in the Senate, scheduling likewise was a burden.
Often, he said, "three committees are meeting at the same time," making it hard to "be at every hearing" when another committee "could be having votes.
ABC's This Week offered some variations on the theme.
Rubio addressed Trump's recent retweet that Rubio and Cruz may face eligibility issues related to being native born, by pointing out the media coverage of every time "Trump says something edgy and outrageous," a tactic that's "not working with the narrowing field."
Regarding why he hasn't gone on the offense against Trump, Rubio kept it positive, saying the "election's about who is most capable of leading" the party, before casting doubt on Trump's ability to lead on day one.
"Putin's not going to [provide] a six-month honeymoon period," Rubio said, adding that the "world's not going to wait" for Trump to get his bearings.
Rubio also was asked if Mitt Romney was poised to endorse him, a meme floated by the Huffington Post.
Romney,  Rubio said, is "not scheduled to endorse me," which is a nice turn of phrase, and that added that "if he were, we wouldn't announce it on the Huffington Post."
Rubio brought his message to Face the Nation, reiterating his contention that 70 percent of the GOP electorate is up for grabs in a three-man race, and that, unlike Trump, he's "very realistic about our challenges" yet "optimistic about our future."
"You can't just tell people you're going to Make America Great Again. You've got to explain how you're going to do it, policy-wise."
Rubio also described Trump's views of Putin as "troubling," saying that the frontrunner "doesn't understand who Putin is, or what he's trying to do."
Rubio has policy questions about "everything" related to Trump policy positions, ranging from Obamacare to Supreme Court philosophy.
"The Democrats, if we nominate somebody who's nebulous about these things, they will eat our lunch."
The narrowing of the field, Rubio said, was on schedule with his campaign's initial read of the race, before the "Winner Take All states."