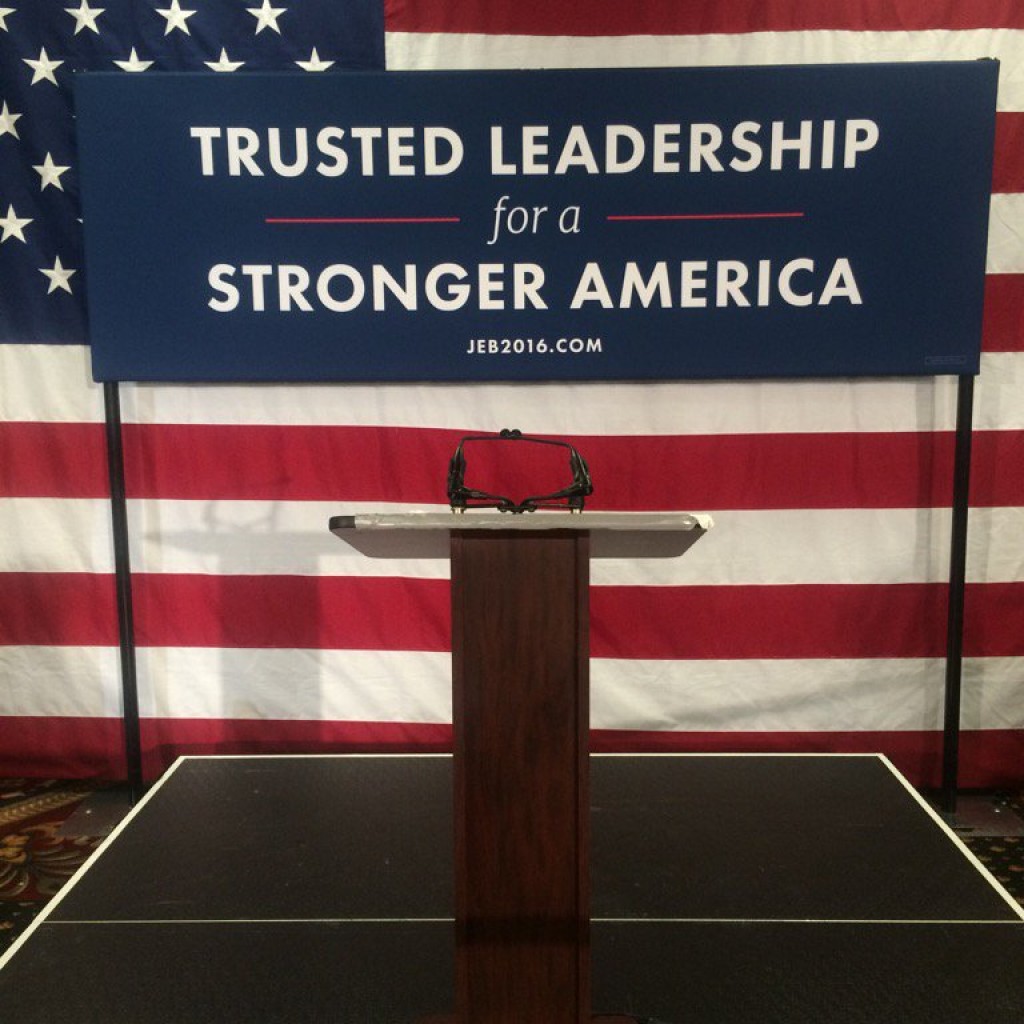 Former Florida Gov. Jeb Bush has ended his bid for the White House.
A teary-eyed Bush said Saturday night he's proud of the campaign he ran to unify the country and advocate conservative solutions.
The son and brother of former presidents George H.W. Bush and George W. Bush entered the race to huge expectations in June, and quickly fueled them with fundraising.
But he quickly slid in the polls behind some of his more outspoken Republican rivals such as billionaire businessman Donald Trump and Texas Sen. Ted Cruz, who have billed themselves as anti-establishment alternatives to the early front-runner.
Following disappointing performances in both Iowa and New Hampshire, Bush pinned his hopes on South Carolina, a state where the Bush name has maintained some clout. But Bush was unable to break into the top three in South Carolina. He would likely have faced pressure from GOP leaders and donors to drop out had he stayed in the race.
Here is a compilation of reactions from Florida's elected officials and politicians to Bush's dropping out of the race:
Chief Financial Officer Jeff Atwater, via Facebook:
"I'm proud of Jeb Bush. He transformed Tallahassee from the slothful institutional preservation of mediocrity to a dynamic energized outwardly focused meritocracy that believed and served the dignity and potential of every Floridian. Thank you Jeb Bush!"
House Speaker Steve Crisafulli:
"Jeb Bush is an incredible leader in the Republican Party and served with tremendous distinction as Florida's Governor for eight years. In this time of great unrest in our country, Jeb Bush's record of success offered great hope for America's future. I was proud to support Governor Bush in his campaign for President of the United States because of his record of cutting taxes, creating jobs, reforming education, supporting our Second Amendment rights, and commitment to protecting the sanctity of life. While I am deeply saddened by the suspension of his campaign, I commend Governor Bush for his courage to stand as a candidate to be the Republican nominee for President and his service to our country."
Florida GOP Chairman Blaise Ingoglia:
"As Governor, Jeb Bush proved  himself as a bold leader who wasn't afraid to make tough decisionswhile building consensus amongst Florida's leaders. His dedication to school choice, lowering taxes and expanding economic opportunity made Florida the great state it is today for our families and businesses. He has always been a strong, consistent conservative and I thank him for his leadership to our party, our state, and our nation."
U.S. Rep. Ileana Ros-Lehtinen, via Twitter:
"Proud to have supported my good friend @JebBush. He ran an honorable campaign focused on issues and our future. I'll always be #AllinforJeb"
State Rep. James Grant, via Twitter:
"Proud to have been in your camp sir. Always, #allinforjeb."
State Rep. Chris Latvala, via Facebook:
"Jeb Bush is a good man and would have made a great President. I was proud to support him. Now that he is no longer a candidate for President, my vote will be cast for Marco Rubio."
Former Lieutenant Governor Jeff Kottkamp, via Facebook:
"Last night the most qualified candidate for President suspended his campaign. This is not the first time in history that the most qualified candidate lost an election—-but it may be the most consequential time. Jeb did not run on his name—-he ran on his record. He was not a "good" Governor–he was a "GREAT" Governor. He had vision. He was a leader. He never sat on the sidelines for the tough fights….and he was always guided by principle. Over the years I have been blessed to spend time with Jeb, 41, W and Barbara. It is a family that believes deeply in public service—not for power or personal gain—but to serve others. I am grateful there are still people in the world like Jeb Bush—-who want to serve for the right reasons. To Governor Bush and his entire family—thank you for your service….God bless you….and may God bless our country."
Former House Majority Leader Adam Hasner, via Twitter:
"As Floridians, we will forever admire and respect Governor Bush for everything he accomplished for our great state."
Former president of the Florida Education Association Andy Ford, via Twitter:
"Ding dong the bastard is dead!!! So happy that JEB is done. What a way to celebrate a Saturday night! Couldn't happen to a nicer guy!"
And here's one statement from a non-Florida pol, former President George W. Bush:
"Tonight I talked to my brother and congratulated him on his campaign for the Presidency. I told Jeb how proud I am of him and his staff for running a campaign that looked to the future, presented serious policy proposals, and elevated the tone of the race. Jeb's decision to suspend his campaign reflects his selfless character and patriotism. I was moved by Jeb's concession speech. Laura and I are proud of Jeb and Columba for the character and class they brought to this important campaign.'"