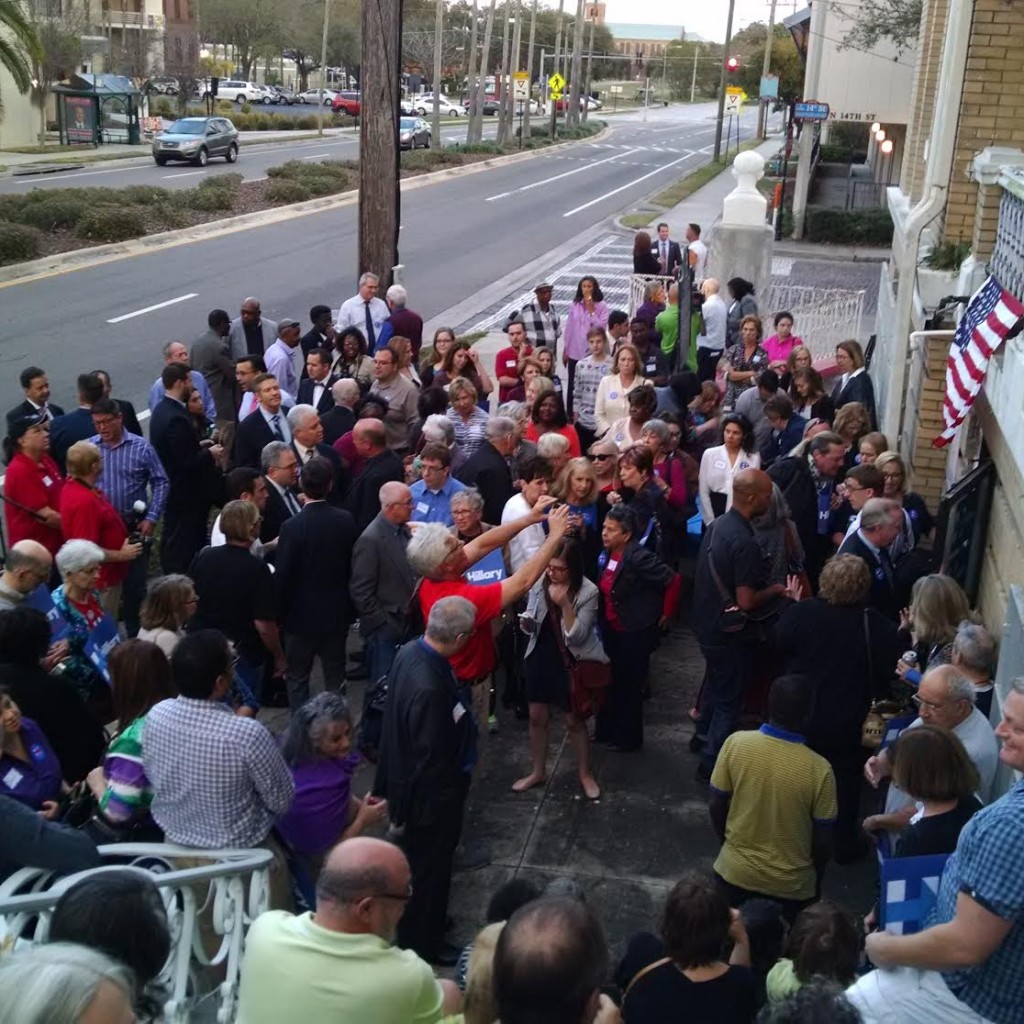 Dozens of supporters for Hillary Clinton's presidential campaign packed the front of the historic Cuban Club in Ybor City on Wednesday night to celebrate the opening of her Tampa office, 13 days before Florida's March 15 presidential primary.
"You are standing in ground zero of American politics," Tampa Mayor Bob Buckhorn declared while standing atop the steps of the building's north side. "This is where presidents get picked, right here in Ybor City, right here in Tampa, right here in the I-4 corridor, and once again, we will be battling house by house, voter by voter to win this election."
Florida Democrats are already participating in early voting in the primary election, and will continue to do so up until March 15. Recent polls show Clinton with an overwhelming lead over Vermont Sen. Bernie Sanders.
Looking at the multicultural crowd, Buckhorn referenced Republican presidential front runner Donald Trump, said, "90 percent of this crowd would have been banned from America" if the New York City business mogul was in power, eliciting laughs.
Florida is considered Clinton country if you judge by the number of elected officials who have endorsed her candidacy. A bevy of Tampa and Hillsborough County elected Democrats were on hand for the event.
Among those in the crowd was former Tampa Mayor Sandy Freedman, described by Buckhorn as the first big-city mayor to endorse Bill Clinton for president after he announced his candidacy in 1991.
"I think it's going to be the most expensive race presidential that we've ever had, and also the nastiest," she said of a Clinton-Trump battle.
Freedman said that whatever divisions are present in Clinton's race against Sanders, she believes the party will come together this fall. "Everybody in the Democratic party knows we can't afford Donald Trump, or any of the others for that matter."
"We can't underestimate anybody," said Alan Clendenin, vice chairman of the Florida Democratic Party and a Democratic National Committeeman. "I think that anybody assumes that running against Donald Trump will be a cakewalk is delusional."
Democrats should be concerned when it comes to voter intensity. Republican turnout in Iowa, New Hampshire, South Carolina and Nevada is up 27 percent compared with 2012. By contrast, Democrats' turnout is down 25 percent compared to their record-setting 2008 campaign.
"He is going to be a strong candidate, he's going to motivate a certain part of the electorate and turn them out to vote," Clendenin said. "But I'm highly confident when people wake up from this delusional affair, they'll realize the magnitude of electing the most powerful person in the world, Hillary Clinton is somebody who is more qualified than anyone that I can recollect to be president of the United States."
It wasn't hard to find those in attendance who would disagree.
"Being secretary of state has been monumental," said Seffner resident Georgene Bender of Clinton's diplomatic experience. "I'm also very proud that we have a woman candidate who's battled through the good 'ol boys network and has made it to the top, and I'd love to see her make it".
Riverview resident Evelyn Legneme said a Clinton-Trump race will an intense contest. "I do think that he's going to deliver a lot of low blows, because that's just the type of person he is, but I'm very confident in Hilary that she will be able to withstand whatever he's going to throw at her."
Legneme said she looks at Bernie Sanders in the same fashion she looks at Trump, referring to how Sanders was been an independent, and opted to become a Democrat to run for president. "I think some of his ideas are good, but he's still not able to represent on how he's truly able to pay for all of these things that he's promising."
Tampa resident Andrea Vraboy dismissed the notion that Trump brings something new to the political process. "I'm not sure how new racism and bigotry is," she said. "I'm disappointed that the Republican Party could sink so low."
Yvette Lewis from the Hillsborough County NAACP said she supports no candidate in the race, but said Clinton has proven herself with black voters, and that Sanders hasn't.
"African-American people know who's coming from the heart," she said. "They know and they can feel it, and if you're coming out to ask us for our support at the final hour at the eleventh hour, that makes a difference, because if you knew you were going to run two or three years beforehand, so why didn't you come then and talk to us?"
It should be noted that while the Clinton camp's Tampa headquarters are at the Cuban Club, the actual office itself is a very small set of rooms located off the Palm Avenue entrance.