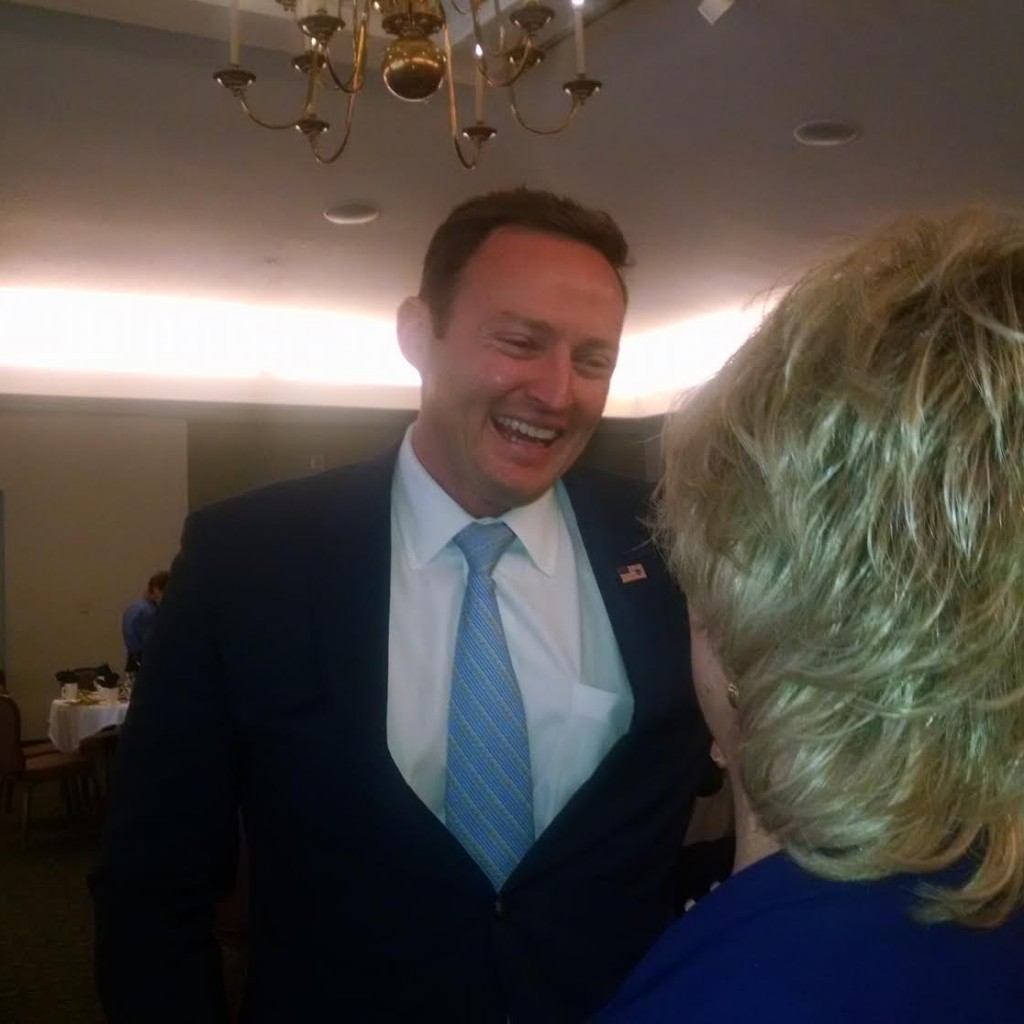 With the control of the U.S. Senate on the line this fall, the contest to succeed Marco Rubio as Florida's junior senator will be one of the most watched in the nation later this  year, but it certainly isn't capturing the attention of Floridians at the moment.
A Public Polling Policy survey published this week indicated that nearly a majority of both Republicans (47 percent) and Democrats (45 percent) in the Sunshine State have no preference at all among the now seven major candidates on the ballot. While five men are now battling it out on the GOP side, the Democratic race is focused mainly between U.S. Reps. Patrick Murphy and Alan Grayson (attorney Pam Keith is running a distant third in polling).
That's one reason why Murphy, the 32-year-old second term Representative from the Treasure Coast on Friday, was at the St. Petersburg Yacht Club on Friday, speaking at a Suncoast Tiger Bay Club luncheon to introduce himself to Tampa Bay area residents.
Although he decried the excessive money in politics as "disgusting" and said that he "hated it" earlier in his address, Murphy has raised by far the most money of anyone in the contest to date – with well over $4 million in his coffers. A separate super PAC ("Floridians for a Strong Middle Class") supporting his candidacy has raised over $500,000, with $200,000 coming from his father, construction executive Thomas Murphy.
In the final question asked during the Q&A period, Tampa Bay Times political editor Adam Smith asked whether Murphy would back up his claim that he hated the big money in politics by telling his father to refrain from contributing to his super PAC. "I hate the money in politics, and I hate gotcha questions, too," replied Murphy, eliciting a loud cheer from the crowd. The congressman went on to say that he supports every piece of legislation floating in Congress that would attempt to repeal the 2010 U.S. Supreme Court Citizens United decision which unleashed even more big money into the political system.
"I'm on every single bill out there to make sure that we get money out of politics, and that's where the focus needs to be," he said.
Murphy wasn't asked about Pinellas U.S. Rep. David Jolly's STOP act, a proposal that would ban federal office holders from fundraising. The Murphy campaign failed to return a request for comment to FloridaPolitics.com when that bill was first announced in late January. Another inquiry was made to a Murphy campaign staffer Friday.
The rest of his address was straightforward and earnest. A former Republican who represents a very moderate district (previously controlled by Tea Party favorite Allen West), Murphy cuts a much different figure than Grayson, his top rival. Whereas Grayson is bombastic and a hero to many progressives nationwide, Murphy is moderate, in both his temperament and his voting record.
When asked about the fact that the United States has just 5 percent of the world's population but 25 percent of incarcerated individuals by Pinellas-Pasco Public Defender Bob Dillinger, Murphy said it was unbelievable and wrong that one out of three black males in America face the prospect of jail time.
"A lot of that starts with education," he said in terms of how to ultimately reduce the crime rate. "It also has to do with making sure we are addressing problems we have with the criminal justice system." He then cited his sponsorship of The Corey Jones Act, named after a black man in his district who was killed by an undercover officer last year. The bill would allow the award of Community Oriented Policing Services (COPS) grants to police departments that prohibit plainclothes officers from engaging in routine traffic stops in unmarked vehicles.
Last summer, President Barack Obama unveiled his Clean Power Plan, a proposal that would implement new EPA standards for power plants to reduce carbon emissions 32 percent below 2005 levels by 2030. Big business interests and conservatives (such as Florida Attorney General Pam Bondi) cheered when the proposal was stayed by the U.S. Supreme Court last month.
When asked if he thought the proposal was unfair to industry, Murphy said that there are too many unnecessary regulations imposed on businesses, and touted his co-sponsonship with South Carolina Republican Mick Mulvaney of the Regulatory Improvement Act, which created a commission to review and revise redundant regulations.
On immigration, Murphy said he supported the Rubio co-sponsored comprehensive immigration bill passed by the Senate in 2013 that he and the rest of the House of Representatives were denied the chance up or down on by former House Speaker John Boehner. He said he supported the improvements to secure the border that were included in the bill, as well as giving the estimated 11 to 12 million undocumented immigrants a pathway to citizenship.
Regarding the recent controversy over Apple's refusal to create software to help the FBI break into an iPhone that had been in possession of San Bernardino shooter Syed Farook, Murphy said that the court order should be revised, but said the Silicon Valley giant needs to comply with the courts.
"I believe that national security has to be first and foremost in this country and I will err on that side, but I do believe that privacy is a very serious concern," he said. "I believe the actual court order that was issued should be revised, that the government isn't necessarily getting that encryption code to get into the phone. I do understand the slippery slope there, but we should be asking Apple to unlock it themselves, they can be in charge of however they do it, we don't need necessarily to know how they did it."