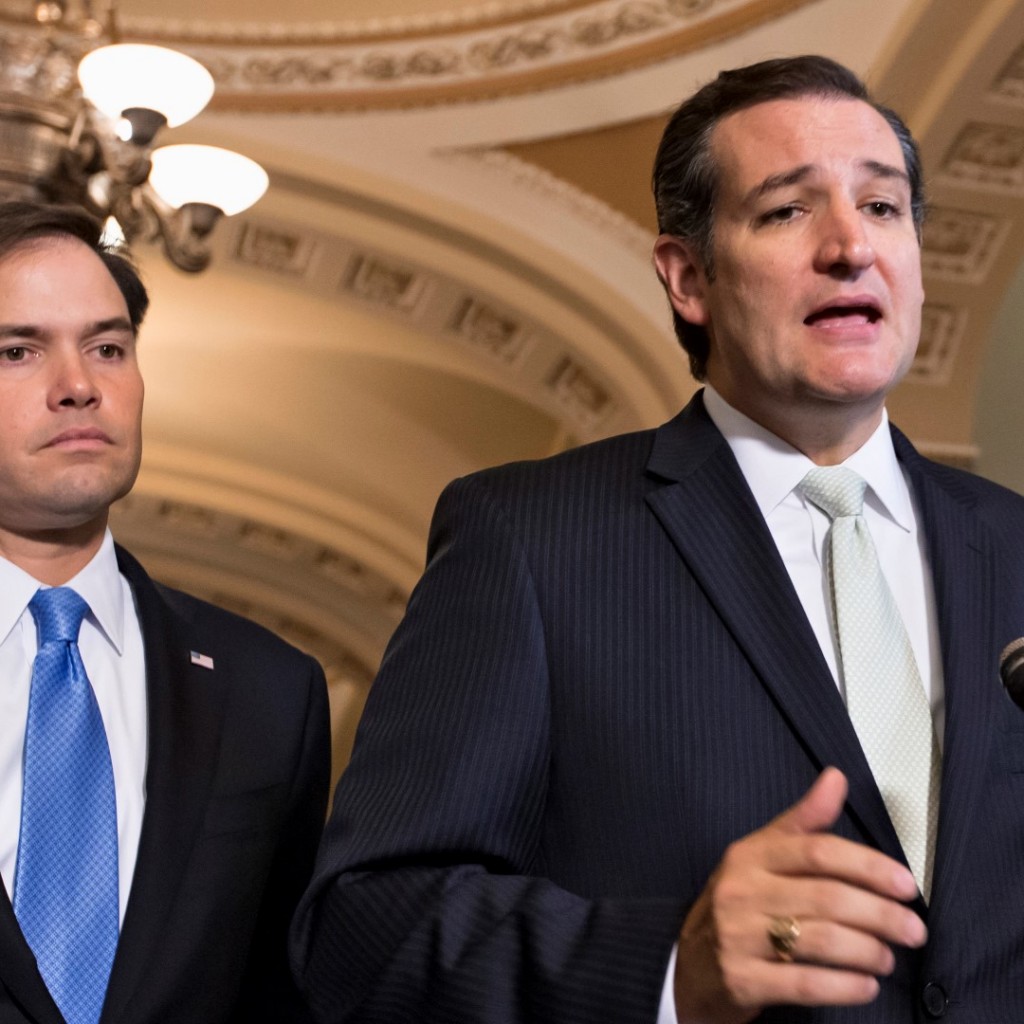 In 2013, Ted Cruz and Marco Rubio were among the 22 U.S. senators who voted against a reauthorization of the 1994 Violence Against Women Act (VAWA), which included protections for the LGBT community, and for Native American and immigrant populations.
"There's been a lot of debate in this presidential election, but people are not aware of this issue, and they should be," Tampa Democratic U.S. Rep. Kathy Castor said Monday in a conference call set up by the Democratic National Committee .
"Nobody on that side has been mentioned about violence against women, but (the) press should ask and everybody should ask about both of those senators: Why did you do that? And does that make not you unfit to be president of the United States?" said New York Democratic U.S. Rep. Louise M. Slaughter, co-author of the original VAWA in the 1990s.
Originally passed in 1994 and reauthorized several times since, the act provides support for organizations that help domestic violence victims. Criminal prosecutions of abusers are generally the responsibility of local authorities, but the act stiffened sentences for stalking under federal law. Supporters credit the act with sharply reducing the number of lives lost to domestic violence during the past two decades.
Castor called the original bill's passage "revolutionary," because it provided funding for domestic violence shelters, specifically mentioning the Spring of Tampa Bay and CASA, located in St. Petersburg. She said that most people know Cruz and Rubio are opposed to same-sex marriage and "commonsense" immigration reform, but said the media have dropped the ball in not highlighting their 2013 votes against the VAWA.
"They were in the minority," she said. "They stalled this bill for a long time. They stood in the way of getting it done. It's languished for entirely too long and they left those families in the lurch."
According to the Department of Justice (DOJ), the rate of intimate partner violence dropped 64 percent between 1994 and 2010, a drop pro-VAWA policymakers largely attribute to the law. But as Time magazine noted in 2013, the decrease happened at the same time violent crime as a whole fell dramatically nationwide. That makes it unclear whether a drop in domestic violence might have happened without the policies adopted under VAWA.
At the time of his vote opposing reauthorization of VAWA in 2013, Rubio issued a news release saying that he wanted to support the bill, but could not do so in the end.
"Specifically, this bill would mandate the diversion of a portion of funding from domestic violence programs to sexual assault programs, although there's no evidence to suggest this shift will result in a greater number of convictions," he said. "These funding decisions should be left up to the state-based coalitions that understand local needs best, but instead this new legislation would put those decisions into the hands of distant Washington bureaucrats in the Department of Justice. Additionally, I have concerns regarding the conferring of criminal jurisdiction to some Indian tribal governments over all persons in Indian country, including non-Indians."
Cruz said he opposed the measure because he believed it was a state issue, not a federal one. As the Dallas Observer reported at the time,
Cruz's office calls him tough on crime, especially "sexual predators who target women and children."

"Nevertheless," the statement goes on, "he voted against this federal law because stopping and punishing violent criminals is primarily a state responsibility, and the federal government does not need to be dictating state criminal law."
The law comes back up for reauthorization in 2018.