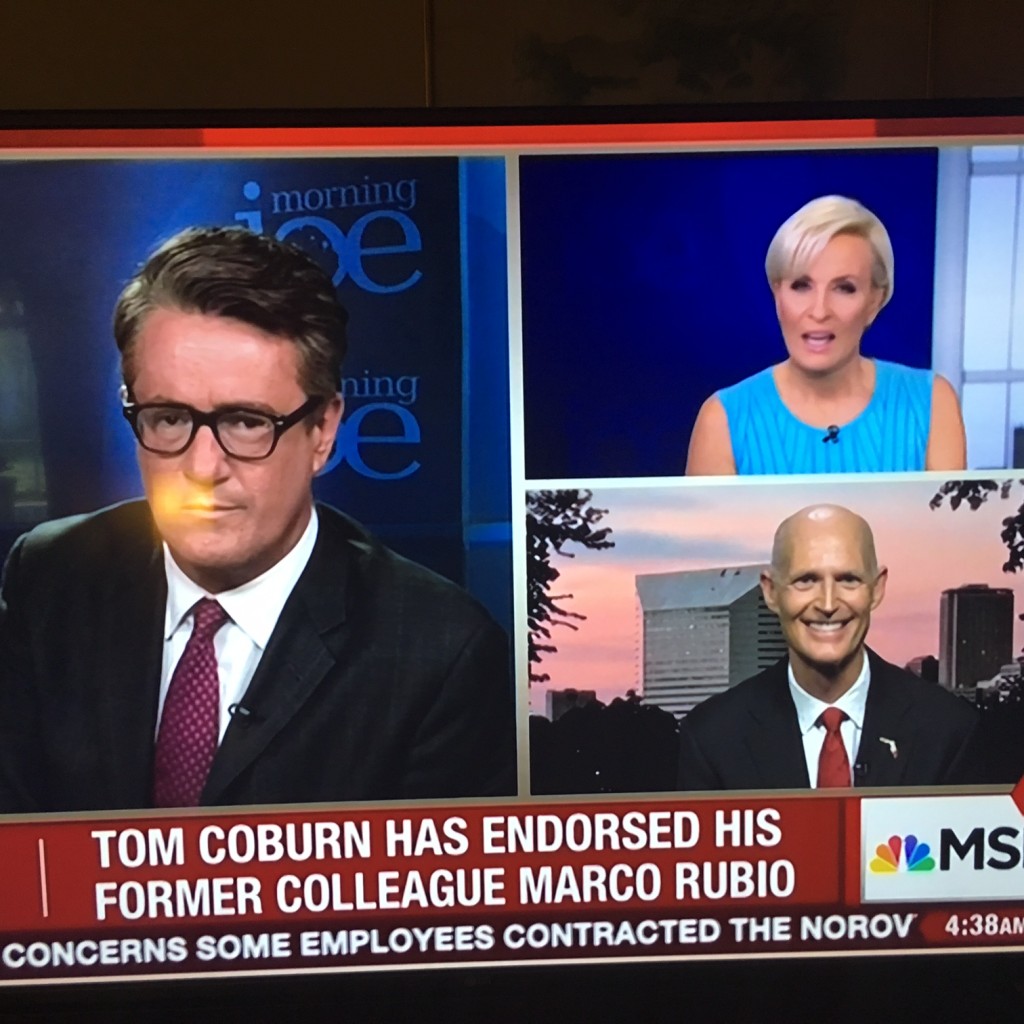 Gov. Rick Scott's penchant for refusing to answer questions dumbfounded MSNBC's "Morning Joe" show host Joe Scarborough and reduced co-host Mika Brzezinski to exasperation during a four-minute interview Thursday morning.
Afterwards, Brzezinski blasted Scott, calling him sniveling and the interview "pathetic." She said he should not be a governor.
During the interview, a national TV audience watched as Scarborough repeatedly tried to ask Scott why he would not endorse Florida's U.S. Sen. Marco Rubio in Florida's presidential primary, what Scott thought of Donald Trump's most recent anti-Muslim remarks made in Florida, and whether he personally thought Islam is a religion that hates America.
Scott responded as he usually does when pressed for questions that are not about bringing jobs to Florida or why Florida is a great state, by repeating responses that avoid direct answers: He has relationships with all the Republican candidates, the voters should decide, and Florida is a great melting pot.
Scarborough all but gave up after several tries to get a more substantive response.
That left Brzezinski shaking her head while Scott offered his answers again, and muttering, "Wrap it!," "No, no, mm-mmm," "That's not answering the question," or "OK."
Then she tried one more time, interrupting Scott and demanding, "Rick, Rick, Rick, I know you and Joe are friends and this is awkward. Can you answer the question, or should we scoot?"
After Scott gave another non-direct answer, Brzezinski excused the governor from the interview.
The after-interview chatter was brutal, especially from Brzezinski.
"You know what? That's just not what we do on our show. Are you kidding me? It's like asking what 1 plus 1 is," she said.
Scarborough responded by crafting what he thought the governor should have said, that there are Muslim extremists but that most Muslims are good and there are many good Muslims in Florida.
Brzezinski was still mad, and added, "That was weak, sniveling political wavering. I doubt his endorsement would have any effect anyway."
Scarborough elaborated on what Scott could have said, and what he has done for Florida.
Brzezinski wasn't through.
"I would suggest if you're the governor of a state you should be able to answer that question and you should be able to say those things. And if you can't you shouldn't be governor of a state, especially Florida," she said. "That was pathetic. I think I better move to break."
But they didn't. Scarborough tried one more time, this time turning his thoughts more toward what Trump said Tuesday night.
Brzezinski obsessing, went back to Scott
"He could not answer the question as to whether or not it's OK to say that Islam hates America. He couldn't do it. He chose not to answer it. He chose to be weak. And so, we chose to have him leave the show. We're not doing that."
Here's a transcript released by MSNBC:
MIKA BRZEZINSKI, MSNBC HOST: And joining us now from Tallahassee, Florida's Republican Governor Rick Scott. Very good to have you on the show, Governor. So —
GOV. RICK SCOTT (R), FLORIDA: It's all happening in Florida, Mika. Everything is happening down here.
BRZEZINSKI: Yeah, it is. And that's why I'm wondering —
JOE SCARBOROUGH, MSNBC HOST: What (ph) is your endorsement?
BRZEZINSKI: Yes, come on.
SCARBOROUGH: Is your endorsement of any candidate happening in Florida, Governor?
SCOTT: No, I'm not endorsing before the Republican primary. Joe, remember my race back in 2010? They all wanted me — the establishment wanted to get me out of the race. None of them endorsed me. The voters decided, I trust the voters, they'll make a good decision. But it will be about jobs.
BRZEZINSKI: So you're a Trump guy.
SCOTT: They're going to vote based on jobs.
SCARBOROUGH: Yeah — But why wouldn't you endorse the sitting senator from the state of Florida? That seems like a pretty easy endorsement to me. I'm confused.
SCOTT: Marco's doing a very good job. We got elected together back in 2010. He's done a very good job as our senator. Donald Trump is a friend. I know I've met Ted Cruz. I know John Kasich, he's been governor while I've been governor. We got elected at the same time. But I rely on the voters. I relied on them back when I won in 2010 when everybody was against me and when all the polls said I wouldn't win, so I'm going to continue to trust the voters.
SCARBOROUGH: So you're —
SCOTT: But I do like people spending their money down here.
SCARBOROUGH: Yeah, I bet you do. You've always talked about jobs, jobs, jobs, invest in Florida. So you're a friend of Donald Trump. Would you tell your friend, Donald Trump, that he should walk back his statements that Muslims, that Islam hates America, that Islam hates us? Do you think Muslims in the state of Florida hate America?
SCOTT: Well, as you know, in Florida we're the best melting pot in the world. We love everybody coming to our state. After the Paris bombings I did ask the federal government to not allow any more Syrian refugees to come into Florida until we vetted them. I'm still concerned that the federal government's not vetting them. But that's what my concern is.
SCARBOROUGH: Well, I mean, that could be a reasonable policy position if you wanted to debate that and we could debate that issue. I'm just asking generally, do you think that Muslims hate Americans? That Islam hates America, as Donald Trump said last night?
SCOTT: Well, I can tell you what's going on in Florida. We have —
BRZEZINSKI: No. That's not the question.
(CROSSTALK)
SCARBOROUGH: No, no, I don't want to know what's going on in Florida.
SCOTT: So in our state we're headed in the right direction.
SCARBOROUGH: No, no, no. I want to know what's going on in your head, Governor. We're friends. I want you to answer the question. Do you personally think that Islam is a religion that hates America?
SCOTT: So, Joe, what I can tell you in our state is we have a lot of Muslims that live in our state —
BRZEZINSKI: Wrap it.
SCOTT: We've got — a lot of Latin-Americans living in our state. We all get along. We love people moving to our state and coming here as tourists. We're a great melting pot. That's what I can tell you about our state.
BRZEZINSKI: OK.
SCOTT: Donald Trump, you know, he can talk about what — the things he wants to talk about. Marco Rubio can, Ted Cruz, John Kasich.
BRZEZINSKI: No. No. Uh-uh. That's not answering any questions.
SCOTT: But I love the debates. I'm going to be there tonight. I love the debate's going to be in Miami —
BRZEZINSKI: Rick, Rick, Rick. I know you and Joe are friends and this is kind of awkward. But can you answer the question or should we scoot?
SCOTT: Well, I can tell you that, you know, I'm glad everybody's in Florida. We're doing well here. The debate's going to be fun tonight. I hope they talk about jobs. It's the most important issue.
BRZEZINSKI: Governor Rick Scott, thanks for being on. We will move on now. Thanks.
.@JoeNBC: Would you tell Trump to walk back his comments on Islam? Here's @FLGovScott's non-answer. https://t.co/KK1eNkbodc

— Morning Joe (@Morning_Joe) March 10, 2016