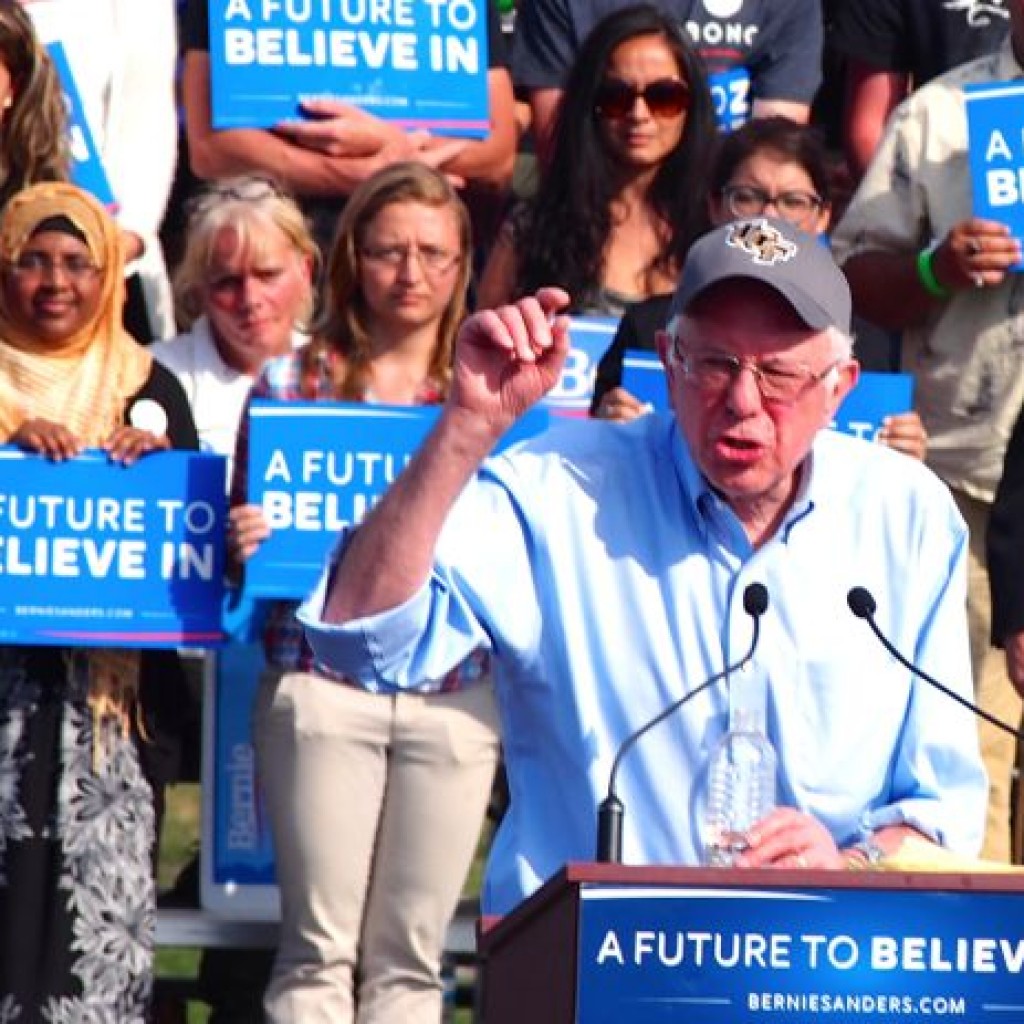 Bernie Sanders compared the movement he wants to lead and the economic changes he wants to achieve when president with the rise of the labor, civil rights, women's and gay movements. He also assured a Kisismmee rally Thursday that there will be pain, but it's the right thing to do.
"My point is that change never comes easily," the Democratic senator from Vermont declared to about 4,000 people in Osceola Heritage Park. "It only comes when people begin to see that the status quo is no longer acceptable. I want you to take a look at where we are as a nation today. We are the wealthiest country in the history of the world, but nobody knows that.
"The status quo is in Florida and Vermont that there are people who work not one job but two jobs, maybe three jobs. Dad's working, mom's working, the kids are working, and yet 58 percent of all the income is going to the top 1 percent."
In a 41-minute speech under a clear, warm Florida March sky, Sanders laid out much of the Democratic Party's progressive-wing agenda he's carrying toward next Tuesday's Florida primary. It includes:
an increase in the minimum wage,
infrastructure investment,
a tax on Wall Street,
help for Puerto Rico,
support for abortion and gay rights,
more universal health care, and
a far less interventionist military policy.
Sanders arrived wearing his trademark blue-collar button-down and a UCF hat, a tip of respect to the local University of Central Florida. That's something both his Democratic rival Hillary Clinton and Republican candidate U.S. Sen. Marco Rubio of Florida both botched at their most recent speeches in Central Florida. Clinton gave a shout out to the University of South Florida at a December speech in Orlando. And in a Sanford speech Monday, Rubio listed several Florida universities he was willing to back, but forgot UCF until someone in the audience reminded him.
Sanders hammered Clinton for supporting military efforts in Syria, being softer on economic reform than he, and for raising money on Wall Street. But he was far more hostile toward the Republicans, particularly front runner Donald Trump, accusing him of demagoguery and scapegoating minorities.
His speech had a little something for every Democrat or liberal, vowing to:
work to overturn the Citizens United Supreme Court decision that opened up campaign finance to unlimited spending by political action committees,
seek family leave pay and gender pay equality,
provide tuition-free colleges and student debt refinancing,
opposition to off-shore drilling and fracking, and
commitments to sustainable energy and aggressive counters to global warming.
But his speech took its focus when he turned to talking about all of the social and economic movements of the past century that changed the United States: the rise of labor unions, civil rights, women's rights, gay rights and others.
"Change, all of you know who have studied history, never takes place from the top on down. Change always takes place from the bottom on up,"  he said. "When workers, 100, 150 years ago were treated like animals, working seven days a week with no life, brave workers came together and said, 'We will have dignity and respect, we're going to form a union.' And they struggled. some of them went to jail, some of them were beaten, some of them were killed fighting for workers rights. That's how change takes place."
He told similar stories about the rise of the civil rights movement, women's rights and gay rights, each story ending with fighters being jailed, suffering or being killed.
"The status quo is the top tenth of 1 percent now owns almost as much wealth as the bottom 90 he said. "That is the status quo that we are looking at today, and I say that status quo is not acceptable. And that we have got to change it.
"What this campaign is about is telling the billionaire class that they no longer will be able to get it all," Sanders said, "that this country belongs to all of us, and not just to a handful of billionaires."