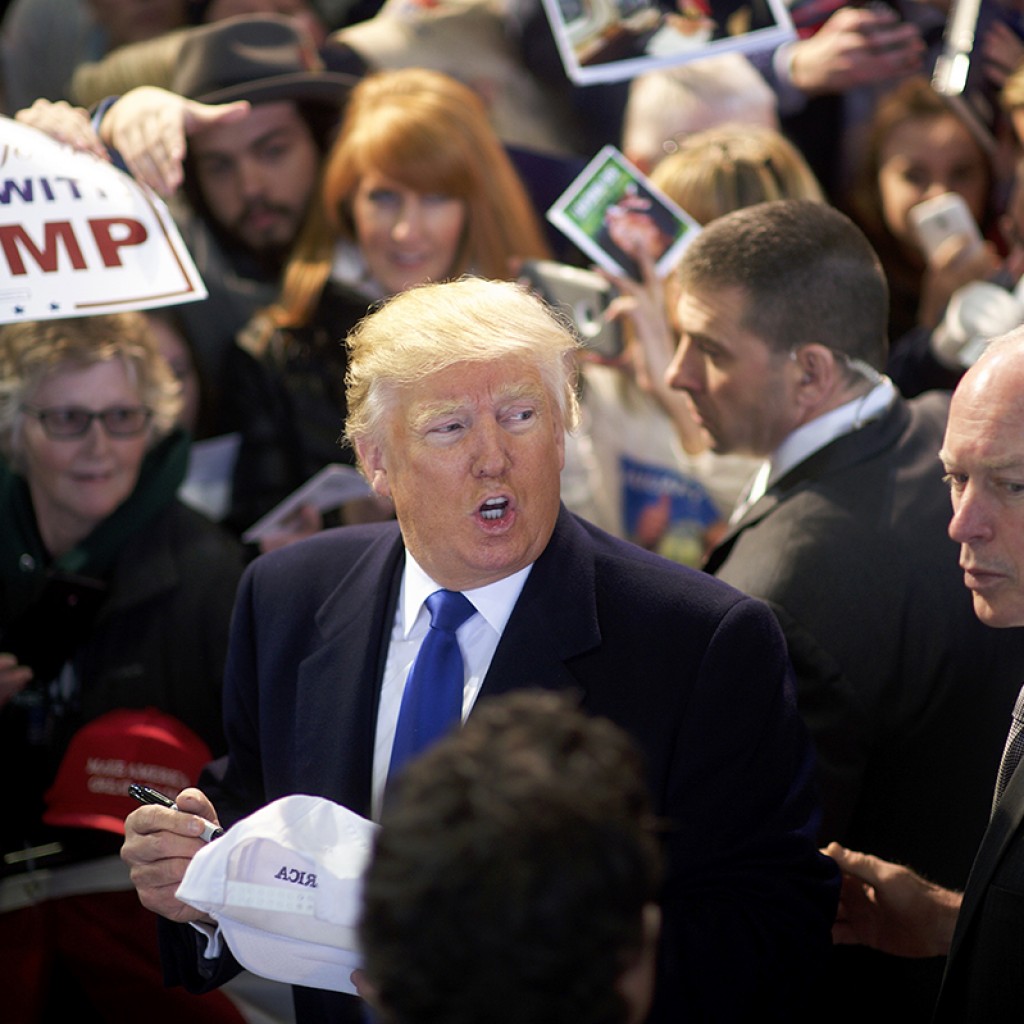 Longtime observers of the conservative movement know that periodically its followers are compelled to purge the more radical elements in the base.
William Buckley did so with the John Birch Society over a half century ago. More recently, the magazine Buckley founded, National Review, had a couple of issues dedicated to reading the radicals out of their movement, targeting opponents of the Iraq War in 1991, and again in the early part of the last decade.
Those plays tended to be successful, galvanizing the mainstream conservative movement against the radicals on the side.
National Review decided to play again a few months back, with a cover emblazoned with the headline "Against Trump." Contained within: polemics supporting that position.
What happened next? Nothing. Trump steamrolled through Southern primaries, and now has a strong lead in the delegate count.
National Review since has endorsed Ted Cruz, but Trump continues undeterred, with interviews on Infowars (the conspiracy-minded Alex Jones show) from him and his surrogates, and a stoking of the populist fire that reminds some observers of George Wallace and David Duke.
One of those surrogates who've been on Infowars, according to multiple reports: Senior Policy Adviser Stephen Miller, a trusted aide to Alabama Sen. Jeff Sessions, who advised Trump to bring Miller aboard to help with Trump's immigration policy.
Miller didn't want to talk about Infowars. However, he had plenty to say about the changes Trump has made in conservative and Republican dialectic.
Our first question: With the rise of Trump, have the extremists finally taken over the conservative movement?
"Not at all," Miller said. In fact, the ascension of Trump is the "reclamation" of the conservative movement, a "chance to wrest control from the oligarchy."
Miller noted that during trips to D.C., he asks Washington conservatives when the last time was that the Republican Party "fought as hard as it could for something donors opposed."
Fast Track Trade authority, Miller said, was pushed with "every single ounce of strength they had," in contrast to GOP fecklessness in combating illegal immigration.
Miller said, more than once, that many of those who "wear the mantle of movement conservatism" are "codependent" with the institutional forces behind the Trans Pacific Partnership and other deals.
"I've noticed that in Washington, D.C., that line of separation between people who falsely wear the mantle of movement conservatism and the establishment" doesn't exist.
The professional conservatives, he said, are out of step with the average Republican voter or Reagan Democrat, whose "life doesn't revolve around these summits in D.C."
"In the real world their factories are disappearing and their wages are going down."
The conversation soon moved to a Trump Tweet from Saturday suggesting there might be early voting fraud in Florida.
"We are asking law enforcement to check for dishonest early voting in Florida – on behalf of little Marco Rubio," Trump tweeted. "No way to run a country!"
Was there evidence of such? Miller said no. However, Miller charged that Rubio has historical associations with "shady and questionable figures, including figures linked with voting fraud."
From there, Miller launched into attacks on issues such as "David Rivera," "Rubio's history of financial dealings," and "sweetheart deals," all of which establish a pattern of "deeply unethical behavior."
Then Miller discussed Trump's policy positions, which he said are part of a larger platform "rooted deeply in conservatism," yet adding to it, "that is going to win a national election" by focusing on issues such as  "immigration control and trade fairness, which are fundamentally conservative in nature."
Those issues will "draw in blue collar voters, Reagan Democrats, voters who have never been engaged" and who prior to Trump were "not receptive to Republican ideas."
One such focus was the Trans-Pacific Partnership, "the most important trade pact of our lifetime." Miller contended it will encourage "offshoring" by "lowering barriers on our auto markets," one that would be "devastating and ruinous" to Ohio's automobile industry.
The much-discussed Trump call to "build a wall and have the Mexicans pay for it," Miller said, could be financed via the trade deficit that would "more than finance the wall."
Miller asserted that Trump, contrary to media portrayal, has been clear about his policy positions, presenting a direct contrast to Rubio, the "front man for the two signature issues of the Obama legacy."
"Rubio has lied repeatedly about policy," Miller said, calling him the "biggest champion of amnesty" in the Senate.
Rubio has "sold his political soul and American sovereignty to the highest bidder," and in the process, has "lied to every single person in Florida."
"Rubio says yes, takes the money, and pushes the policies. You name the corporation, the special interest," Miller said.
"Florida voters are very aware of how Rubio has betrayed them," Miller said. "Rubio's backers stand to profit immensely" from immigration amnesty.
On issues such as trade, immigration, health care, and education, Miller contends Rubio is "one of the most corrupt politicians in Washington" and "controlled by a small group of special interests."
Perhaps because of that control, Miller said, "Rubio has been engaged in an onslaught against blue-collar people."
They are the same blue-collar people who show up in the thousands to the Trump rallies that Rubio has expressed real worry about in recent days.
What does Miller think about the spectacle on America's TV screens in recent days? To be sure, he sees it differently than the media and the Florida's junior senator do.
Rejecting what he called a "false moral equivalency" between Trump supporters and opponents, Miller depicted the outbreaks of violence at Trump campaign stops as a battle between "blue-collar workers" who "follow the rules" and "anarchists and radicals … organized far-left violent protesters attacking peaceful citizens and police."
"The only people responsible for far-left anarchists are far-left anarchists and people mobilizing them," Miller said tautologically. Their "violent, dangerous behavior" is in stark contrast to the "amazing, wonderful, patriotic citizens" who support Trump, who "gives hope to millions of people."
Part of that hope, Miller said, rests in a return to a "national interest foreign policy," as opposed to the current paradigm of "nation building and democracy spreading."
An example of the differences between Trump and Rubio is on Syria, Miller notes. Trump would be willing to collaborate with Russia to "stamp out ISIS" by "fighting ISIS in partnership with regional allies. This realpolitik contrasts Rubio's assertion that America should establish a No Fly Zone in Syria betrays a "willingness to shoot down Russian planes" and "start a hot war in Syria for the sake of nation building."
Miller and Trump don't believe gambits like that, which would start a "shooting war with Russia," are something that "war-weary voters" can support.
Rubio's "foolhardy" and "fundamentally globalist" penchant for "regime building" is "outside of the Republican mainstream" as well as that of American voters who saw "nation building" and "de-Baathification" fail in Iraq.
"The only lessons Rubio learned from the Bush years," Miller said, are that efforts toward nation building "didn't go far enough."
If one wants to take the long view of Trump's appeal to Republicans, it's that he has re-engaged a discourse in the party that really has persisted since the end of the Cold War. The populist positions of "Pitchfork Pat" Buchanan in the 1990s seem to be the framework for much of what Trump says today.
This critique of neo-liberal globalism is nothing new. What is new is the volume, the intensity, and the resonance with voters. And what is clear is that post-Trump, the Republican Party and the mainstream conservative movement necessarily will change.