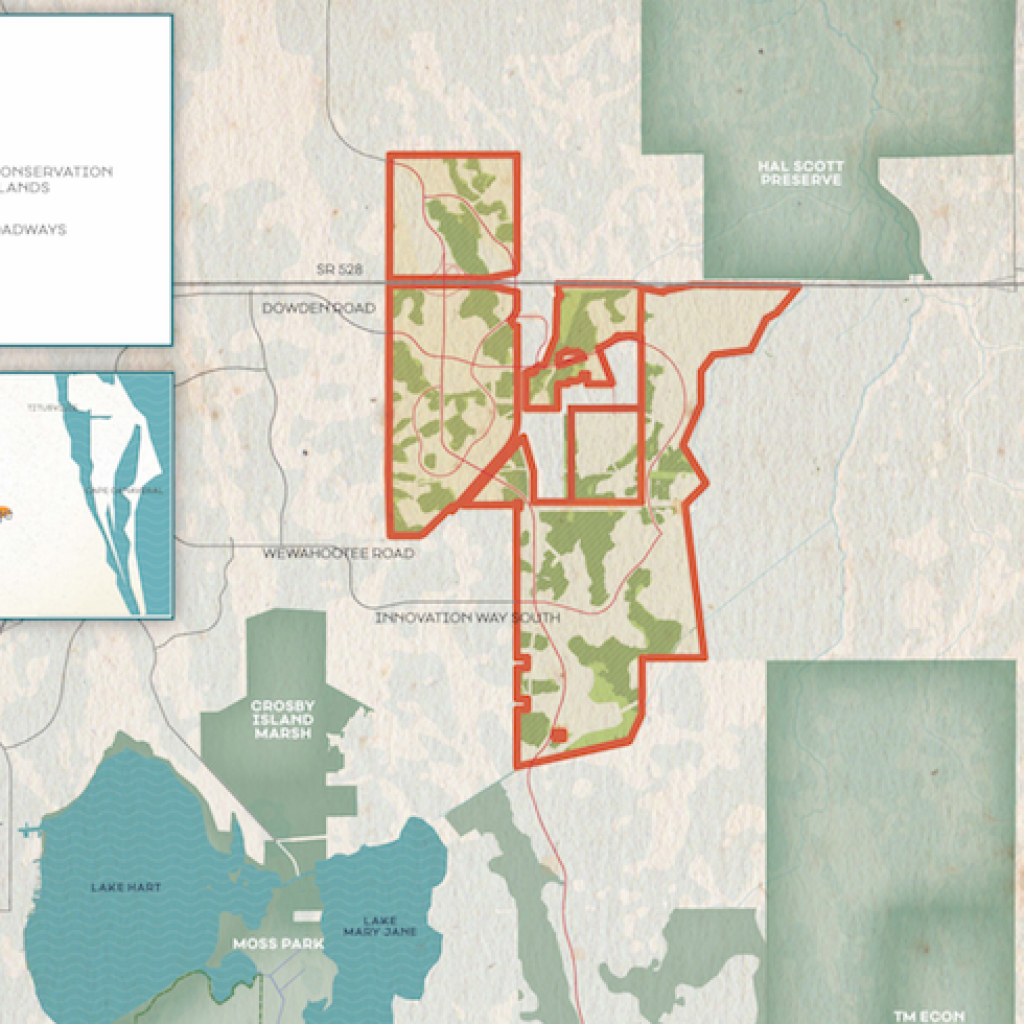 A nearly 24,000-acre mixed-use development plan was announced Monday for two areas of Orange and Osceola counties that are rural holdings for the Mormon Church.
Tavistock Development Co., which developed the nearby Lake Nona and Lake Nona Medical City projects in Orlando, submitted plans to Orange County on Monday to develop 4,787 acres off State Road 528 in eastern Orange County. In doing so, the company also announced the Orange County development would be part of a larger development known as Sunbridge that also will include 19,111 acres in Osceola County.
All of the land is part of the massive Central Florida holdings of The Church of Jesus Christ of Latter-Day Saints.
However, the Orange County land Tavistock intends to develop is not officially part of the church's Deseret Ranches empire in Central Florida, made up of more than 200,000 acres covering most of southeast Orange, northwest Osceola and west-central Brevard counties. The church has held most of the land as working cattle ranches for generations but has, in recent years, disclosed its long-term intentions to develop parts of it, over generations.
The Tavistock proposal releases details only for the Orange County portion, which would be built on Mormon holdings known as the Suburban Land Reserve. Tavistock proposes 5,720 single-family homes and 1,650 multifamily units; 9 million square feet of commercial space, most of it office space; and 490 hotel rooms.
The Osceola land is part of the church's properties known as the Farmland Reserve.
Tavistock said it intended to build out the property long-term, over the next several decades, a project that could begin as early as 2018.
The proposal is bound to face opposition. Many Orange County leaders and activists have expressed concern about development in eastern Orange County, particularly involving water resources.
The Orange land contains 1,692 acres of preservation wetlands and upland buffers.
The vision, Tavistock stated in a release, is for "a community focused on preservation and innovation, with diverse residential neighborhoods and employment centers with miles of connected trails and surrounded by thousands of acres of preserved conservation network."
The two areas in the Sunbridge development are not adjacent, but nearly nine miles apart. The space between them is also rural holdings of the Mormon Church.
Tavistock Vice President Robert L. Thompson said there currently are no plans for the land in the middle, except for construction of a connector road between the Orange and Osceola areas. He said the Orange and Osceola areas would be both similar and symbiotic.
He said the company is holding early discussions with Osceola County and hopes to submit formal plans in three to six months for the portion of development proposed there.
Olan Hill, chief planner for the Orange County Planning Department, stated by email that he and other Orange County staff had a preliminary meeting with Tavistock about the project in early February. The application for amendments to the Orange County Comprehensive Plan was submitted Monday, he said, but have yet to be reviewed.
That master plan had included provisions for the previously proposed but never developed International Corporate Parkway and Innovation Way East developments by Tavistock. The company said it's rescinding those proposals for the Sunbridge plans.