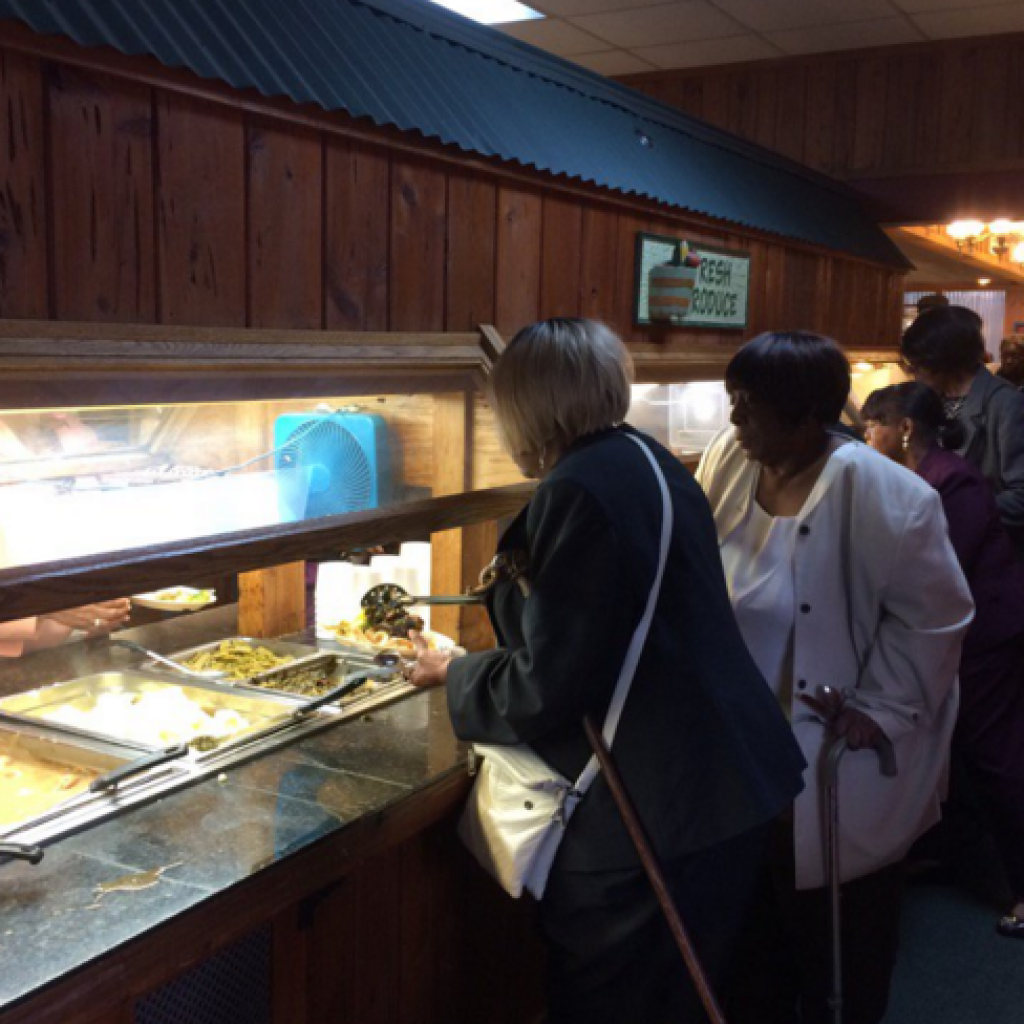 With the oldest son of Dr. Martin Luther King Jr. standing behind her, U.S. Rep. Corrine Brown held a master class in political theater at a Tallahassee buffet restaurant Friday. It came after a court hearing on her legal challenge of the state's new congressional district map.
In the morning, a panel of federal judges heard arguments – but did not immediately rule – on her request for a preliminary injunction to freeze in place the old map until a final ruling. The Jacksonville Democrat has said her new district violates federal voting law by cutting down the influence of minority voters.
The new area, which stretches from Jacksonville to past Tallahassee, also puts Brown out of her traditional geographical base of support, which runs from Jacksonville south to Central Florida. Brown's camp is giving conflicting signals about whether she will run again.
Brown took about 150 supporters from Jacksonville to Tallahassee on three chartered buses for the hearing, Court officials had to set up an overflow room with a video monitor.
The crowd then decamped to New Times (formerly "Ole Times") Country Buffet, where Brown and Martin Luther King III spelled out how her fight is not about saving her job, but saving her constituents from what she calls "disenfranchisement." The intimation was that voters in her old district won't be able to elect a black candidate.
"You know, I often say, what happens if I die today or tomorrow?" Brown said, speaking through a bullhorn. "I want to make sure that you have another person that knows and loves you like I do … There is a movement to take us back and we are not going back. We worked too hard."
Behind her was a display of the new 5th Congressional District with the headline, "25 prisons," bolstering her contention that the new district was packed with nonvoting state prisoners in order to dilute black voter strength.
Supporters got testy, however, when reporters challenged Brown about a congressional and Justice Department investigation into fraud allegations involving a nonprofit group she has ties to. She declined to answer, saying her attorneys told her not to comment, but offered that the investigation is "an organized effort to take me out."
Finally, a handful of supporters asked reporters to leave the restaurant when Brown wouldn't give a clear answer on who paid for the buses and the lunch. Representatives from the Jacksonville, Tallahassee, Tampa Bay area, and Jacksonville media markets had a row of cameras and microphones in the restaurant's banquet room.
When Times-Union Tallahassee bureau chief Tia Mitchell pressed Brown to explain, one woman challenged her questioning. As Mitchell spoke privately with her, a Brown aide interrupted to say all reporters needed to leave "or we'll have to call the police."
To be sure, supporters were united in their backing of Brown. "I'm here because I support our congresswoman," said Ernestine Black, a retired saleswoman from Jacksonville, between bites of macaroni and cheese. "We as voters would like to keep her, that's all. We have great access (to her) and we know her."
King, after a woman sang an impromptu version of the gospel tune "My Tribute," noted that it was Good Friday, which Christians recognize as the day of Jesus Christ's crucifixion.
"I wanted to come lend my voice," said King, a human-rights advocate and community activist. He last appeared in the capital to lead a pro-school vouchers march and rally that attracted more than 10,000 people.
"When victory comes, this will be Great Friday … it may be that we have to come back (to Tallahassee) again, but we must come back until we see victory," he said.
---
Jim Rosica ([email protected]) covers the Florida Legislature, state agencies and courts from Tallahassee. An accompanying story on the court hearing that preceded the news conference is here.