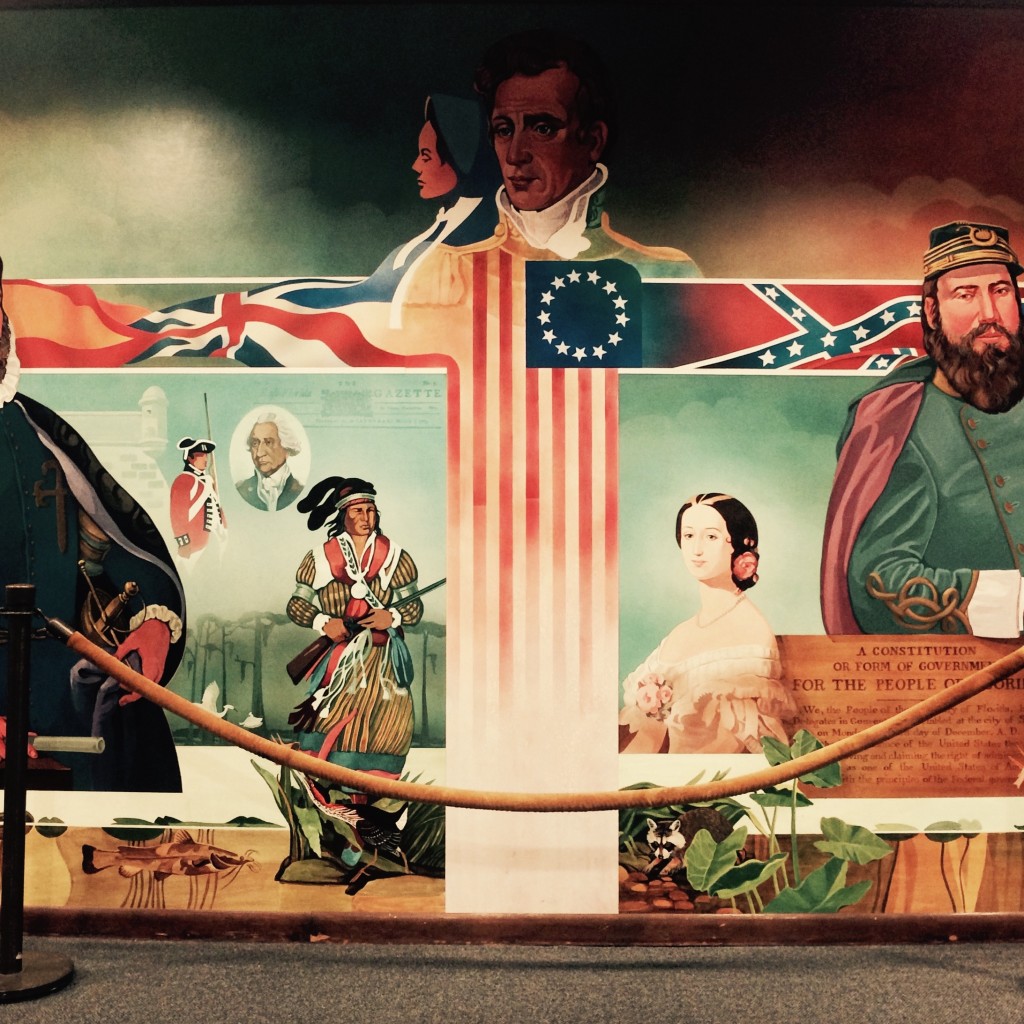 With work well underway on renovations of the Florida Senate chamber, there's still no word on the fate of the decades-old mural that greets visitors to the chamber's fifth floor public gallery.
Senate spokeswoman Katie Betta said Tuesday no final decision has been made about the artwork's future. This past October, Betta said the mural will be taken down because it's showing signs of age, including fading and peeling.
The "Five Flags Mural" also happens to depict a Confederate flag, which the Senate previously voted to remove from its official seal and insignia. Senate Democratic Leader Arthenia Joyner of Tampa had explained that the flag is a "painful symbol of oppression."
The name of the mural refers to the five flags that have flown over the state: U.S., Confederate, Spanish, French, and British.
The flag is over the shoulder of Gen. Joseph Finnegan, commander of the Confederate forces at the February 1864 Battle of Olustee in north Florida, the largest Civil War battle fought in the state.
It's not yet clear whether the 10-foot-by-16 foot painting can be relocated, though Senate President Andy Gardiner is committed to preserving it, Betta said.
"Our construction managers have been seeking input from art preservation specialists to determine the best way of removing the mural," she said. It's been in place since the Capitol opened its doors in 1978.
It's still "unclear if we will be able to remove the mural from the wall, or if the wall will need to be removed in pieces with the mural still attached," Betta added.
Tallahassee attorney Jeff Howell, who led an informal drive to save the mural, had written to Gardiner last year that the work should be "preserved and moved to a place where it can continue to be viewed by Floridians."
On Tuesday, Howell said he never received a response. "When we have more information regarding (the mural) component of the project, the Senate will reach out to those who have expressed interest" in it, Betta said.
Senate President Pro Tem Garrett Richter, the Naples Republican who leads the Senate's Chamber Renovations Working Group, couldn't be immediately reached by telephone.
The mural's artist, Renee Faure, also could not be reached Tuesday morning. She previously told FloridaPolitics.com she found it "quite hard to believe that this defacement of artwork is being considered," referring to its removal.
The Senate now is redoing its chamber, which has not been renovated since the building's construction in the 1970s.
The nearly $5 million renovation, expected to be complete before the end of the year, includes a new ceiling dome and other design elements similar to the exterior of the Old Capitol, such as a pediment on top of columns over the president's rostrum with the words "In God We Trust."