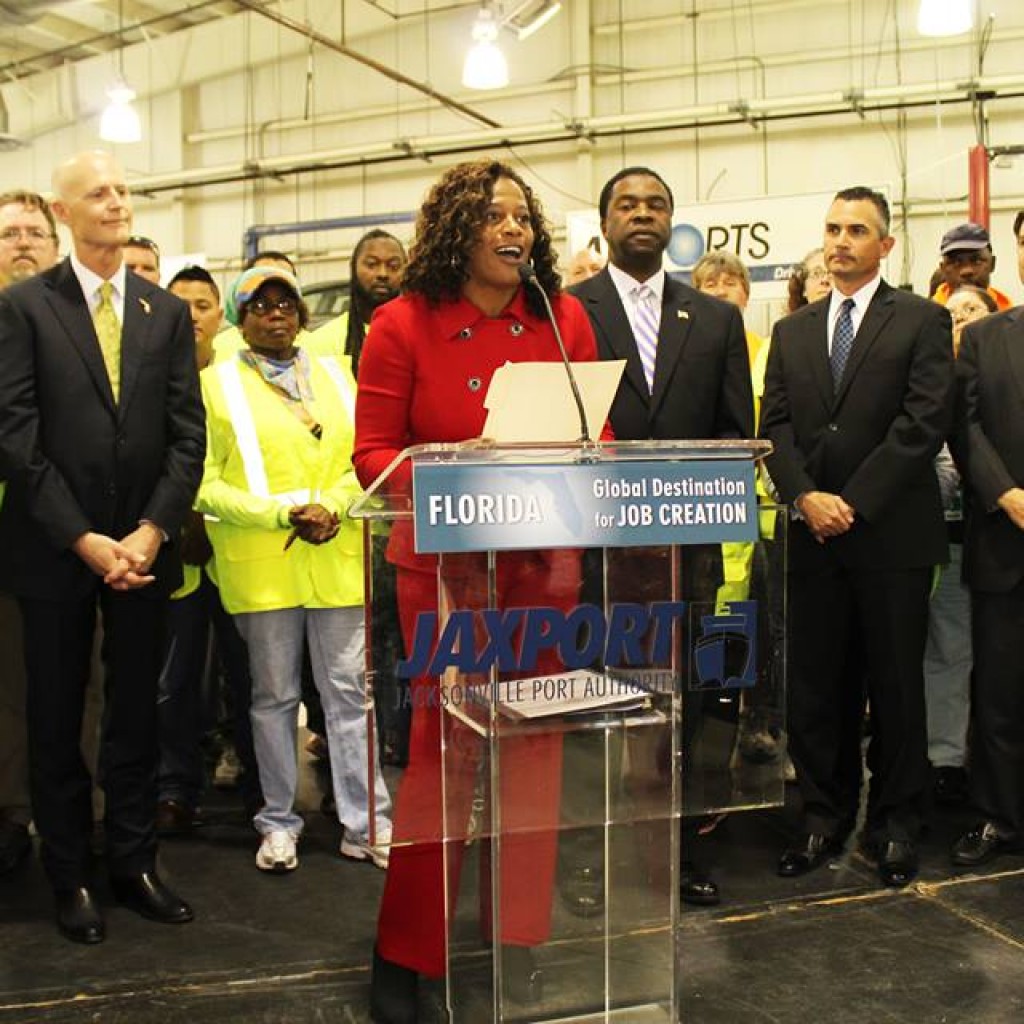 When former Jacksonville City Councilwoman Kim Daniels filed earlier this year to run in HD 14, many political observers and media members wondered why.
They thought that, after losing a bruising City Council re-election campaign, she wouldn't want to run for office again. Or that she wouldn't be viable.
Daniels sees it differently.
"House District 14 is the next level for me," Daniels said in an exclusive interview with FloridaPolitics.com Thursday afternoon in downtown Jacksonville.
To those who question her ability to win, she says they aren't seeing the full picture.
"I'm the only African-American to ever win an at-large seat," Daniels notes, (albeit incorrectly, as a number of African-Americans have accomplished that feat), and "in Districts 7 through 10, I got 95 percent of the vote."
"I don't think it's time to stop," Daniels added.
When asked about her two major opponents, former state lawmaker Terry Fields and attorney Leslie Jean-Bart, Daniels noted that there are "three good candidates, but I'm the best for several reasons."
Daniels, who was the last of the three to enter the race, notes that she was the first to qualify by petition, with 990 certified petitions out of the 2,009 she collected.
Petitions, she said, "are not as easy to get as you'd think," as it requires "boots on the ground" to talk to well over 2,000 people.
Regarding performing the job in Tallahassee, Daniels notes that of the three major candidates, she's the only one with "recent legislative experience."
"One has no experience," Daniels said, "and the other hasn't been in office in a while."
"One has been [running] for a year and a half, and only has 300 petitions," Daniels said of Jean-Bart, who depicted Fields and her as retread politicians in a FloridaPolitics.com interview earlier this year.
"300 in two years… if I'm a retread, that's a flat tire. I can get to Tallahassee on retread tires. I can't get there on flat tires," Daniels said.
The process of getting petitions was not unlike evangelism, in that it required Daniels to talk to people she didn't know, and hear their questions and issues.
"I'm an evangelist," Daniels said. "I win souls, so I can put boots to the ground."
And in those conversations with voters, Daniels has learned things. She has, for example, a well-developed position on the pension tax referendum, arguably the major takeaway for Jacksonville from the 2016 legislative session.
"It should be the people's choice," Daniels said.
She's not at all sure how the people will choose. In the area she's campaigning, she estimates that 85 percent of the reaction she's heard is negative.
"People bring it up," Daniels said of the "hot issue."
Daniels, thus far, has campaigned on the Northside, parts of Oceanway, Districts 8, 9, and 10.
Compared to running at large for Council, she's enjoying running in a district.
"I'm glad to be able to run a grassroots campaign," Daniels said, as running in neighborhoods is more "up close and personal."
To that end, she's not looking at running in Congressional District 5, as many locals are, and as some have speculated she might.
"I'd rather stick to House District 14," Daniels said, "I'm focused on Tallahassee."
As one might expect, Daniels sees the incumbent, Mia Jones, as a "calm, cool, and collected" role model for her potential time in the House.
And Daniels has some preferences regarding committee assignments. She'd like to be on Education, the Local/Federal Affairs Committee (as she is a Desert Storm veteran), Judiciary (as she has an interest in juvenile justice, and a degree in criminology from Florida State), and Appropriations ("to make sure Jacksonville gets its piece of the budget.")
To ensure Jacksonville gets its piece, she stresses the importance of teamwork, and asserts that as was the case when she was on Council, she will practice the "neophyte principle," being "slow to speak, and quick to listen," so that she can learn the role.
She's done it before.
"The first time I went to City Council was when I went to work," Daniels said, adding that in that race, she was "shocked" that she won, given that she "filed two months before by faith."
Adjusting to Council, especially in the early years, was difficult, given that she was "travelling around the world" and always "having to be somewhere" evangelizing.
Addressing the residency question that came up during her re-election campaign, Daniels noted that she was a Jacksonville resident, and that "ministers down there" were running the South Florida branch of her church.
There was a transition into the role. But now, Daniels said, she has more time to devote to her legislative role. Her twin sons will be in college at Maryland starting at the end of May, in summer school ahead of joining the Terrapins' roster as members of the defensive backfield.
And another son of hers, Michael Jennings, who recently had legal trouble, has been exonerated, Daniels said.
The state gave the $5,410 it seized from the former FSU and New York Giants wideout, which Daniels said was proceeds from the sale of a restored car, back to him. And the charges were dropped.
Jennings does, Daniels said, have issues from his football career: notably, three concussions, which result in issues that may never go away: "bad dreams… depression" and insomnia.
The National Football League is funding Jennings' concussion treatment.
Daniels is one of the most atypical politicians in Jacksonville history, a statement which covers some ground. Despite getting a great deal of negative press in recent years, she is resilient and undaunted as she enters not just a new campaign, but a new phase of her life.
"I'm like Timex," Daniels said. "I take a licking, but keep on ticking."