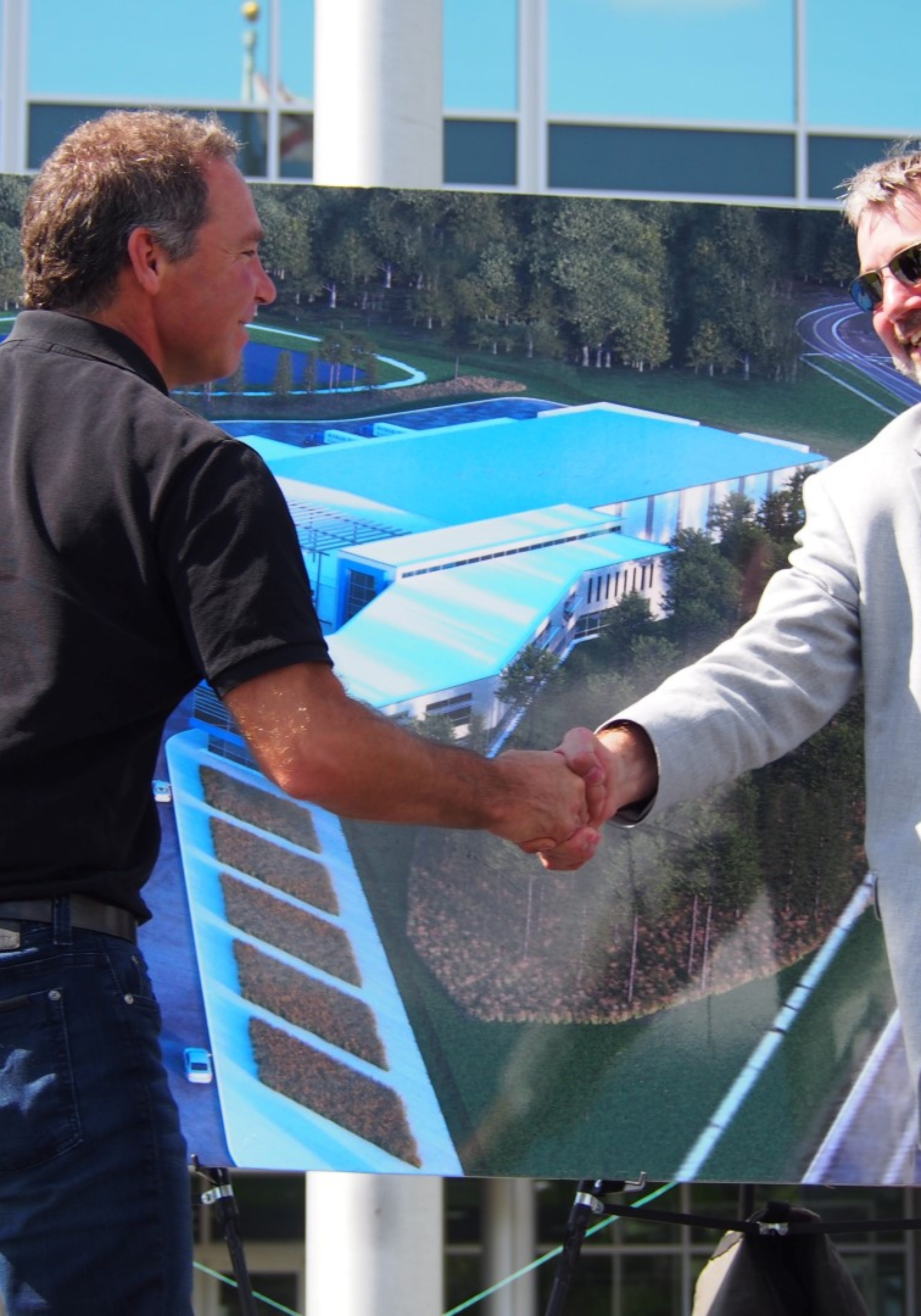 A communications satellite factory with 250 high-paying manufacturing jobs is landing at Space Florida's industrial park at Kennedy Space Center
A company called OneWeb Satellites, founded by Greg Wyler, an entrepreneur who says his dream is to bring the internet to everyone on Earth, intends to build satellites on the Space Coast to populate a new constellation of internet telecommunication orbiters aimed at doing so.
"I want to start with something important that binds everybody together, the mission of OneWeb, and that's to enable affordable access to everyone. Underlying that mission is to connect every school. There are two million plus schools that have no connectivity around the world. Once you connect a school, you connect a community," Wyler said.
"Yes, OneWeb will be connecting aircraft and ships and all sorts of homes in America and Europe and around the world. But that principal of connecting schools, that principal of enabling affordable access was the binding force," he said.
Wyler is bringing his $85 million satellite factory to the expansive yet still virtually-vacant Exploration Park space business park that Space Florida, NASA, Brevard County and Titusville developed on Kennedy Space Center property just outside the gates of the nation's launch center. He's promising 250 jobs with an average salary of about $86,000.
Yet OneWeb Satellites and its parent companies, OneWeb and Airbus Defense and Space, will not necessarily launch any of the 900 communications satellites they say they will build from Cape Canaveral or Kennedy Space Center.
They came, Wyler said, backed by Gov. Rick Scott, Space Florida President Frank DiBello and others at a gala announcement outside Space Florida's offices, because they found the right mix of space-tech talent and opportunity.
And Florida, through Space Florida, is offering up to $17.5 million in state incentives.
It's the second major manufacturing announcement made for the business park in the past eight months, following rocket company Blue Origin's announcement last fall that it will build its rocket at a $300 million factory there.
"This announcement, which follows the announcement by Blue Origin only a few months ago, will mark another first for Florida in the evolution of the space industry in our state," said DiBello, whose Space Florida is chartered by Florida to attract space business. "We are sitting at Space Florida's Exploration Park… which we hope will become the home of many of the world's leading space companies who are driving the future of this industry, which is rapidly and inevitably becoming more commercial."
OneWeb intends to build it first few satellites in France until the Brevard County factory is open.
The work will be a combination of robotic and highly-skilled human work, said OneWeb CEO Brian Holz. The satellites will be about a meter cubed in size, and the company hopes to produce as many as 15 a month.
For now, none are set to be launched from Cape Canaveral. OneWeb has contracted with Russian Soyuz and European Arianne Space for the first 21 launches and Virgin Galactic for its next 39. None of those companies currently goes to space from Florida, though Virgin Galactic's Virgin Spaceship, a space plane, is a candidate to go up from Kennedy Space Center's former space shuttle landing facility, which is controlled now by Space Florida.
Space Florida's board of directors approved the deal with OneWeb in January when the company still was being talked about under a code name, "Project Sabal," and the members of the board had to go on DiBello's assurances that it had been fully vetted
Wyler has a long history of trying to tie his internet satellite entrepreneurial projects to a great social justice agenda, with his desire to equalize the world's access to phone and internet access. His big venture so far, O3B Networks (O3B stands for "the other three billion people") has become a billion-dollar satellite company.
But not all his ventures have succeeded. A company he established to bring phone service and the internet to Rwanda, particularly to its schools, Terracom, fell into deep controversy for its effectiveness, and the country bought the company from him. On Tuesday, Wyler told FloridaPolitics.com that Rwanda was a learning experience and that he is in good terms with Rwanda.
"One of the biggest connectivity problems in emerging markets is the poor quality due to latency over geo satellites. I learned this as one of the largest users of GEO satellites providing services in Rwanda," he stated in an email.
"Fixing this problem became a passion,  which is why I founded O3B Networks.  There we  designed a constellation of satellites which today provides services to lots of communities around the globe (and was constructed to our design by Thales Alenia Space with lots of help from the French Government). We were also fortunate to have blue chip investors believing in that vision, I am super happy with the results and impact.
"OneWeb is different than O3b in that OneWeb will enable connectivity directly to schools and households. For sure it is also hard, but we are really far along.
"Back to Rwanda, President Kagame has also been supportive of both OneWeb and O3b Networks, in fact I was invited and hoping to go to the World Economic Forum Africa in Kigali soon, but I am not sure my schedule will let me," Wyler wrote.
DiBello shrugged, saying when a company works with countless countries, one here or there is bound to be problematic.