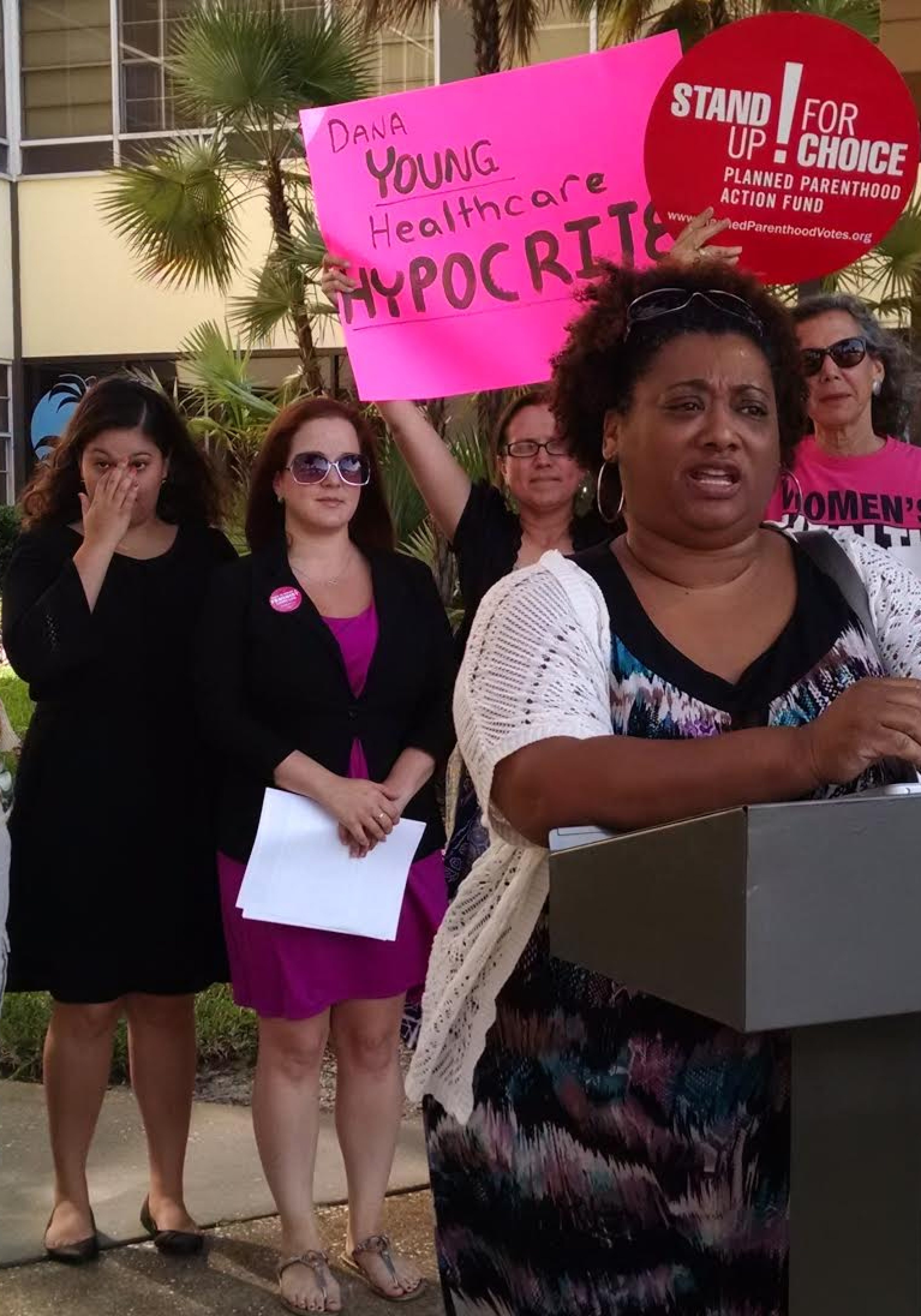 More than a month after after it was signed by Gov. Rick Scott, abortion rights activists in Florida remain infuriated about the Legislature's passage of HB 1411, which denies public resources to women's health clinics that provide abortion services.
To express their anger about the bill, a group of activists gathered in front of Tampa House Republican Dana Young's district office in South Tampa on Thursday, where they denounced her and Scott for approving the bill.
The measure doesn't eliminate state funding of abortion, which has been illegal for decades. It does block money for preventive medical care at the same facilities where privately funded abortions occur. It also requires doctors performing abortions to have admitting privileges at a nearby hospital. The same requirement is now being reviewed by the U.S. Supreme Court in a Texas case involving a law passed in 2013. Critics say that it will force abortion seekers to travel long distances, ultimately making the procedure risky.
"The stories of women who, despite being owners of our bodies, are now subject to draconian abortion and reproductive health policies straight out of a 1950s flashback or a 'Mad Men' episode," said activist Christina Hernandez. "And women should know who to thank for this regression of reproductive justice: Governor Rick Scott, with the help of people like State Representative Dana Young, have set Florida women back."
Last week, the Florida Supreme Court temporarily blocked another state bill that required women to wait 24 hours before receiving an abortion. The stay will remain in place until the justices decide whether to hear a lawsuit that claims the waiting period is unconstitutional.
"Most women who decide to get an abortion, contemplated long before they arrived at a doctor's office," Hernandez said, adding that Young and Scott had "undermined" a personal and difficult process.
Activists said that over 70 percent of Florida's 67 counties don't have an abortion clinic, requiring women in those particularly counties to have travel some distances to get a legal abortion.
"This bill interferes with a woman's choice. As we say – 'that ain't right,'" said Tammy Thomas Miles, Tampa Bay director for the Florida Institute for Reform and Empowerment, the organization that organized the news conference.
"There are many of us around who have been concerned about this issue for decades," said Eleanor Cecil, president of the Tampa Chapter of the National Organization for Women. "We really need to continue to do things that support the issues that we're most concerned about, and this is an issue that affects poor people the most."
"We have a democracy, and I absolutely support their right to express their views and to protest if that's how they see fit to express their views," Rep. Young said in response. "We happen to have a respectful difference of opinion on this issue." She did not want to elaborate.
Another Tampa Bay area Republican House member who supported the bill, Seminole's Larry Ahern, defended his support of the bill at a recent Suncoast Tiger Bay Club meeting, saying that there is nothing in the bill that prohibits a woman's right to choose. "All it says is that a doctor must have privileges at a hospital within a certain distance in order to perform these types of surgical procedures so, in essence, it's protecting her in case something does go wrong. And it does."
The law takes effect July 1 and will probably be challenged in court, though no organization has done so to date.