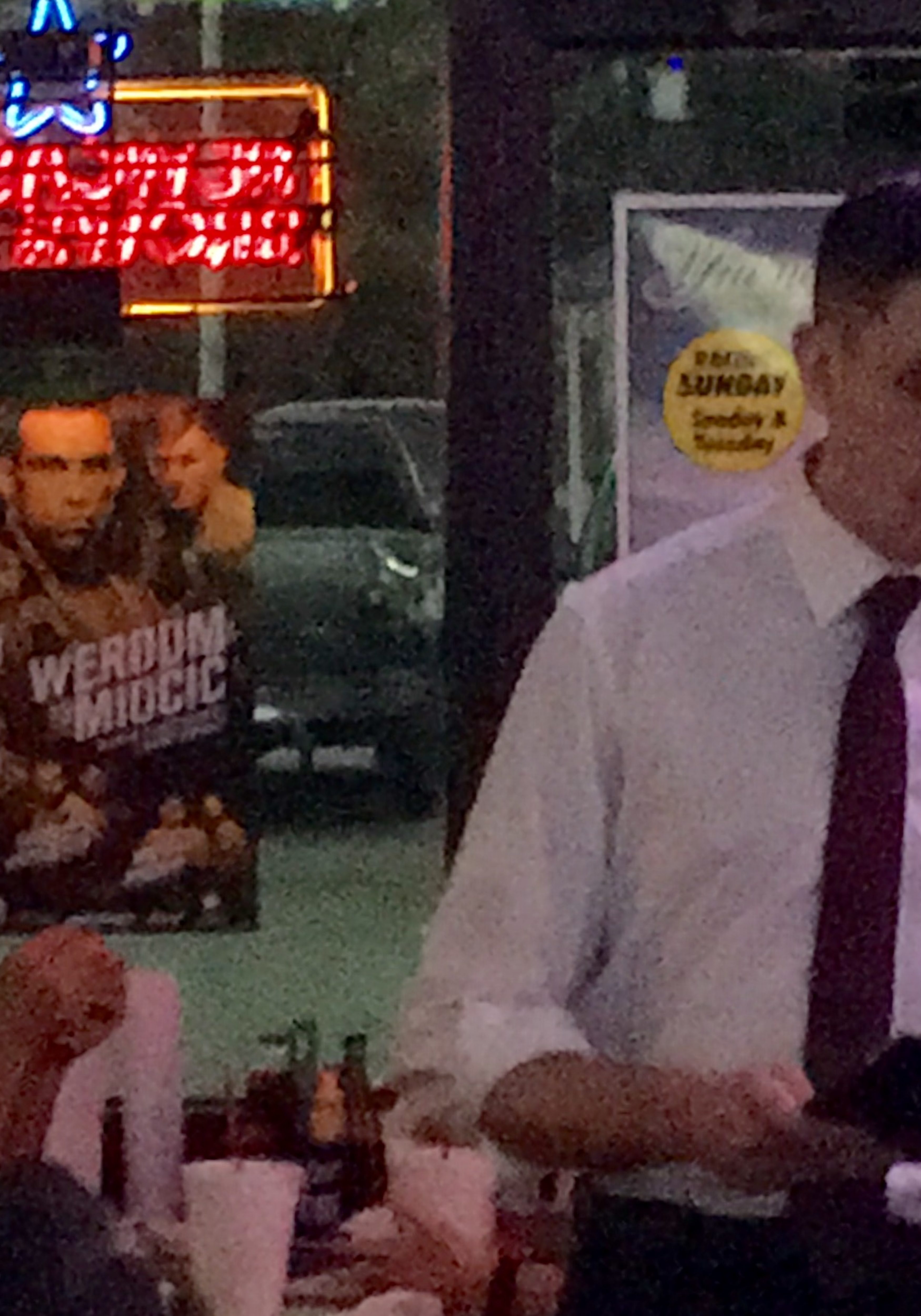 I'd never met Augustus Invictus, the Libertarian U.S. Senate candidate, before a conversation at Mr. Chubby's Wings deep on the Westside of Jacksonville.
But I'd heard the stories. Narratives about goat sacrifice … about willingness to serve as legal counsel for neo-Nazis … about being banned from Canada … and most recently, about having to schedule speeches, like Tuesday night's in Jacksonville, at "undisclosed locations" because of the "Antifa" movement.
When asked about the anomaly of wearing a funeral director-style black suit to a wing joint, Invictus quipped that he even wears a suit in the shower.
Then the conversation turned, briefly, to the well-trod path of scandal.
"The former [state Libertarian Party] chair thought he'd bury me" with "blackmail," Invictus recounted. "He thought it would end me. Instead, it gave me a lot of momentum."
When asked if a crowd of 15 people, many of them from outlying counties, at a wing place could be construed as "momentum," Invictus seemed to discount the personal responsibility at the heart of the libertarian creed, saying his crowds were "always late — I never expect people to show up on time."
He also expressed a preference for picking "loud places" at which to speak, so as "not to draw too much attention," which seemed to me to contravene the typical aims of a political speech, not to mention his stated desire to "grow the party" and "set up for a 2018 run."
In conversation, Invictus was mild: the insurance salesman you could rebuff, the fill-in priest who still feels the novelty of the vestments, the guy in sitcoms about schoolkids who always got enlisted to write the cheerleader's term papers.
He cautioned me not to buy into the "Chatty Cathy" persona, though.
"Fire and brimstone, that's what I am," Invictus said, likening himself to a UFC fighter in the octagon.
****
Spoiler alert: On this night, Dana White was nowhere to be found in the octagon that was Mr. Chubby's Wings.
If one were to picture the restaurant as the Iberian Peninsula, the three tables reserved for Invictus supporters were Portugal, and the couple of dozen tables with apolitical attendees were Spain. There was no hard point of demarcation, not even a rope or a campaign sign marking Invictus territory. Just three stranded "party tables" surrounded by booths and other tables, where the patrons were much more interested in their repast than in hearing a "fire and brimstone" political speech.
Of course, those who were there for Invictus were interested — even if their positions were antithetical to traditional conceptions of libertarianism. The pre-speech conversation that stood out revolved around prisons.
Regarding criminals, one man declared society needed to "kill them, or put them somewhere … get rid of degenerates in general."
Emphasizing his point, he said, "leftists go in prison, or we kill them."
This robust policy discussion, alas, could not continue forever. The candidate stood up, reaching into a file folder and pulling out a typewritten speech, with all the "fire and brimstone" of a 20th-century middle school kid reading a book report.
****
Nervousness etched Invictus' face, as his voice remarkably changed. The candidate assumed a quasi-British accent reminiscent of '80s rapper Dana Dane, yet the presentation style was more like Ignatius Reilly in A Confederacy of Dunces. Or maybe the character Rik Mayall played in The Young Ones.
Very little in the way of specific policy critique was heard. No references to how Sen. Marco Rubio fell short of the Libertarian ideal. No contrasts between Invictus and the myriad other candidates in the race for the Senate.
Nothing real world. Not unless you think "let us consider the means of treason" to be relevant to the 2016 policy debate.
Two ladies, at a table just outside the party table triad, broke out in peals of laughter, with one telling her companion the speech was "pathetic."
****
Pathetic or not, the speech continued.
"Slavery is not an option," Invictus said, before weighing in, curiously, on the "laws of self-important congressmen and silly city councilmen."
"The punishment for treason is death," Invictus observed, before telling those listening to "look outside."
Apparently, an FBI agent was in an SUV outside Mr. Chubby's.
****
A waitress bussing tables passed by, a 20-something bottle blonde with a Westside accent.
My question to her: "Does this happen every night?"
"This?"
A note of incredulity came into her voice.
"This is NEW."
****
Invictus said something along the lines of "wolves they fear, wolves thy must become," before observing that he had been "demonized by media and certain members of my political party."
Somewhere after saying "the American people have no will to fight," a gentleman came out from the kitchen.
"What's he talking about?"
"He's a Libertarian running for Senate," I told him.
Before we could engage further in conversation, a call came out from the kitchen: "Leave that [Expletive Deleted] alone!"
****
And so it went.
The Invictus campaign, as performance art, has been a reasonably interesting installation, followed from a distance.
The reality, however, is that he is a tentative public speaker, much more comfortable engaging text from his folder than members of the crowd, much more comfortable giving a high school history book version of the American Revolution than with making any real, salient case about how government overreach, financed by deficit spending, has eroded civil liberties and stuffed prisons full of minorities, especially in the southern United States.
The best thing that happened to him, ironically, were the viral stories of goat sacrifice and the release of his LSD Diaries and other narratives that went viral thanks to the push of the 24-hour news cycle.
Because when you strip away the lurid ephemera, here's what you're left with:
A boring, mediocre public speaker, wearing a winter suit in springtime Florida to a wing place in the sticks.
A man who can't speak with any specificity on policy.
A joke that ran its course.