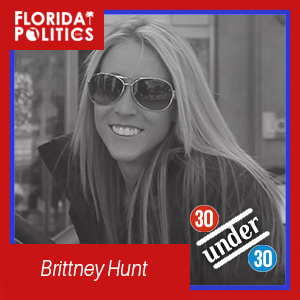 Brittney Hunt grew up interested in politics and government, but didn't consider lobbying until graduate school.
Now, she's with the powerhouse Florida Chamber working on education and health care issues.
Here's Hunt in her own words.
I am (age) … 28 years old.
I live in … Tallahassee, Florida. — believe it or not, I grew up here!
I got into politics because … I've always been interested in public service and government. In grad school, one of my professors suggested I get into lobbying. All it took was one session, and I was hooked!
One principle I always put above politics is … integrity. You only have one reputation in this profession; say what you mean and mean what you say.
Person or people who gave me my first shot … Bob Harris
I've already worked for/on (campaign, issues, etc.) … I've assisted with implementing policy at a state agency and represented a variety of clients at a lobbying firm. Currently, I lead our education and health care initiatives at the Florida Chamber of Commerce.
When I begin a project or first work on a campaign, I look for … both sides of the argument. I like to know as much as I can about an issue — including who I'm up against and why they may feel differently.
I've been blessed to have these people as my mentors … the first, and most important, would be my dad. He taught me how to approach issues, how to properly argue my position (we had a lot of practice in high school), and to always stand up for what was right. I'm also fortunate to have an amazing team behind me at the Chamber: Darrick McGhee, David Daniel, Jon Johnson, Matt Bryan, and Mike Anway are my Sherpas in this process. Last, but certainly not least, is my current boss — Frank Walker. He's a fantastic example of a true leader, and I'm really lucky to be learning from him.
The people I most admire in politics are … perhaps the most important and most overlooked group of people in this process are the families. We chose this crazy life; they didn't. My husband couldn't tell you what exactly it is that I do every day, but he is, without question, my biggest fan and there is nothing cooler than coming home to that kind of support. Makes all the long days totally worth it!
One lesson I've already learned is … make sure to have your heels re-tipped at the beginning of every session and always sit next to an outlet in committee meetings.
If I wasn't working in politics, I'd be … at the CIA. I specialized in counterterrorism in my master's program and always wanted to work in national security.
In 10 years, you'll read about me … hopefully nowhere! I prefer to stay behind the scenes!