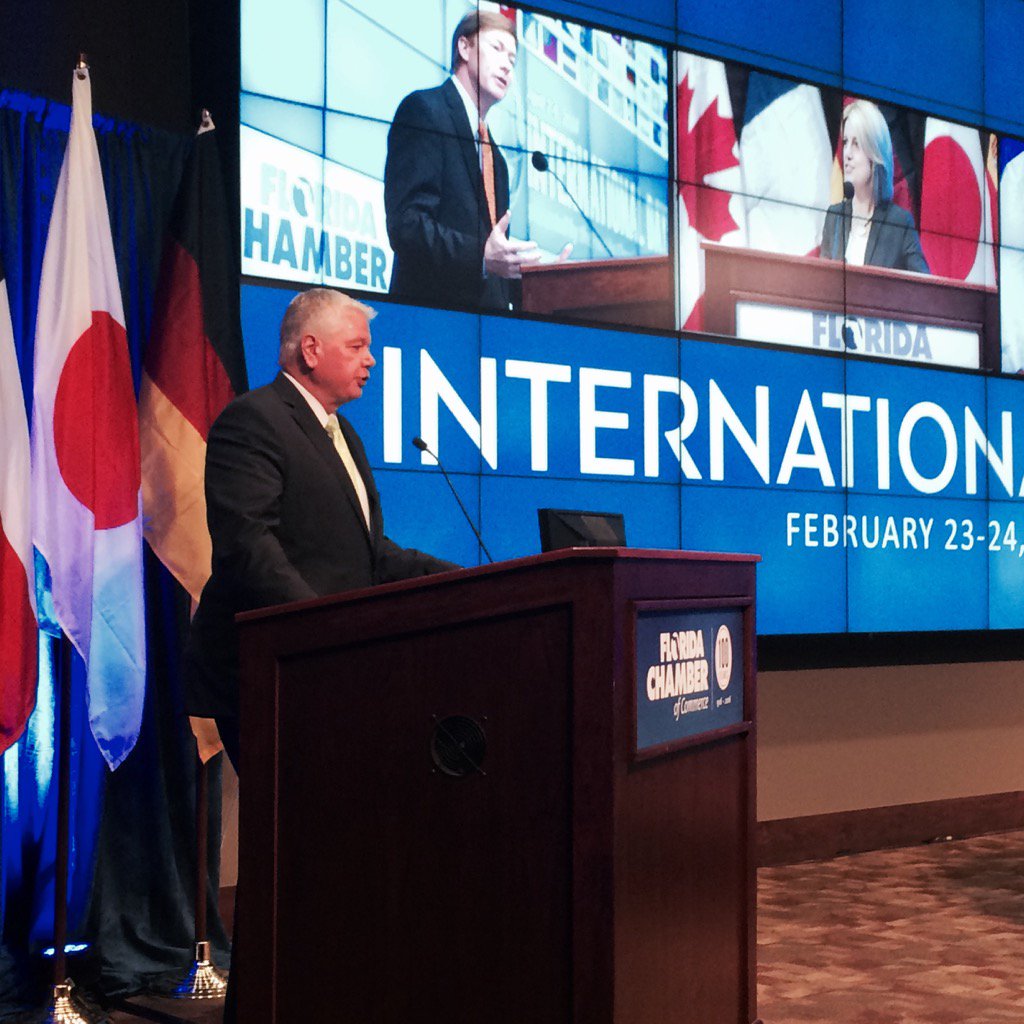 In one of his final meetings, Bill Johnson encouraged the business community to keep doing what it can to attract companies to the Sunshine State.
"I traveled about 30,000 miles in the last year or so and I've been in almost every single county in the state," said Johnson, the departing head of Enterprise Florida. "I get the sense of excitement that's occurring in our state, because in our state we work as one. We work as one team."
In March, Gov. Rick Scott announced Johnson was leaving the organization. The announcement came shortly after the end of the 2016 legislative session, when lawmakers refused to approve $250 million to create the Enterprise Florida trust fund. It also coincided with Scott's announcement that he tasked David Wilkins, the former head of the Department of Children & Families, with a review of the public-private economic development agency.
"As we know, Enterprise Florida is headed in a new direction," said Johnson during the Enterprise Florida Board of Directors meeting in Naples on Wednesday. "I … believe that change, while sometimes difficult, is often a good thing."
A review of the state's public-private economic development agency released Wednesday found it could save $6 million through a series of cuts, including slashing 27 positions and reducing operating costs.
Johnson's last day is June 24. He will receive $132,500 as part of his separation agreement, but won't receive a bonus he would have received had he stayed through June 30.
Johnson, who spent 35 years with Miami-Dade County government before joining Enterprise Florida, praised the organization for its new marketing plan, and said its business development and international programs continue to excel.
"Public-private partnerships play an important role in how we sell Florida," said Johnson. "I came into this position firmly believing in the power of public-private partnerships. I leave this position even more convinced that it's these partnerships that constitute the powerful tool in carrying on the Enterprise Florida, and state of Florida, mission."
Johnson encouraged Enterprise Florida officials to continue to work with others to improve the state's economy, telling the Board of Directors that building relationships is key to economic development.
"I hope that this organization going forward will continue to make relationships, particularly at the local level, a top priority," he said. "As we all understand and we all know, economic development cannot be done in a silo. If you're going to be successful, it's all about effective, true partnerships."
Scott appointed Johnson as the organization's CEO in January 2015. On Wednesday, Johnson applauded the governor, saying the Naples Republican is a "tireless leader."
"He is a champion. He is much more than the jobs governor; he is a leader," he said of Scott. "While we did not get everything we sought last session, no one has worked harder to make a case for economic development than our governor."
The Naples Daily News reported Wednesday that Johnson had not decided on his plans after he leaves Enterprise Florida. Johnson told his board that he plans to stay in Florida and continue to promote the state.
"I will continue to work hard as a Floridian … to support you and work with you to further your efforts to grow," he said.