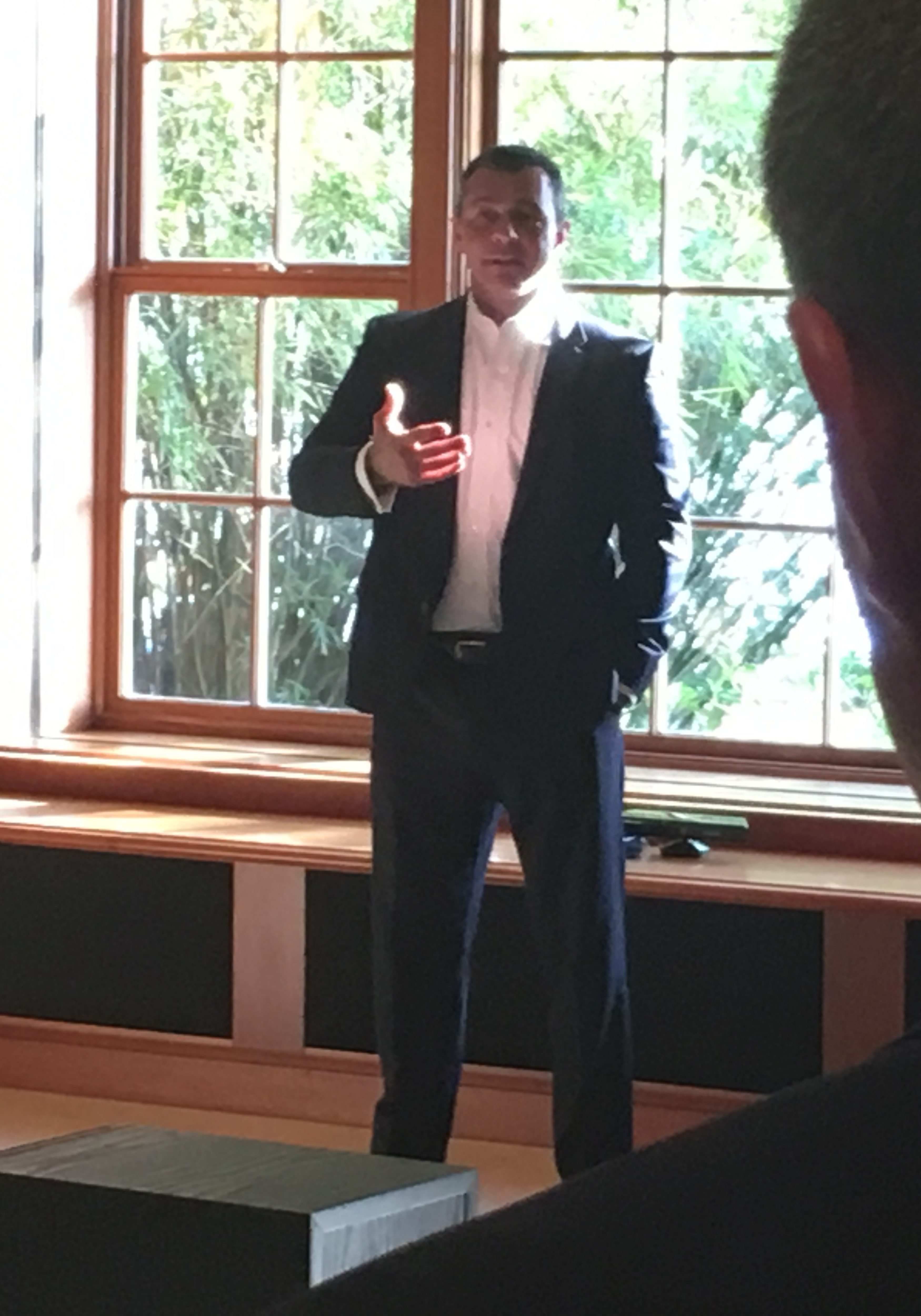 Republican Todd Wilcox is feeling good about himself and his Senate campaign these days.
The former combat veteran and military defense contractor was a complete no name in Florida politics when he announced he was entering the race on the Fourth of July. Now, recent polls show him competitive against the top two Democrats in the race.
In a year for outsiders in American politics, Wilcox fills that niche in the GOP senate race, though he's now being challenged in that role by Manatee County home developer Carlos Beruff (though Wilcox dismisses that Beruff comes from outside the system).
Wilcox says not that much has surprised him about getting into the race. While much of his candidacy is predicated on the premise that the country is disgusted with career politicians and thus there's a new desire to elect more non-politicians like himself to Washington, he acknowledges that the so-called "barrier to entry" is cost prohibitive.
"If I wasn't in the position I'm in to be a beneficiary of our great free market capitalist society and economy and having amassed some personal wealth … there's no way I could do this," he admits while speaking with FloridaPolitics.com last Friday afternoon at the Tampa DoubleTree Hotel, site of the RPOF quarterly meeting.
Wilcox has plenty of critical things to say about career politicians, though Beruff doesn't escape his wrath.
"People are fed up with American politicians, and it's not lost on all the candidates," he notes. "(That's) illustrated by the fact that they're all claiming outsider status, which is ironic, because three of them are sitting in career political offices."
As for Beruff, he unloads on the newest entrant to the race, saying he is "clearly an insider in terms of campaign contributions to candidates on both sides of the aisle, accepting lucrative positions on governing boards that have a direct impact on the local economy and allowed him to help out crony capitalists in the construction industry. That's no outsider."
Wilcox dismisses David Jolly and his Stop Act proposal that would bar federal officeholders from directly asking for campaign contributions, saying, "he's just putting out this gimmick as a smoke screen for the fact that he can't raise any money for his own race, and it doesn't even get to the corrupting factor of money because his staff can still raise money."
I inquire about Ron DeSantis. The Ponte Vedra Beach representative is the only other GOP U.S. Senate candidate with military experience. However, Wilcox not-so-subtly quantifies the difference in experiences both men encountered when serving in Iraq, while repeating several times that he respects DeSantis' service.
"I served in combat twice, and led men in combat twice," Wilcox says. "My objective and my mission was to close with and kill the enemy. Those are different experiences you draw from those … there's the difference between our service. I think it's respectable that he has that service record. He's the only other candidate in this race on either side of the aisle who is a veteran."
Wilcox then ticks off his national security experience in rat-a-tat fashion.
"Arabic speaking. CIA case officer. Nine years on the front lines of the global war on terrorism. I sit on the RAND board of public policy. I sit on the board of the National Defense University. I built a very successful company that provides very critical services to the special ops intelligence committee directly related to the war on terror (Patriot Defense Group)."
But that's not all.
"He's been the recipient of staff-provided talking points on various issues," Wilcox says of DeSantis. "There's a big contrast there. While I respect his record of service, it's my objective to accomplish my mission, which is to keep this seat in the Republican Party. And by doing that, I have to point out the contrasts. I'm not violating Reagan's 11th amendment … the contrasts could not be more stark when it comes to the depth of experience when it comes to national security."
When contacted for a response, Team DeSantis took the high road.
"Ron DeSantis is thankful for all Americans who serve or have served," wrote Brad Herold, DeSantis press secretary.
Wilcox has a plan to defeat the Islamic State: his proposal would bring together a coalition of 200,000 ground forces consisting of troops coming from Egypt, Jordan, the Kurds and the Saudis. When asked if that's more difficult than it sounds, he insists it's not, saying strong leadership, a la George H.W. Bush in late 1990, could bring such a coalition together.
He says that foreign fighting force would be backed up by U.S. special operations forces.
Wilcox now says going to war in Iraq was a mistake, and says the whole idea of regime change adopted by George W. Bush is a failed policy.
"Where there is a kindling of democracy we should fan those flames, and we should be the catalyst to help that, if they're willing to stand up and fight for that, but when you give freedom and liberty and democracy to people who don't appreciate it and didn't fight for it, it's not going to be sustainable," Wilcox says, referring to specifically to elections that the U.S. called for in Gaza back in 2006 and Egypt in 2012.
For all his emphasis on being an outsider, Wilcox says that's not enough for a Florida citizen to vote for him for Senate. He says that he brings 27 years of "real-world experience" on the two issues that define this election — the economy, and national security.
"It's resonating," he says, pointing out to his straw poll victory at the Hillsborough County Republican Executive Committee last month. True, Wilcox was the only Senate candidate to attend the meeting, but as jokes, showing up is 80 percent of show business — and sometimes, politics.