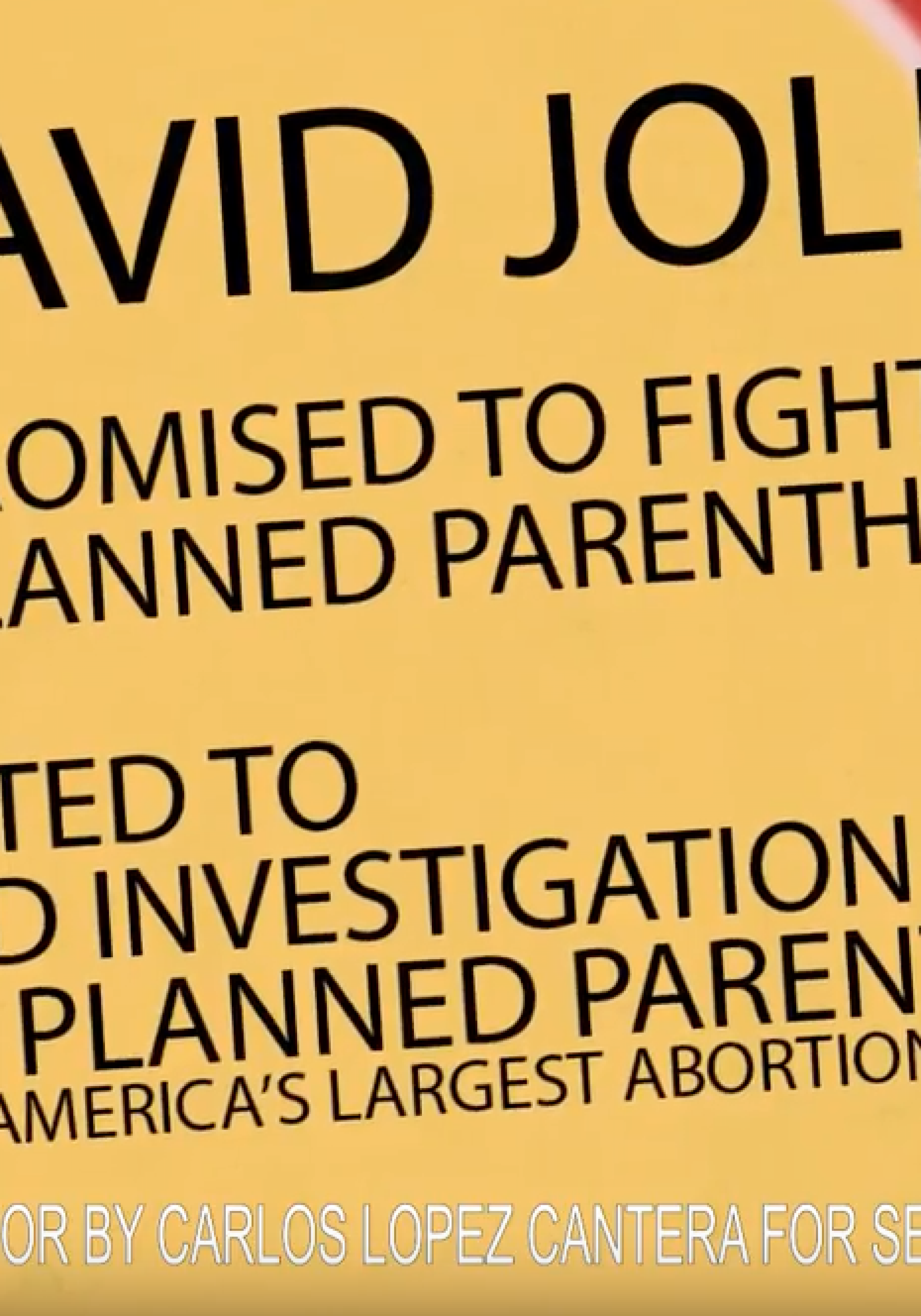 Carlos-Lopez Cantera is taking direct aim at David Jolly in a new digital ad released on Monday. The ad targets the Pinellas County Representative for refusing to support another congressional investigation into the allegations that Planned Parenthood harvested and trafficked in fetal body parts.
"David Jolly refused to hold the largest abortion provider in the country accountable last week by voting to end the investigation of the harvesting and trafficking of fetal body parts," said Courtney Alexander, a spokesperson for Lopez-Cantera. "What's worse? This isn't the first time Jolly has refused to stand up for life."
Indeed, Jolly also opposed a similar vote to create another House panel to investigate Planned Parenthood last fall, something he boasted about during his one-on-one debate with Democrat Alan Grayson last month.
"When my side of the aisle asked for an investigation of Planned Parenthood, I actually voted no," Jolly said during that debate. "I was the only Republican to vote no. Should the issue be looked at? Yes. But there were already three committees looking at the issue. We didn't need a fourth. We're either going to be the party of less government or not."
"Leave it to Carlos to want to spend millions of your taxpayer dollars on a fourth committee to investigate a matter that is already under investigation by three others," added Jolly campaign spokesman Max Goodman in a statement on Monday. "But don't worry, he swears he's a fiscal conservative."
The Jolly Senate campaign also forwarded an op-ed the congressman penned last fall explaining his vote against another committee. He wrote that if the allegations that Planned Parenthood executives sold fetal body parts were correct, it was "both heartbreaking and shocking," and "should offend every American." However, he wrote, "As a conservative who believes in smaller, more efficient, less costly government, I consistently argue against attempts by the current administration to expand government, create more bureaucracy, and obligate taxpayers to redundant and duplicative expense."
Jolly's vote opposing the latest panel occurred last Tuesday during an Appropriations Committee mark-up, in which an amendment was offered to disband the Select Panel.
In their statement, the Lopez-Cantera campaign also took note of the fact that the pro-life Susan B. Anthony List condemned Jolly for his vote last week opposing the creation of another congressional panel looking into the videos. In a statement listed on that organization's website from May 17, Marjorie Dannenfelser, president of the group, asked why Jolly would "buy into Planned Parenthood's talking points to half the inquiry?"
"He has just allied himself with the underbelly of the abortion industry and disqualified himself from the Florida Senate Republican primary," Dannenfelser said. "He has betrayed the pro-life movement and does not deserve the support of conscientious Floridians."
Jolly has been an early front-runner in some of GOP polls taken this year of the five candidates running for Senate this year. On certain issues, he is by far the most moderate candidate in the five-person field, which also includes Carlos Beruff, Todd Wilcox and Ron DeSantis.
While that moderation label may make him the party's best hope to retain the seat in the fall, it could lead to his undoing in the primary.
You can watch the video, labeled "Jolly's Folly," below.