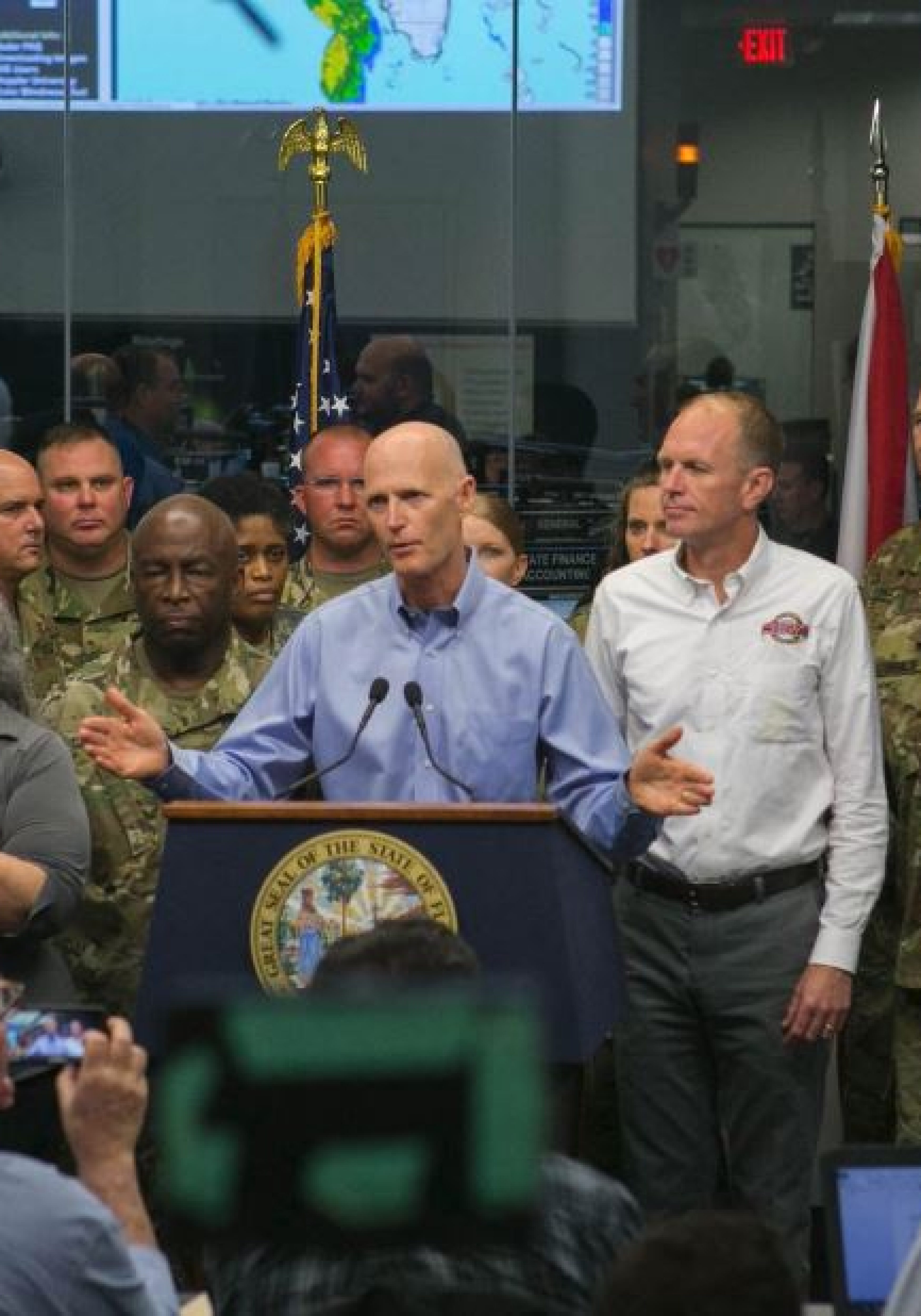 Just six days into 2016 hurricane season, Gov. Rick Scott declared a state of emergency in 34 Florida counties ahead of Tropical Storm Colin's landfall.
Scott issued the declaration via executive order shortly before noon on Monday, citing maximum sustained winds of at least 39 miles per hour and the potential for severe storm damage in counties from Sarasota in the Tampa Bay area all the way to Franklin in the state's Panhandle.
Afterward, Scott addressed reporters at the State Emergency Operations Center in Tallahassee. Scott and Department of Emergency Management Bryan Koon said while the risk of tornados and severe flooding appeared minimal, Floridians should use the occasion to prepare what could be a more impactful hurricane season than in recent years.
"Every person in our state needs to follow this," said Scott. "Just like we do with a hurricane, just like we do with Zika, we get prepared."
Scott repeatedly advised residents to make sure their storm supplies were at hand and to follow their local news. Scott added while many are focused on the immediate trajectory of Colin, the path of rain bands to the storm's east would be equally or more severe.
Scott and Koons warned that despite a decade without a severe hurricane, residents should be wary of the storm and use the occasion to remain mindful of future severe weather events to come.
"Everybody's got to watch this," said Scott.
Scott said he had notified the National Guard with their 16,000 agents statewide to be on call.
Leon County, home of the state capital, was not listed among the 34 counties covered in the declaration. Nearby Wakulla and Franklin counties, both low-lying and coastal, were however.
Scott expressed concern that since recent Florida transplants have no recollection of the severe damage caused by Hurricane Isaac in 2012 or Hurricane Charley in 2004, for instance, they may be somewhat complacent in their attitude toward preparedness.
The counties for which the governor has declared an emergency are: Alachua, Baker, Bradford Brevard, Citrus, Clay, Columbia, Dixie, Duval, Flagler, Franklin, Gilchrist, Hernando, Hillsborough, Jefferson, Lafayette, Lake, Levy, Manatee, Marion, Nassau, Orange, Pasco, Pinellas, Putnam, Sarasota, Seminole, St. Johns, Sumter, Suwannee, Taylor, Union, Volusia, and Wakulla.
Scott said the administration relied on information from the National Hurricane Center and National Weather Service in demarcating those counties, and that additional counties could be added as needed.
Koons said $26.5 million in uninsured damage would trigger a federal declaration of a state of emergency, but that such a move would not come until later in the week if necessary.