Democrats Henry Lim and Clint Curtis made clear during a debate Tuesday night that House District 47 voters have a clear choice between someone not eager to compromise and someone who thinks its the best way for Democrats to be effective.
The two paired off in the first of two debates focusing on education and the economy, hosted Tuesday night by the Young Democrats of Orange County, at the Barry University School of Law in Orlando. In the second debate, House District 48 Democrats Alex Barrio and Amy Mercado found less to disagree about though both pushed their distinct personalities, Barrio as a seasoned Tallahassee veteran, Mercado as a mother and businesswoman.
Lim, an immigration lawyer and chair of the Orlando Citizens' Police Review Board, took the hardline in the first debate, promising to stand firm in Tallahassee on Democratic principals.
"It is very important for this community to see the candidates: who is willing to fight? Who has the heart to fight? Who has the heart to bring our issues into November and beyond?" Lim challenged. He then proceeded to show that fight in question after question about economics.
Curtis, also a lawyer who gained fame 15 years ago as the whistleblower on a voting machine-rigging scheme in Florida that stopped computerized balloting, pressed the practical realities of getting work done. He belittled Lim as having the potential to be like radical Republican U.S. Sen. Ted Cruz of Texas, famous for shutting down the government by standing by principals.
"You can can see there are obvious differences between 'Fight! Fight! Fight!,' and 'let's get things done,'" he said. "When I was fighting against the voting machines, I was going against Jeb Bush, Tom Feeney and all the big shots. The odds of winning that were astronomic, right? But we won because we compromised. We we moved a little in their direction, they moved a little in ours, and we actually got things done."
Nonetheless, Lim got more of the applause from a crowd of about 100, and won a straw poll afterwards.
His differences with Curtis were more on legislative tactics and strategy than on policy. And it's possible neither of them get the nomination, because there is a third major candidate, Beth Tuuro of Orlando, who did not attend the event. The trio are set to take on state Rep. Mike Miller, an Orlando Republican, for a seat that has gone back and forth between the parties in recent elections.
Both agreed on most education issues. Both oppose school vouchers, which Lim said "hurt kids" in public schools. Both want schools to scale back or eliminate standardized testing, which Curtis declared, "turned out to be a big mistake."
But on economic issues including budget matters, or offering tax subsidies to attract businesses, their differences flared.
Lim declared, "Hell no!" when he was asked if he would accept a Republican leadership offer to back a bill that made him uncomfortable, but which included funding for something in his district. Curtis said he would take the offer as a signal his vote was needed, and would negotiate for more.
"We're going to have to compromise with them to get anything, because they still control the house," Curtis said. "If we say 'No! No! No!' they still win."
"That is the old way of doing things," Lim said. "That is why Republicans beat us us every election cycle. It is time for us to get a backbone, stand for our principals and fight! We are on the right side of history."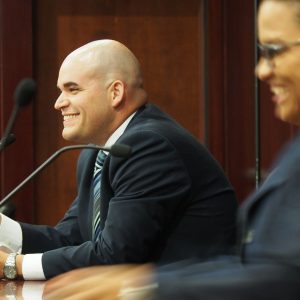 Barrio, a former legislative aide and union official who won the second straw poll, and Mercado, a former Orange County Democratic Party chair, are battling over a clearer path to Tallahassee. They have no other Democratic opponents and no Republicans have yet filed to run. Mercado's father, state Rep. Victor Torres, currently holds the seat. He is running for the state Senate.