As Northeast Florida politicians went to sleep Saturday night, none were aware of what was transpiring just a two-hour drive to the south.
By the time they woke Sunday morning, the landscape of national discussion was transformed.
And soon enough, they were aware of the atrocity that took place at the Pulse nightclub in Orlando, where a gunman with an AR-15 style weapon and a professed allegiance to ISIS killed 50 people and injured 50 more.
Most of those in the firing line: LGBT Latino males.
In the hours after daybreak, many Jacksonville politicians took to social media, and the message was the same from most: "thoughts and prayers."
More fleshed out responses came from State Attorney Angela Corey, former Jacksonville Sheriff John Rutherford, and Mayor Lenny Curry.
But the big takeaway: in the face of a horrific incident — one of the worst mass murders on American soil, and the worst one targeting the LGBT community specifically — was the reaction of a citizen, with that kind of "there are more questions than answers" helplessness.
A radical Islamicist killer. LGBT victims. And an automatic weapon of the sort that gun lobbyists equate with Second Amendment rights.
It was the perfect storm of political poison memes.
And depending on one's political leanings, it was a perfect moment on which one could hang a message; as many did Monday.
Councilman Tommy Hazouri will bring back the Human Rights Ordinance in September. And congressional candidate Hans Tanzler vowed to "the White House and the U.S. Attorney General's office in their efforts to connect this kind of violence to the need for more gun control."
None of this will bring any of the victims back to life, or make them whole.
One candidate with whom I had a conversation observed that as long as local law enforcement in cities like Orlando or Jacksonville doesn't have anti-terrorism units with significant resources, they will suffer in trying to prevent these kinds of atrocities.
Jacksonville may have the will to pump money into local efforts to prevent an incident like that experienced in Orlando. But it doesn't have the resources, as the Mayor's budget review of the Sheriff's Office budget revealed Monday.
Yes, the budget will be going up $17 million, year over year. But $9 million of that is tied up in escalating pension costs.
Meanwhile, the computer-aided dispatch system is at the end of its life. As are the TASERS. And the aircraft?
Here's the punchline: the Sheriff's Office has Vietnam War era helicopters and fixed wing aircraft.
Politicians have all of the aspirational rhetoric in the world, poll-tested and demagogue-approved.
But regarding the resource gap — one that has widened through decades — there are not sufficient answers.
That's one of the lessons of Orlando. And a new reality that is getting old pretty quick.
"Corrine Brown, Ander Crenshaw address Orlando Pulse massacre" via Florida Politics – Both Jacksonville U.S. Representatives addressed the massacre of 50 people in the Orlando nightclub Pulse Sunday afternoon, though they messaged differently. Brown, running for re-election in a radically reconfigured 5th Congressional District of Florida, was very explicit Sunday afternoon in condemning the massacre of 50 people in the Orlando nightclub Pulse as an attack on LGBT people … Crenshaw did not mention the LGBT victims, speaking in more general terms, in his statement.
"Jax man killed in Pulse attack" via Jason Rantala of First Coast News –  A Jacksonville man has been identified as one of the victims who died in the attack on the Pulse nightclub in Orlando that claimed 50 lives in total and injured 53 … Darryl 'DJ' Roman Burt II, 29, of Jacksonville died … the Jacksonville Jaycees said Burt was an active member of their organization in Jacksonville … Burt worked at Keiser University's Jacksonville Campus as a financial aid officer. He worked with veterans and military students.
"Jax LGBT leaders decry HRO silence from pols" via Nate Monroe of the Florida Times-Union – Jacksonville has repeatedly failed to pass an expanded version of its anti-discrimination law — called the human-rights ordinance … 'We do not feel the full acceptance of this community,' said Cindy Watson, executive director of the Jacksonville Area Sexual Minority Youth Network … At a vigil for the Orlando victims Sunday night, organized by the Jacksonville Coalition for Equality and attended by several hundred people, there were rumblings of discontent and a few audible jeers that Mayor Lenny Curry did not attend and instead sent a representative from his office, community affairs director Charles Moreland … These events have left an impression on the LGBT community, particularly among young people, said Jimmy Midyette, a local attorney and legislative director of the Jacksonville Coalition for Equality, which has lobbied to expand the ordinance for years. 'All they see is … Mayor Brown said he would support an HRO and then didn't talk about it,' he said. 'And they see Mayor Curry promising action and then just having community conversations that result in it not being prudent.'
"Jacksonville venues, bars adapting to 'new normal' after Orlando shooting" via Alexa Epitropoulos of the Jacksonville Business Journal – Florida Theatre, a live music venue in Jacksonville's Downtown, started those efforts Sunday night at a "Happy Together Tour 2016" show featuring several bands. The venue checked bags, patted down customers and used wands as additional security measures. He said, although the venue had a high level of security before this weekend's events, Florida Theatre will continue to ramp up security and "err on the side of caution" in the weeks ahead. Jerry Rosenberg, co-owner of gay bar Metro Entertainment Complex, said the bar has five exits, giving patrons more routes for escape than Pulse. The bar also has security on-site, but Rosenberg said there's little that can be done when a shooter enters with an assault rifle. "We have every bit as much security, but the bottom line is if someone comes in with those type of weapons, with those automatic magazines, until they're apprehended or neutralized, we're at their mercy," Rosenberg said. He said, should the attacks continue, there could be a new normal across a spectrum of businesses – whether it's a movie theater, a club or a restaurant.
"Local security, preparing for the worst" via Amelia Hitchner of the St. Augustine Record – Days after a mass shooting in Orlando that left 49 people dead and 53 wounded, law enforcement in St. Johns County continues preparing officers and citizens for active shooter scenarios. According to Cmdr. Chuck Mulligan with St. Johns County Sheriff's Office, another active shooter presentation for the public will be announced on the department's Facebook page this week … "We've been doing these presentations for several weeks," Mulligan said. "We go all over the county and talk to people about how to protect themselves should one of these events occur." As far as nightlife security goes, Mulligan said the Sheriff's Office has a policy that doesn't allow bars, gambling or adult entertainment venues to hire off-duty officers because of conflict of interest and legality concerns. "The Sherriff's Office didn't want law enforcement being perceived as bouncers back in the day," Mulligan said. Mulligan said gun violence hasn't been a predominant issue in bars and clubs in St. Johns County, so the policy has remained. But the recent mass shooting could instigate discussions about whether to change that policy in the future.
"Legislation calls for hiring of public safety analyst for State Attorney's Office" via Max Marbut of the Jacksonville Financial News & Daily Record – Legislation will be introduced to City Council that would create a new position within the Jacksonville Sheriff's Office — a public safety analyst who will be paid by and work exclusively for the State Attorney's Office. "The more information we have, the better case we have," said Jackelyn Barnard, state attorney spokeswoman. The legislation appropriates $18,611 for salary and benefits for three months beginning July 1 and calls for a memorandum of agreement between the sheriff's office and the prosecutor to continue the position after Sept. 30, the end of fiscal year 2015-16. The agreement is to be renewed annually, provided the money is available in the state attorney's budget. Barnard said the job has an annual salary of $50,000, plus benefits. According to the memorandum, the job comes with a $24,442 benefits package. The analyst will work out of the prosecutor's office. Duties include cellphone mapping and analysis of calling patterns, jail telephone usage and visitation tracking, social media analysis and investigation of jury or witness tampering.
"Can pension problems make Jacksonville the next Detroit? Not likely" via Nate Monroe of the Florida Times-Union — Curry has used nothing short of End-of-Days prophesying in his push for Jacksonville voters to support a first-of-its-kind sales tax to help pay down the city's $2.8 billion pension debt — even invoking the specter of large-scale municipal failure akin to Detroit's 2013 bankruptcy. "We are dealing with a crisis situation in our city right now," Curry said the day he announced his plan in January. "Look, the sky really is falling." But economic data, city budget numbers and outside analysis of the city's financial condition muddy the fateful choice Curry created for voters … There is little empirical evidence to suggest the city is on the brink of financial disaster or that the local economy suffers from widespread systemic problems that could lead to a Detroit-like meltdown, no matter what voters decide this summer. It is undeniable that Jacksonville's climbing annual pension costs, projected to reach $280 million next year, are suffocating the city's budget and its ability to provide residents with robust basic services like police protection. Addressing pension costs have for years been a bipartisan top priority, particularly as community problems like crime, juvenile justice, aging infrastructure and underfunded parks and libraries persist. Jacksonville's pension costs far exceed those of its peer cities.
"Curry pitches Jax Rotary on pension tax" via Florida Politics — At a meeting of the Rotary Club of Jacksonville Monday, a fired-up Curry spoke with urgency on the biggest municipal issue on the 2016 ballot: the referendum that would extend the half-cent infrastructure tax past 2030 until 2060, or whenever the $2.7 billion unfunded actuarial liability on pension costs is fully funded … "This really is the road Detroit traveled," Curry said, in what could be construed as a response to a Florida Times-Union article over the weekend that questioned his "end-of-days" phrasing … "It's a long road to travel … but we have all the signs today." Without change, even with the millage hike Curry resists and his critics suggest, a Detroit disaster "won't happen tomorrow, but will come" … The mayor discussed the possibility of amortizing the debt, a talking point that had been put on the back burner, saying at one point that because of it, "likely there would be budget relief' that would 'impact current budgets" … regarding a question about the new plans that would result from collective bargaining, that he won't replace the current defined benefit plans with "anything that looks like what exists now because it wouldn't be sustainable."
" 'Yes for Jacksonville' political committee gets $150K from Shahid Khan, Jags in May" via Florida Politics — In its second month of fundraising, Lenny Curry's "Yes for Jacksonville" political committee broke the half-million mark in money raised. New money totaling $303,450 took the committee up to $528,450 raised, with over $514,000 on hand. The big donor in May was Jacksonville Jaguars owner Khan, who put $50,000 of personal money and $100,000 more of Jaguars' money into the sales pitch.
"Jax Council committees workshop slots legislation" via Florida Politics – On the table: a bill permitting a vote on the operation of up to 2,000 slots, seven days a week, with 24-hour operation on the weekends, at the bestbet location in Arlington. This would be the biggest non-tribal slot facility in Florida at bestbet, the largest card room in Florida. The measure would preclude a competing operator within 100 miles, effectively giving the politically connected bestbet monopoly rights on this type of gaming. Coming into the meeting, it was hard to anticipate where resistance would come from. bestbet, the company looking to put slots at its Arlington location, had directly donated money to over half the city council. And the affiliated Jacksonville Kennel Club and Orange Park Kennel Club likewise are politically active … Reggie Gaffney wanted to know, immediately, how the bill could be fast tracked.
"Vehicles for hire committee argues its way to running out the clock on Uber/Lyft decision" via Jensen Werley of the Jacksonville Business Journal – The Special Committee on Vehicles for Hire took a massive punt on the issue of how to regulate taxi cabs and Transportation Network Companies — Uber and Lyft — ultimately making recommendations on less than half of the issues. The committee — Chairman Matt Schellenberg, Doyle Carter, John Crescimbeni, Garrett Dennis and Bill Gulliford — had approved in previous weeks to recommend to the transportation committee to let companies choose one of two insurance plans. They had also decided to require annual inspections. But in addition to some backsliding — Crescimbeni suggested that after hearing that the insurance policies don't automatically cover passengers if their TNC is in an accident, he might no longer support the recommendation — the committee decided on very little at its last meeting.
— Uber lambasts John Crescimbeni: "For months, we have been working with Chairman Schellenberg and members of the Council on sensible regulations like those that have been approved in more than 30 states and in dozens of municipalities across the country– including Tallahassee, Broward County and Miami-Dade County," asserted Uber Public Affairs spokesman Javi Correoso, in a statement Monday evening. "Unfortunately, Councilman Crescimbeni insisted on pushing through a flawed proposal that has nothing to do with public safety and everything to do with protecting special interest taxi companies, and limiting competition and consumer choice. We will continue working with city leaders to ensure a permanent home for ridesharing in Jacksonville," Correoso added.
"Body cameras for JSO within two years?" via Dana Treen of the Florida Times-Union – [Sheriff Mike] Williams has said he favors the cameras, which officers can wear as part of their uniform, but again, money is the problem … Williams said body cameras will play a dual role … "99.9 percent of the time you are going to get a lot of policemen doing a lot of good work, and that last percentage we need to see that anyway so we can take action. It's just a matter of cost" … the Sheriff's Office has discussed body cameras with vendors including IBM and Taser, and that outfitting 1,600 police officers will cost $3 million to $5 million … the question is making it sustainable, the sheriff said. Williams couldn't predict where the money would come from … the Sheriff's Office also has to develop policies for using the cameras. He said the Legislature did deal with privacy issues, creating rules for when cameras can be used and when the footage is public … exemptions include private homes, health care facilities and places where a person can reasonably expect privacy. But the sheriff believes there will be a program. "I think within two years we've got something going," he said. "Whether it's everybody I don't know."
"Budget panel noncommittal on Sheriff's Office proposed increases of $14M, including 40 police officers" via David Chapman of the Jacksonville Financial News & Daily Record – In what's shaping up to be a particularly painful budget year, Mayor Lenny Curry's team putting together the city spending plan Monday heard about the needs of the Jacksonville Sheriff's Office. The department would like another 40 officers and 40 community service officers, both levels that would match Curry's first year. Cost: $4.9 million. There's a need to replace the department's computer-automated dispatch system that's expected to fail within the next couple of years. Cost: $3.9 million. The aging fingerprint identification system continues to fail and needs an overhaul. Cost: $1.9 million. Laptops burn out fairly quickly in the hot Florida sun inside patrol vehicles. Cost: $750,000. Various information technologies boosts: $1.8 million. All told, the sought enhancements came out to $14.3 million. The department's annual budget is more than $400 million. Most of the IT-related asks are becoming critical after being pushed back for years, Undersheriff Pat Ivey told the group.
"Jacksonville group seeks to change uncontested political races" via Melissa Ross of Florida Politics – Only 2 percent of Americans ever run for office, and did you know 40 percent of state legislature races in this country go uncontested? The new RunForOffice.org seeks to change that. Launching Monday in Jacksonville, this free online platform aims to give regular folks the tools they need to become elected officials. Users will find a fully address searchable database, a list of every elected office in their area, filing requirements and even training. You can search more than 28,000 elected offices across the country on the site, take a free online course, and get a free voter file of the voters in the district you're targeting, among other goodies.  RunForOffice.org is a product of NationBuilder, a nonpartisan startup "at the forefront of political innovation." NationBuilder is also a platform that provides political candidates and their staff with organizing, social media and fundraising tools.
"Hans Tanzler Campaign launches website" — HansTanzler.com will update information on his run for Florida's 4th Congressional District. "After only being in this race for a few short weeks, our momentum is strong," Tanzler said in a statement. "We are excited that this website will allow folks to easily connect with our vision to take Northeast Florida conservative values and common sense leadership to Congress." The website will feature Tanzler's stint as a federal prosecutor and his corporate turnarounds the campaign says "saved and created hundreds of jobs." It also highlights specific plans to "rein in the overreaching federal government, secure our borders, create jobs and strengthen the military."
"Judge hears more arguments in state attorney election lawsuit, but no decision made" via Larry Hannan of the Florida Times-Union – For the second time in three weeks a Northeast Florida judge heard arguments on whether Kenny Leigh is a sham candidate who filed as a write-in to help 4th Judicial Circuit State Attorney Angela Corey get re-elected. Now Senior Judge Richard Townsend must decide whether Leigh's motivation matters under the law. Townsend appeared skeptical of Leigh during a three-hour hearing but also indicated he wasn't sure he could allow a lawsuit on the matter to go forward because of previous rulings from the Florida Supreme Court. Under questioning from Townsend, Leigh acknowledged that he could not win … "I'm not stupid" …  But he said he had valid reasons for entering the race. He hopes to run for the state Legislature in the next few years, and a run for state attorney will boost his name recognition. Leigh also said under the law his reason for running didn't matter and that Townsend didn't have the right to question his motives because doing so would lead to all write-in candidates being subject to lawsuits. "This is a Pandora's box that you cannot open," Leigh said to the judge.
"Protests planned in downtown Jacksonville over closed primary election" via Melissa Ross of Florida Politics – Both State Attorney Angela Corey and Public Defender Matt Shirk will face only GOP voters on that date due to the presence on the ballot of controversial write-in candidates. More than 400,000 voters who are not Republicans have been effectively disenfranchised in the election. There's been much more outrage about Corey's race than Shirk's, although it appears the same tactic was used … the group New Florida Majority says activists will wave signs at 5 p.m. at cars heading out at rush hour at the corners of Union and Newnan, Pearl and State, Jefferson and Water, and Main and Forsyth Streets.
"Challengers for public defender and state attorney continue to do well in fundraising" via Larry Hannan and Andrew Pantazi of the Florida Times-Union – New campaign finance reports show Public Defender Matt Shirk is lagging behind his challenger in fundraising. In May, Shirk raised $4,100 from five donations, and he spent $9,600, but almost all of that was for the qualifying fee to run for re-election. Friday was the deadline for reporting May's fundraising numbers. Charles Cofer, who resigned as a county judge in order to run for public defender, continued to out-raise Shirk last month, but Cofer's fundraising has slowed. In May, Cofer raised about $11,000, less than February's, March's and April's numbers. In total Cofer has raised about $116,000, compared to Shirk's about $31,000. The political committee supporting Cofer has raised a little more than $7,000 since he started the race … As of Friday night, the May fundraising totals for State Attorney Angela Corey had not posted to the Florida secretary of state website. Corey, who has been running for re-election for over a year, saw her fundraising already surpassed by her new opponent, former Assistant State Attorney Melissa Nelson. Nelson, a civil attorney and former prosecutor who filed to run in the first week of May, raised $233,000 and a political action committee supporting her raised an additional $108,500. Already, 177 people maxed out their contributions to Nelson, each giving the $1,000 limit to her campaign. A lot of the contributions — $108,000 — came on the last day of May.
"Corey snags endorsements from two former mayors, adds staff to re-election effort" via Larry Hannan of the Florida Times-Union – Facing a serious threat to her tenure as state attorney, Corey fought back by snagging the endorsements of two former Jacksonville mayors and announcing new additions to her campaign team … Former Jacksonville Mayors John Delaney and John Peyton both endorsed Corey. "I know her heart and her faith," Delaney said announcing the endorsements. "She is a kind, loving, decent person" … "We value her unwavering commitment to taking violent criminals off the streets and holding them accountable," Peyton said. The endorsements help Corey days after her opponent, former Assistant State Attorney Melissa Nelson, announced that she had raised over $300,000 in May through both her regular fundraising and a political action committee. This was the first month that Nelson was a candidate. Corey raised $16,000 during May but has over $200,000 in the bank. A third opponent, former Assistant State Attorney Wesley White, has struggled to raise money.
"$31K May haul for Travis Hutson for SD 7 re-election bid" via Florida Politics – Hutson … brought in $31,750 in May. Hutson, running unopposed in the Republican primary, has raised $93,225 in total and retains over $62,000 cash on hand. Most of Hutson's impressive May haul hailed from a May 17 fundraiser at the offices of The Fiorentino Group in Jacksonville, where Hutson collected $25,550, including donations from Gary Chartrand, J.B. Coxwell, The Jacksonville Kennel Club, Duke Energy PAC and other deep-pocketed players who back winners.
#JaxPol State House race campaign finance roundup: In HD 11, Sheri Treadwell leads the cash on hand race, followed by Donnie Horner and the rest of the pack  …. HD 12 sees former Jacksonville City Councilman Clay Yarborough with the momentum, followed by Terrance Freeman and the field …. HD 13 is in flux, with Democrat incumbent Reggie Fullwood having raised no money and with the two challengers he faces in the Democratic primary and the three Republicans on the other side having raised a negligible amount … HD 14 sees trial lawyer Leslie Jean-Bart ahead of Terry Fields and Kim Daniels …. HD 16 sees Duval County School Board member Jason Fischer comfortably ahead of political perennial Dick Kravitz, though both have enough money to operate.
"Save the date" — State Rep. Paul Renner of House District 24 and Sen. Travis Hutson of Senate District 7 will be holding a joint fundraising reception Thursday, June 23, in support of their re-election efforts. Event begins 4 p.m. at the Olive Garden at Palm Coast Landing, 5294 FL-100 in Palm Coast. Suggested minimum contribution is $40 per person ($20 to Renner; $20 to Hutson). RSVP to Katie Ballard at Katie@KBallardconsult.com or 954-803-3942; Breanna Jordan at Breanna@FrontStreetFlorida.com or 203-313-4695.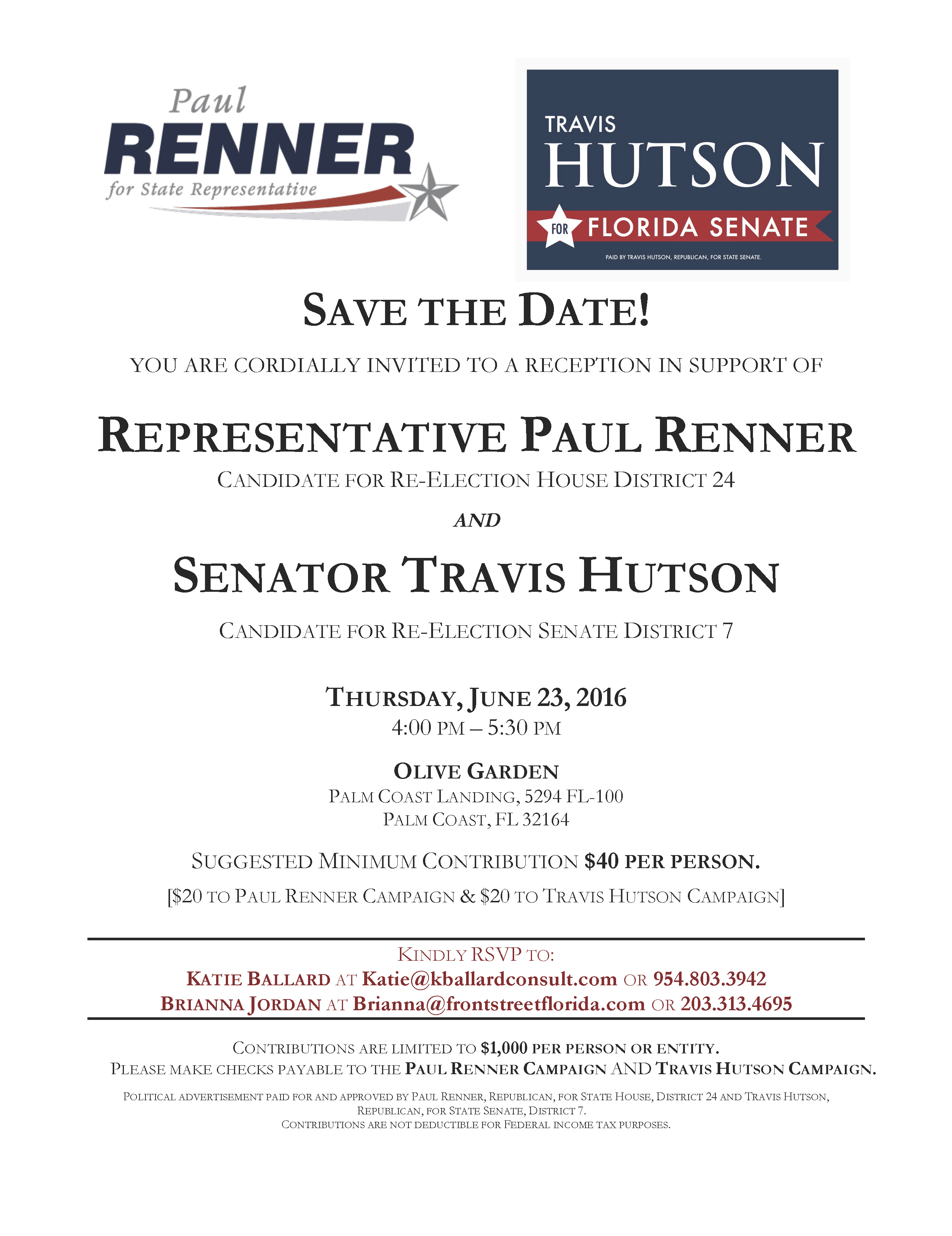 "8,000 NRA supporters tell Rick Scott Charles McBurney 'unfit' to be judge" via Allison Nielsen of the Sunshine State News — McBurney, who has represented part of Jacksonville in the Florida Legislature for the last nine years, is currently in the running to become judge of Florida's 4th Judicial Circuit. McBurney was one of 33 people to apply for two circuit judgeships in the Jacksonville-based 4th Judicial Circuit last year … Those ambitions could be seriously hindered as a result of an NRA email which urged members to write to the governor and tell him why McBurney shouldn't be selected to be a judge … the governor's office had received 7,931 emails opposing McBurney's judgeship while only 114 had written in his support. The NRA took issue with McBurney's decision to shelve the Burden of Proof bill during this year's legislative session … "As Chairman of the House Judiciary Committee, Charles McBurney arrogantly put his blind ambition to become judge ahead of your constitutional right of self-defense and your basic fundamental right to the presumption of innocence," wrote past president and current NRA lobbyist Marion Hammer.
"Jeff Atwater talks conservatism in age of Donald Trump" via Florida Politics – On Monday evening, Atwater addressed the Greater Arlington Republican Club in Jacksonville, offering remarks that were intended to rally the troops while reminding GARC attendees of Republican first principles … To those assembled in Jacksonville, he posted the rhetorical question: 'Can I distract you by talking about your standard bearer?' He added, soon thereafter, that 'any one of us' are 'going to have a misstep,' a seeming allusion to Trump and his latest round of questionable rhetoric in the wake of the Orlando massacre … when asked about Trump after his Q&A in Jacksonville, Atwater had no issue describing him as a 'conservative in the traditional sense in that he expects outcomes' for spending and policy decisions.
Happening tomorrow – State Sen. Aaron Bean will address the Southside Businessman's Club with a review of the 2016 Legislative Session. Event begins noon at the San Jose Country Club, 7529 San Jose Boulevard in Jacksonville.
"Jacksonville could have another Fortune 500 company" via Mark Basch of the Jacksonville Financial News & Daily Record – The annual Fortune 500 list released last week once again includes three Jacksonville-based companies but if Southeastern Grocers would just go ahead and file for an initial public offering, Jacksonville would be able to claim four. The magazine's annual list of the largest U.S. companies, based on revenue in the last fiscal year, includes three companies ranked in roughly the same spots as last year: CSX Corp. at 239 with $11.8 billion in revenue in 2015; Fidelity National Financial Inc. at 311 with $9.1 billion; and Fidelity National Information Services Inc., or FIS, at 392 with $6.6 billion. FIS should have more than $9 billion in revenue this year, after its acquisition late last year of SunGard Data Systems Inc. That will put FIS neck and neck in the rankings with Fidelity National Financial, which spun off FIS in 2006. However, Southeastern Grocers would rank higher than both of them and rival CSX as the largest company in Jacksonville, if only it filed public financial reports. The Fortune 500 list only includes companies that file financial reports with a government agency. So privately-owned Southeastern Grocers, the parent of the Winn-Dixie, Bi-Lo and Harveys supermarket chains, isn't included.
"Nature provides at least $413 million in services to NE Florida" via Derek Gilliam of the Jacksonville Business Journal – The North Florida Land Trust spent months identifying 16 tracts of land that supply Northeast Florida residents with $413 million in ecological services. "For many elected officials, government agencies, community leaders, businesses and private landowners, it is the dollar amount that drives their decisions," said Jim McCarthy, executive director of the North Florida Land Trust. "We want to show them that land conservation is in fact critical to our health and beneficial to the economy." The land targeted for conservation by the land trust is spread throughout a seven county area. In Duval, there's three areas that have been identified as providing ecological services with great economic value. They are: Lofton Creek, Black Hammock Island and Julington-Durbin Creek. One advantage to putting this list together, McCarthy said was that the Land Trust now has a list of all the land owners for the 16 tracts of land that it has identified as "critical areas."
"Jacksonville zoo announces record-breaking attendance" via Stacey Readout of News 4 Jax – More than 102,000 guests visited the zoo that month … several factors contributed to the success: beautiful weather, Destination: DINO, the gardens in bloom, young animals and a "kids free" promotion at the end of the month. "We are thankful for the ongoing dedication from the public," said Chairman of the JZG Board Jed Davis. "With the continued support of the community, new and exciting events like 'Night at the Zoo' on the horizon, and a commitment to excellence that shines through to our guests, JZG anticipates reaching its next major milestone of 1 million visitors in 2016."
"Work on Jaguars' indoor facility underway" via Ryan O'Halloran of the Florida Times-Union — Jaguars president Mark Lamping said the project outside EverBank Field's south end zone is underway and scheduled for completion next spring. The indoor practice facility and amphitheater are the main components of the projected $90 million effort, but inside the stadium, building a new entrance way for the Jaguars started last month. "Work has commenced; we're just waiting for the ceremonial ground-breaking and what we're trying to do is balance some schedules between the mayor [Lenny Curry] and [Jaguars owner] Shad [Khan] and others," Lamping said … The Jaguars won't have the indoor facility at their disposal this year, a development that became apparent as the offseason progressed and shovel wasn't put to dirt outside the stadium. The bid was jointly awarded five weeks ago to Danis Construction of Jacksonville and Hunt Construction of Indianapolis. Hunt did the scoreboards/North End Zone project in 2013. "There were little design things we had to finalize and get the price to where we needed it to be and we finally got there," Lamping said.