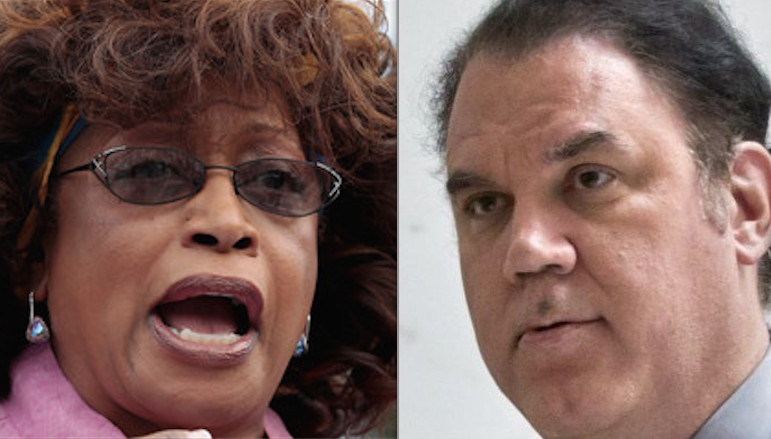 Democratic U.S. Reps. Corrine Brown and Alan Grayson — whose districts include the Pulse nightclub and nearby neighborhoods — made renewed calls Monday for Congress to ban assault weapons.
Brown, whose Jacksonville-based 5th Congressional District stretches to Orlando and includes the site of the Pulse massacre scene, said her office is in discussions with that of U.S. Rep. Sheila Jackson Lee, a Texas Democrat, to work up a bill of their own to reinstitute a ban on assault weapons.
"Law enforcement officers, other people say, 'why do you need this kind of assault rifle?' Why would you need to be able to shoot that many times? You're not hunting," Brown said. "I am for sensible gun control. I think most of the American people are for sensible gun control."
Grayson's office said he would work on writing his own bill to do so shortly after he returns from Orlando later this week. Grayson's Orlando-based 9th Congressional District comes within a couple of miles of including the Pulse nightclub and is likely home to many of the victims.
"Today I call on my colleagues in the House and Senate, Democrats and Republicans, to ban assault rifles permanently," Grayson said in a statement issued by his office Monday.
In making the declarations, Brown and Grayson joined Democratic presidential candidate Hillary Clinton and a growing host of Democrats.
No Republicans, however. The guns remain a powerful symbol in the debate over American Second Amendment rights, with proponents arguing no guns can or should be banned.
Assault weapons were banned from public sale for 10 years in 1994 in a bill signed by Clinton's husband, then-President Bill Clinton. Brown, who has been in office since 1992, voted for that ban and said she has been ready to do so again. But since that ban expired, there has been little indication Congress would be willing to reconsider it.
"We need to get it a hearing. We need to get it on the agenda all the way through the election," Brown said.
Brown is seeking re-election in her newly redrawn district that no longer would include Orlando, but stretch west to Tallahassee. Grayson is running for Florida's open U.S. Senate seat. Both face tough Democratic primary battles.
Grayson also has been a longtime opponent of the sale of assault weapons, and he called the one used by Omar Mateen to kill 49 people and wound 53 others a weapon of mass destruction.
"Yesterday in Orlando, one man, armed with one assault rifle, caused so much carnage in a few short minutes that he killed 49 people, and 53 others were injured," he stated in the release from his office. "It was the worst mass shooting in the history of our country. The killer couldn't have committed this mass murder with a knife, or a pistol. He had an assault rifle, and he used it as a weapon of mass destruction. It was the same weapon as the one used in the Sandy Hook massacre. A weapon like that makes it far too easy to kill many people, very quickly. "
Brown noted that one victim was shot 12 times.
"I'm heading back to Washington right now for a moment of silent prayer. What else can Congress do?" she said.
Grayson is sending out a letter to the rest of the Florida congressional delegation soliciting their support.
"It's too late to save the 49 innocent people who died in Orlando yesterday, but it's not too late to save countless other lives — if we act now," he said.