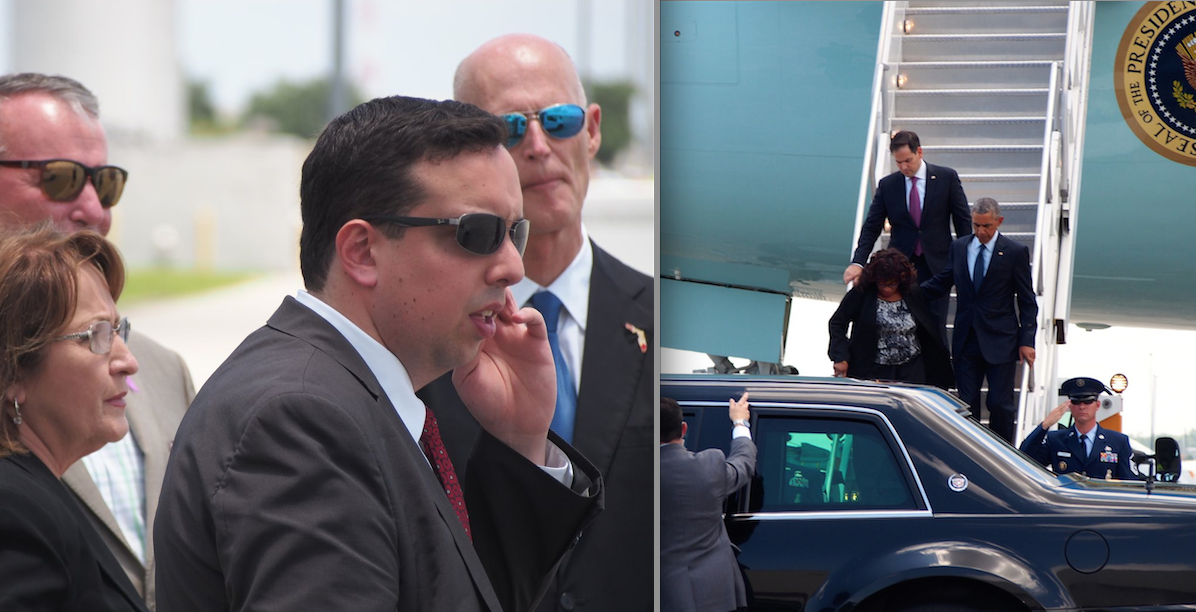 President Barack Obama arrived in Orlando Thursday afternoon to pay his respects and offer any comfort he might to survivors and families of those killed in Sunday's Pulse nightclub massacre.
The president arrived at 12:45 p.m. and headed out by motorcade to Orlando's Amway Center arena, and then to Orlando Regional Medical Center, for private meetings. He came to meet with survivors, families and first responders from Sunday morning's horrific mass shooting.
Obama rode from Orlando International Airport with Gov. Rick Scott and Orlando Mayor Buddy Dyer.
Vice President Joe Biden arrived earlier and joined them in the motorcade, along with Florida U.S. Sens. Marco Rubio and Bill Nelson and U.S. Rep. Corrine Brown, whose 5th Congressional District includes the Pulse nightclub and the homes of many of the 49 people killed and 53 wounded.
On the tarmac, Obama shook hands with Scott and hugged Dyer, who presented him with a black "Orlando Pride" t shirt with a rainbow heart, and Orange County Mayor Teresa Jacobs.
Dyer, Nelson and Brown are Democrats, while Rubio and Jacobs are Republicans, but it made little difference to their desire to joint the president on his visit to Orlando, cite of the worst mass-shooting in American history.
Jacobs did not join the motorcade.
"He expressed his sympathy and concerns and I thanked him for his support," Jacobs said.
"It means a tremendous amount to our community, to the whole country to see the president get so involved, so engaged, and come here to greet the families, to meet the first responders," she added. "It means everything."
Obama called Dyer on Sunday and expressed his desire to come visit Orlando then. They agreed, however, to wait until Thursday to give the city a chance to respond to the calamity and begin to recover first, so that his visit would not interfere with any efforts, Dyer said Wednesday.