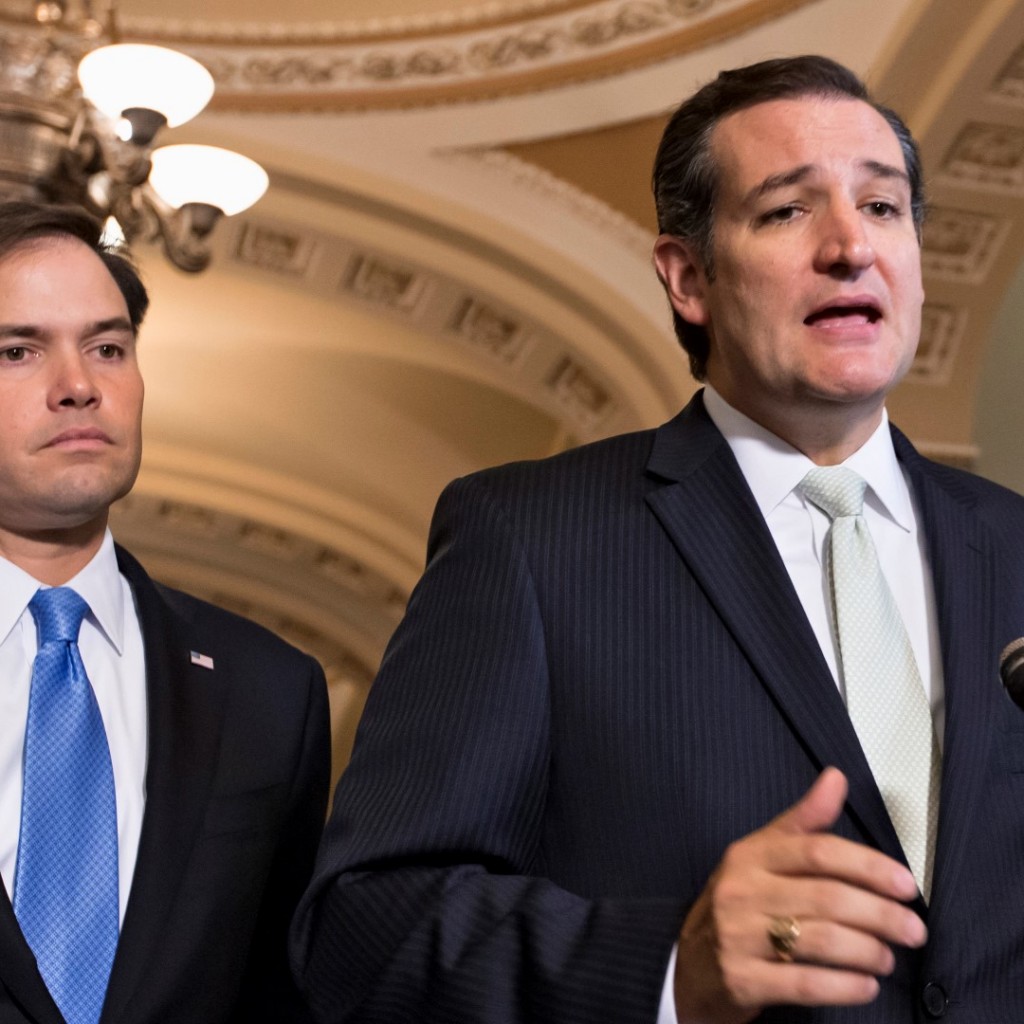 A onetime opponent is throwing his support behind Marco Rubio.
On Wednesday, Sen. Ted Cruz said he was "glad to support" Rubio in his re-election bid. Cruz, a Texas Republican, was one of more than a dozen Republicans who ran for president earlier this year.
"Marco Rubio is a friend and has been an ally in many battles we have fought together in the Senate. I'm glad to support him in his bid for re-election," he said in a Facebook post shortly after Rubio's announcement. "Marco is a tremendous communicator and a powerful voice for the American Dream. At this time of great challenges, we very much need strong leaders in the Senate who will fight to restore economic growth, to defend our constitutional liberties, and to ensure a strong national security for our nation."
According to Elaina Plott with the Washingtonian, Rubio reached out to Cruz to confirm he intended to run. The Washingtonian reported Rubio asked Cruz to send out a statement urging the Miami Republican to run for re-election, but Cruz declined because he didn't want to be seen as pushing Rep. Ron DeSantis out of the race.
DeSantis has not said publicly what he plans to do, but many expect him to end his Senate bid and run for the House.
Rubio announced Wednesday he was planning to run for re-election, reversing a previous commitment to return home at the end of his term in January.
While Rubio said he made the decision at home with his family, not in Washington, he did have the support of several top Republicans.
Rubio also appeared to get support from Ohio Republican Gov. John Kasich, another one-time presidential opponent. In a tweet Wednesday, Kasich said "keeping (Rubio) serving in the Senate is good news for the people of FL & our entire nation. Good luck, Marco!"
Keeping @MarcoRubio serving in the Senate is good news for the people of FL & our entire nation. Good luck, Marco! https://t.co/r0eRY5KhkZ

— John Kasich (@JohnKasich) June 22, 2016