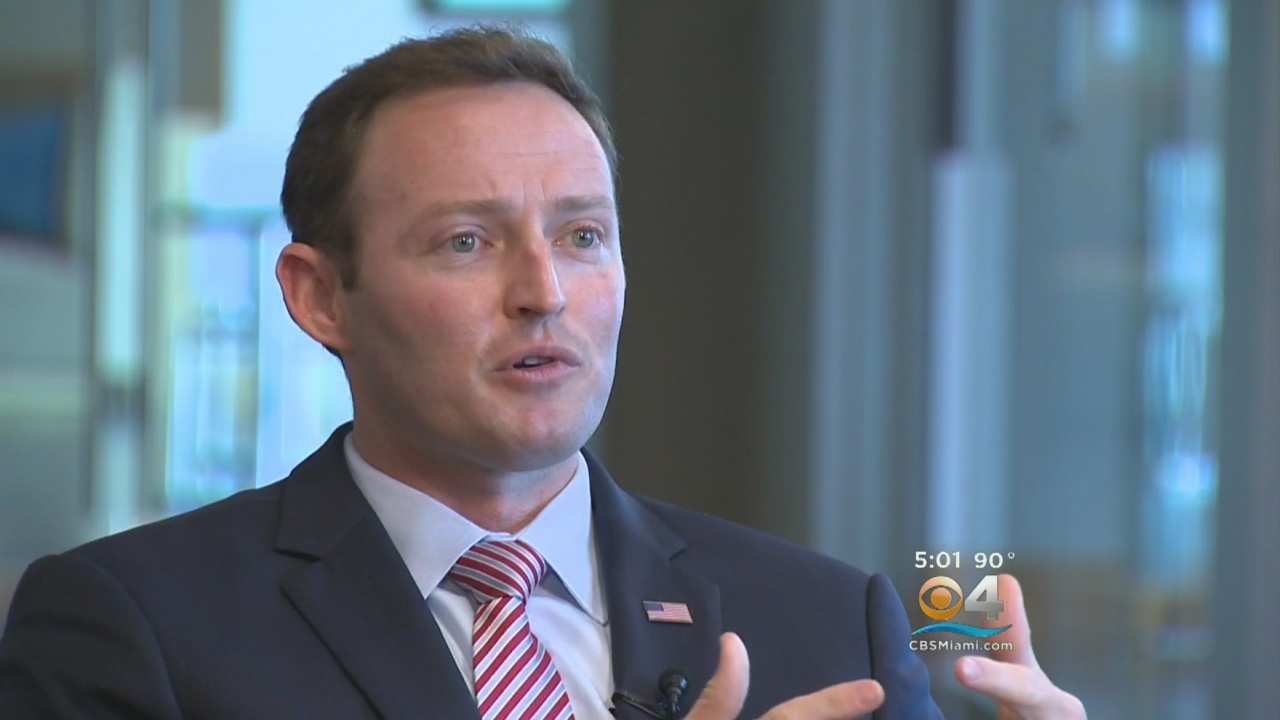 The Patrick Murphy Senate campaign is responding to a critical report claiming the Jupiter Representative has exaggerated business claims in his resume, that aired Wednesday night on WFOR-TV, Miami's CBS affiliate by reporter Jim DeFede.
In a statement issued Thursday morning, Murphy campaign spokesman Joshua Karp writes: "CBS Miami's deeply false story is completely inaccurate in several claims," adding that "there have already been seven corrections to their story."
A spokesman for WFOR-TV, Lori Conrad, told FloridaPolitics.com that "we stand by our reporting."
The story reported on what has been unearthed in other publications — that Murphy is not a licensed CPA in Florida. It also indicated he had to take his CPA exam nine times to be registered to work in the field in Colorado.
The story also said that, unlike his frequent claims, Murphy has never been a small-business owner. DeFede reported Murphy was the vice president of Coastal Environmental Services, but reports it was actually a subsidiary of his father's Coastal Construction Company and not his own small business that he created.
DeFede went on to report that Coastal Environmental was "not awarded a single contract for cleanup in the Gulf."
"Patrick is a licensed CPA," Karp says in the response issued Thursday. "He was an accountant and auditor at Deloitte, earned his CPA license while working there, and continued to work there auditing Fortune 500 companies after earning his license. CBS Miami's sensational claim is completely false. While we know dozens of hopeful Republican staffers will be disappointed, CBS Miami's report shows that Patrick Murphy owned an environmental cleanup company, owned skimming vessels, and had contracts to clean up oil. Our campaign even shared the cleanup contracts with an investigative reporter, contracts that America Rising was so sure didn't exist they created a whole iPhone app about them."
America Rising is a political action committee that produces opposition research on Democrats.
The Murphy campaign then cites 10 specific allegations in the report, and provides their own reaction to those allegations.
1 — On the charge that Murphy had to take the CPA exam nine times, the Murphy campaign says Murphy only took the "whole CPA exam twice." They say he failed, then passed the Auditing, Business Environment, and Regulation sections of the CPA exam. "Murphy twice did not pass, then passed, the Financial Account section of the CPA exam."
2 — CBS Miami reported Murphy's work with Coastal Environmental Services was relatively brief, only two to five months. The Murphy camp says he worked six months in the Gulf, working to help clean up the area after the BP oil spill.
3 — On the charge Murphy has "never worked a day in his life as a CPA," the Murphy camp says during his third year with the accounting firm of Deloitte & Touche, Murphy earned his CPA license, and for over half a year, "his training and skills were called upon. As a young staffer, not a partner or experienced executive, of course, Patrick never signed audit opinions for clients, and he has never claimed to."
4 — On the charge that he was never a small-business owner, the Murphy camp says, "Coastal Environmental fulfilled all the requirements to be classified as a small business by the United States Small Business Administration." It then provides a description of what the SBA describes as a small business.
5 — DeFede reported "neither Patrick Murphy nor Coastal Environmental Services were awarded a single contract to clean up oil in the Gulf."
The response? The Murphy camp says CBS Miami actually reported in their story that Coastal Environmental had two contracts to clean up oil in the Gulf.
"The Murphy campaign provided two documents related to the cleanup. The first contract was dated June 28, 2010. And since the Murphy campaign will not allow CBS4 News to release the name of the firm that issued the contract, we'll refer to them as 'Company One.' Under this contract, 'Company One' hired an oil skimming company called Crescent SR, a Louisiana-based firm owned by Kenneth Taylor Beery. Nowhere in this agreement is Coastal Environmental or Patrick Murphy mentioned. The contract is for no more than 90 days with Crescent being paid an undisclosed daily rate. The second contract is dated July 30, 2010, with 'Company Two,' and it is also with Crescent SR, to perform oil skimming work in the Gulf as needed."
6 — CBS Miami said that Murphy was not the president of Coastal Environment, but vice president. The campaign says he never said he was president, and provided links to news releases and news stories to that effect.
7 — CBS Miami reported that Murphy "always said his business was 'affiliated' with his father's business Coastal Construction, one of the largest construction companies in the country." The Murphy campaign says Murphy had never denied that, providing a transcript of a debate against GOP congressional opponent Allen West in October 2012 when he said, "I rejoined the family business, which is Coastal Construction and I decided to start a small affiliated company called Coastal Environmental, and that was because of the BP Oil Spill."
8 — CBS Miami reported: "It is now apparent, Coastal Environmental was controlled and operated by Coastal Construction. Incorporation papers show the depths to which Coastal Environmental and Coastal Construction are intertwined."
The Murphy response: "This is what it means to be an affiliated company: that the companies share some top-level management and staff. However, Coastal Construction Group did not own Coastal Environmental Services."
9 — This refers to statements in the story about the thoughts of Thomas Murphy, Patrick's father. The elder Murphy did not respond to comment for the story. This seems to be a bit of a non-starter.
10 — This refers to other statements made by DeFede, which the Murphy camp takes issue with. Statements like, "If Patrick were to enter the world of politics, his father's money was only going to get him so far. He would need to give the appearance he was more than some rich kid. He would need something of his own to stand on."
Other commentary included:
"Murphy's rise is extraordinary because of how little he seems to have accomplished to get here."
"Murphy was struggling to find his footing in the world."
"The school has also produced an array of business titans in its storied history … [Murphy] did not seem destined to join their ranks."
"He was … seemingly going nowhere."
"Patrick was less interested in the family business. For him, politics seemed a perfect expansion for the Murphy brand."
The Murphy campaign says Patrick Murphy "has always been clear about his motivations for earning a CPA license, starting his environmental cleanup business, and running for Congress."
DeFede is scheduled to air the second part of his investigative series Thursday night.
The story circulated widely on Twitter Wednesday evening, and undoubtedly the Murphy campaign is on defense this morning in reacting to it. It came on the same day Marco Rubio re-entered the Senate race, where he is leading Murphy, according to a Quinnipiac University poll.