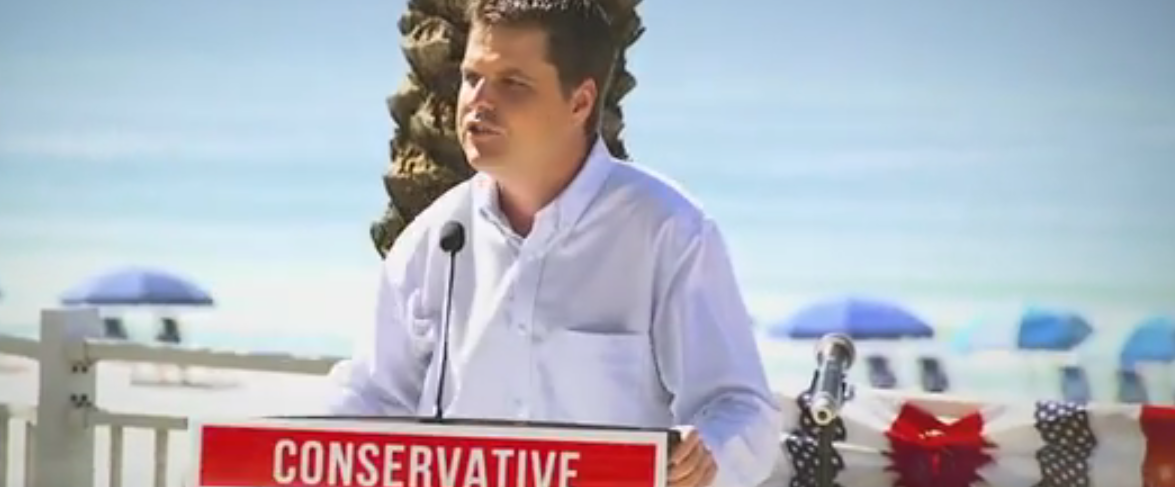 Rep. Matt Gaetz will hit the television airwaves in Northwest Florida for the first time in his run for the 1st Congressional District this week.
Gaetz's campaign announced a new 30-second spot filled with red meat for conservatives as he takes on Sen. Greg Evers in a Republican primary that will almost certainly decide who replaces retiring U.S. Rep. Jeff Miller in the Panhandle district anchored by Pensacola.
Entitled "Fight Back," the ad contains footage from Gaetz on the campaign trail, casting invective against the "spineless politicians" and "lawless bureaucrats" who populate the federal government according to the 34-year-old attorney and lawmaker.
"I'm not running for Congress because I want to go to Washington," opens Gaetz, "I'm running for Congress because we can't trust Washington."
"Matt Gaetz will fight to pass open carry, kill Muslim terrorists, and build the wall," says a dramatic narrator, referring to a wall on the U.S.-Mexican border like that favored by presumptive presidential GOP nominee Donald Trump.
The ad marks the first new development in the CD 1 race since Evers made national headlines last week by sponsoring a semi-automatic rifle giveaway.
Despite negative attention from gun control activists who said the move was in poor taste — just days after a gunman with a similar rifle killed 49 people in an Orlando nightclub —  which was amplified by heavy press coverage, Evers vowed to follow through with the plan to raffle off an AR-15.
See the new ad from Friends of Matt Gaetz below: