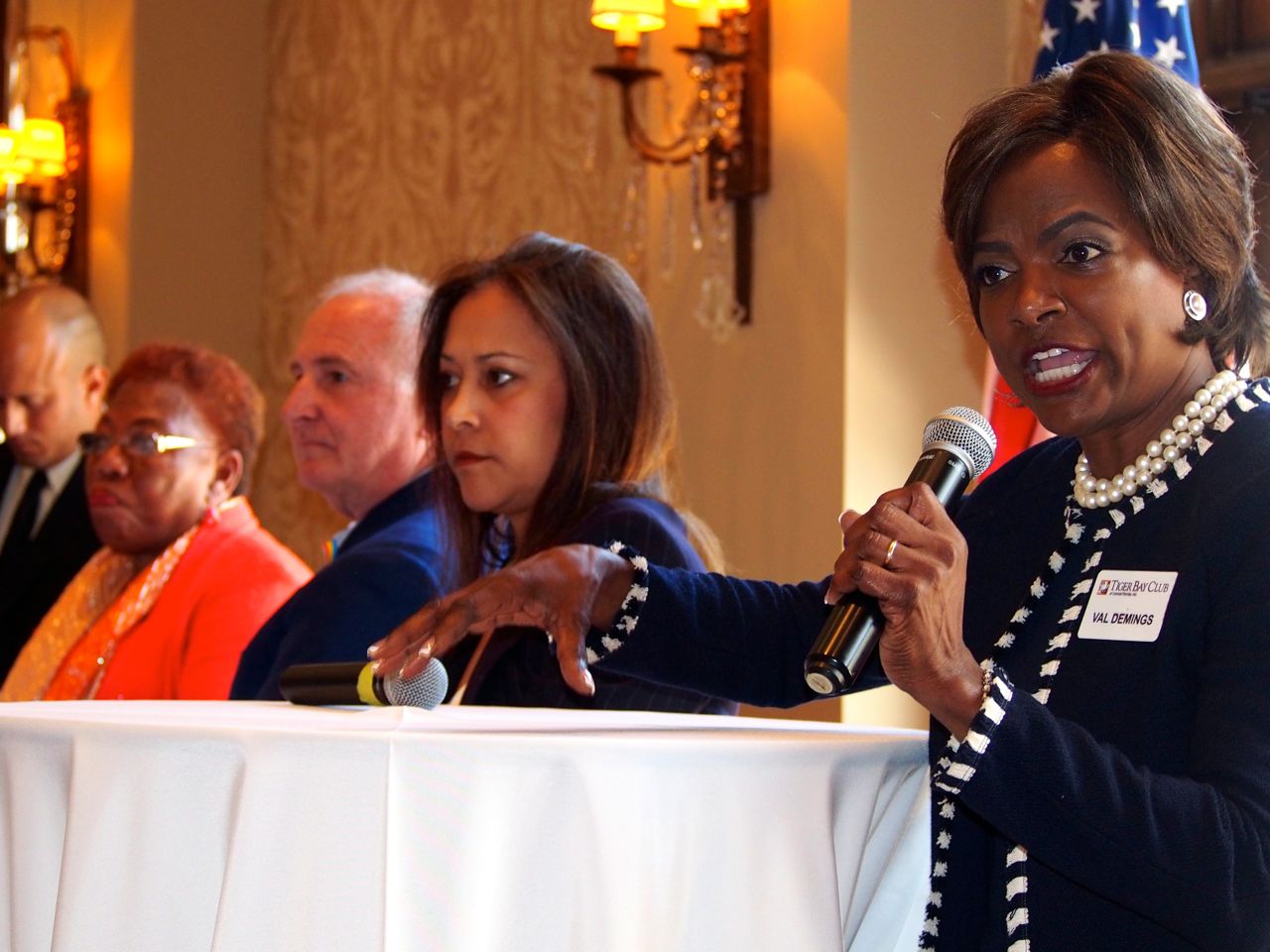 Three Democrats running for Congress in Florida's Orlando-based 10th Congressional District made it seem as if Val Demings is the presumed front-runner blessed by the establishment, and she fired back at a debate in Orlando Thursday with tales of her life and career as an Orlando police officer.
The debate, held by the Tiger Bay Club of Central Florida, found only subtle policy differences between the four contenders for the Aug. 30 Democratic congressional primary. Yet Demings, state Sen. Geraldine Thompson, businessman Bob Poe and lawyer Fatima Rita Fahmy each defined significantly different styles.
Thompson as the public service workhorse, whose five elections and 10 years in the Florida Legislature established a track record as a hardworking and reliable Democrat who knows the people of Orlando's west side.
"I have been working for this community for decades, in the trenches, and that is what sets me apart," Thompson said.
Poe as the wealthy entrepreneur who cannot be bought by special interests and knows how to create jobs, yet is carrying a progressive agenda he's worked for behind the scenes for decades.
"I felt the only special interest that I would have is the voters of the 10th Congressional District," Poe said.
Fahmy as the independent spirit who's not interested in what Washington insiders want but who, despite a progressive agenda, insists she has long been able to see eye-to-eye with Republicans and will work with them to get things done.
"I'm a new voice, a first-time candidate. I'm a member of the public, and I am reflective of this district going forward," said Fahmy, who came to Orlando with her family from Brazil when she was a young child.
And Demings, the former Orlando police chief with all the impressive endorsements, who fought off Thompson's, Poe's and Fahmy's attempts to define her as  the one the Washington insiders want, or, as Thompson suggested when trying to draw a contrast to her workhorse persona, as a show horse. Instead, Demings drew stories time and again from her childhood of poverty and her 27 years on the police force.
"I have worked in this community for 27 years. I didn't have the most glamorous jobs. I worked midnight shifts, rotating shifts. I fought to keep this community safe. I fought murderers and robbers and rapists and child molesters for 27 years. I did more than I was paid to do; came to work early and went home late. I worked my butt off," Demings said. "No one has given me anything. I never expected anything because my parents taught me an unbelievable ethic. But I just want to remind you. I don't know who the show horse is, because I worked for everything I got."
The hour-long debate, moderated by Orlando political blogger Frank Torres, had the quartet mostly agreeing on most issues that ranged the national debt [they all preferred stimulating the economy to cutting programs,] to promoting tourism. Several questions about the horrific June 12 massacre at Orlando's popular gay nightclub, Pulse, brought out subtle differences in their views on why that happened, what it means about national security, and what it means about gun control.
Fahmy was the only one who called not just for a ban on future sales, but for some program, such as Australia's, to buy back assault weapons and get as many out of circulation as possible. The others argued that would go way too far, taking away things people had once purchased legally.
Poe, nonetheless, was emphatic about tying such weapons and magazines to the Pulse shootings, and those in several other recent mass shootings.
"We're not sure what the true motives are of the Pulse shooter," Poe said. "But the one thing we do know about this incident, and many other incidents where high-capacity magazines have been used, the case of [then U.S. Rep.] Gabby Giffords, Sandy Hook, Aurora, San Bernardino, Orlando, if we didn't have high-capacity magazines, we can take the 'mass' out of 'mass murder.' We have to start someplace."
There is a Republican running, Thuy Lowe. She was not invited to the debate because of concerns that the four Democrats would gang up on her. Tiger Club President Eddie Fernandez said there will be time after the primary for her to take on the winner. Still, she was given the chance to ask one question, and she pressed the Democrats on what Pulse taught them needed to be done to defend against a "global Jihadist movement."
None of the four answered directly, though Thompson conceded ISIS is a problem that must be better addressed, and Demings gave some indication earlier, answering another question. Fahmy and Poe argued the Pulse massacre was caused by multiple factors.
"I think what we saw was a perfect storm that incorporated Islamic extremism, our lack of or failure to address mental health issues, lack of enforcing of gun laws and making sure people who shouldn't have guns don't have guns. And I think it highlights the intolerance and hatred toward the LGBT community," Fahmy said.
Demings is married to Orange County Sheriff Jerry Demings, so she was awakened by the same phone call that alerted him to the Pulse shooting.
"Whether this is ISIS inspired or ISIS directed, the end result is still the same: 49 people lost their lives and 53 were injured. There are people in this world who spend every waking minute trying to decide how to destroy America and kill Americans. And so every waking minute, every hour, every second, we have to be vigilant on public safety," she said.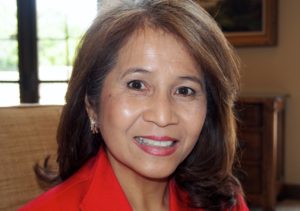 Afterwards, Lowe, who came to Orlando with her parents from Vietnam at the end of that war, said she disagreed with just about everything she heard the Democrats talk about.
"The problem that none of them talk about is, how do we defeat the jihadist movement? None of them talked about it. Gun control will not stop the jihadist movement. How do we protect the American people? How do we protect all the visitors coming here to Central Florida?" Lowe said. "We need to strengthen our military so we can defeat the movement overseas, and crush their narrative … and I would increase more funding for intelligence"