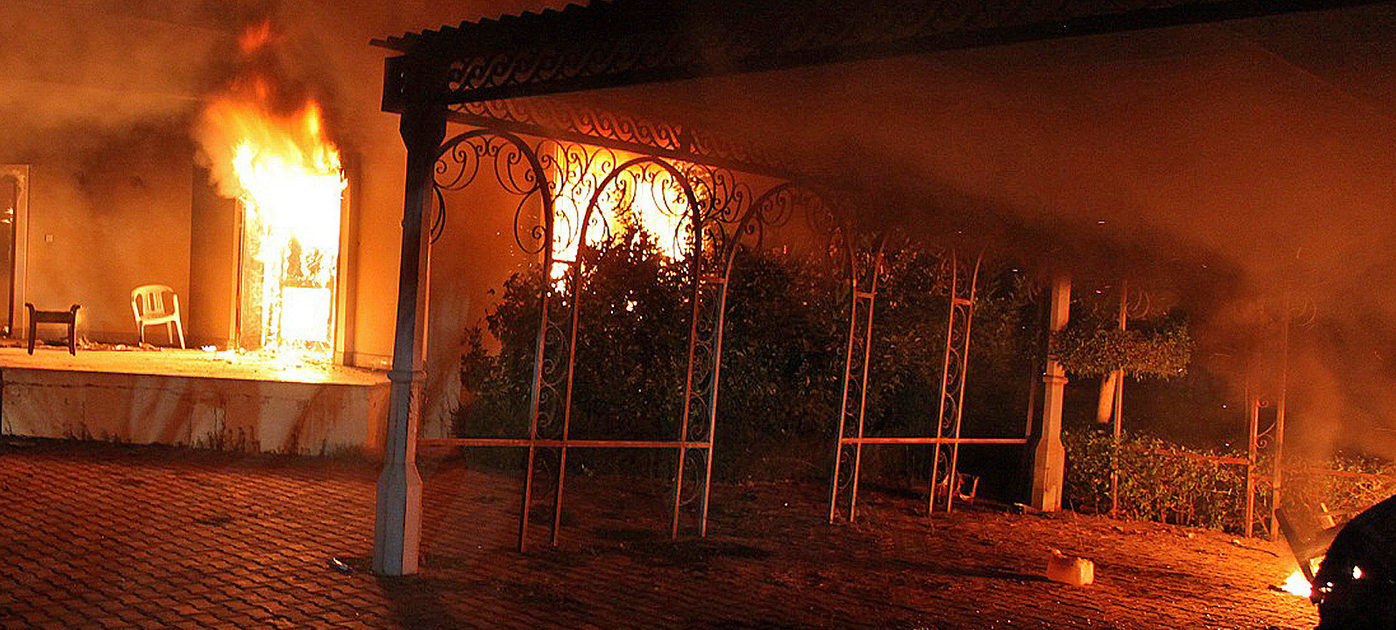 My eyeballs are still scorched from reading Tom Jackson's column "No moving on from Benghazi horror."
I'm on the left and he's on the right, but I love an opinion piece that pulls no punches. Jackson's premise in the piece, which appeared in FloridaPolitics.com, is that, "The Obama administration failed at every step of the sorry way: before, during and, almost most damnably, after, the murder of Ambassador Chris Stevens and three other Americans, Information Officer Sean Smith, and CIA operatives Glen Doherty and Tyrone Woods, both former Navy SEALs."
The report that infuriated Jackson infuriated me, too.
He was infuriated by the Democrats' claim there was nothing new in it. I am infuriated that something as important as figuring out what wrong in Benghazi — literally a Benghazi post-mortem — has been so thoroughly infected by partisanship.
Jackson and I might blame different people for that. I suspect we'd both be right.
My aim is not to rebut Jackson's premise. I just want to tease out one of his comments for a little further exploration. He says the State Department "dropped Chris Stevens and his small team into a hissing pit of well-armed vipers and, with the president's no-boot-on-the-ground mantra guiding every security decision, turned deaf ears to our ambassador's pleas."
I think a no-boot-on-the-ground policy was exactly right in Libya. The exception would be for a military evacuation or rescue. It is a tragedy neither happened. (I believe experts who say a rescue in the given time frame was impossible, but that doesn't help much, does it?)
Except in emergencies, I do not want U.S. boots on the ground unless Congress agrees with the president that U.S. boots should be on the ground.
Except in emergencies, I do not want U.S. planes flying missions over foreign countries unless Congress agrees with the president that U.S. planes should be flying those missions.
To me, boots on the ground and planes in the sky amount to war. And Congress has sole authority to declare war. It's a power Congress continues to shirk.
Back when President Obama authorized American participation in the NATO "war" against Libya, I was an editorial writer for The Palm Beach Post.
I wrote an editorial blasting Congress for rolling over for Obama by not invoking the War Powers Act. "Mr. Obama maintains that he has sufficiently informed Congress on the Libya mission, which involves air support and naval operations but not troops on the ground," the editorial said. "Rep. Tom Rooney, R-Tequesta, correctly says Congress should challenge the president on that point."
Rooney told me if Moammar Gadhafi were forced out, creating a leadership vacuum in Libya, "I don't know of any scenario where you can handle that without troops on the ground."
That edit ran in June 2011. Gadhafi was killed in October 2011. The Benghazi attack was in September 2012. Too bad Democrats didn't listen to Rooney. Too bad Republicans didn't listen to Rooney.
You can plausibly argue the failure to put American boots on the ground let Libya spin out of control, eventually costing those four American lives in Benghazi.
Similarly, you plausibly can argue that failure to keep sufficient American boots on the ground in Iraq led to the power vacuum that enabled the rise of ISIS and the loss, so far, of dozens of American lives, including the 49 last month in Orlando.
The problem is that you also can plausibly argue that putting boots on the ground in places like Iraq actually increases the loss of American lives — not to mention the loss of civilian lives.
Iraq, of course, is the premier example. President George W. Bush's decision in 2003 to invade and subsequently to occupy that country directly led to the deaths of more than 4,500 U.S. service personnel. The Iraqi death toll is far higher.
That mission became a recruiting poster for terrorists and laid the groundwork for ISIS. It was a diversion from the more justifiable mission in Afghanistan — source of the 9/11 terror attacks. It facilitated the rise of Iran, one of the most dangerous entities in the region.
Thus it was a huge mistake to put American boots on Iraqi soil. Congress was complicit in that mistake, but note that Congress authorized it with a joint resolution rather than a declaration of war.
Congress also failed to step in once it became clear the justification for that war — weapons of mass destruction — was a complete sham.
The ongoing mission in Afghanistan has claimed more than 2,300 military lives and has accomplished … ?
Boots on the ground lead to casualties on the ground. President Ronald Reagan learned that in the 1983 Beirut barracks bombing that killed 241 Americans. President Bill Clinton learned that in Somalia in 1993 in the Black Hawk Down fiasco that killed 18 Americans.
If America had put boots on the ground in Libya, those four members of the Benghazi diplomatic team might be alive today. Almost certainly, though, the number of American casualties would have been higher than those four.
Sometimes boots on the ground — and/or planes overhead — will be absolutely necessary. Sometimes the president, as commander-in-chief, can't wait for Congress and must act instantaneously.
But when the United States is involved in sustained hostilities, it should be with explicit approval from Congress. That includes sustained hostilities against stateless terrorist organizations like al-Qaida and ISIS.
Note that President Obama specifically has asked Congress to authorize military action against ISIS — or ISIL, as Obama insists on calling it — but Congress has refused because of disagreement over how much authority to give the president.
Just as there is no bipartisan response to the Benghazi horror show, there is no bipartisan agreement — and little attempt at agreement — as to when U.S. troops should be deployed for combat. If we basically let the president decide without congressional oversight, prepare for more horror shows.
___
Jac Wilder VerSteeg is a columnist for The South Florida Sun Sentinel and former deputy editorial page editor for The Palm Beach Post.