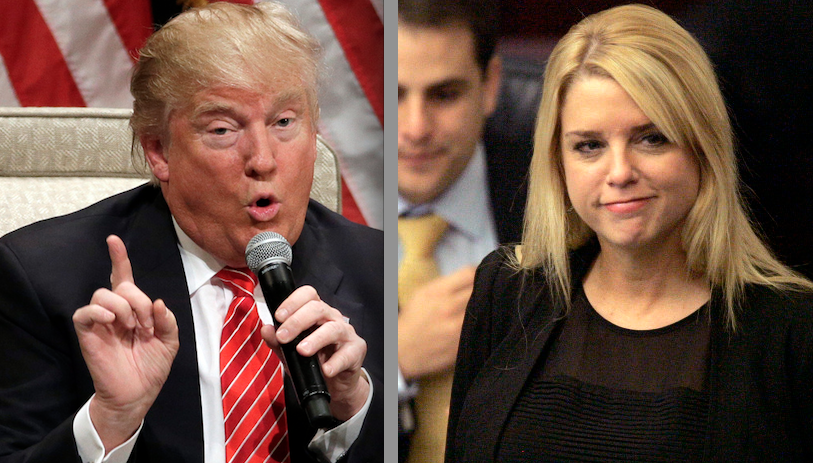 A Washington watchdog group says an investigation is needed to determine if Florida Attorney General Pam Bondi violated the law by failing to investigate or take legal action regarding complaints against Trump University and related entities after the Trump Foundation made a $25,000 contribution to a political committee supporting her.
Citizens for Responsibility and Ethics in Washington (CREW) says their own investigation has found Bondi's office received at least 22 complaints regarding Trump University, the Trump Institute, and related entities between February 2008 and May 2011. As was reported by the Orlando Sentinel Oct. 13, 2013, the Florida Office of Attorney General said they were reviewing the allegations brought by New York Attorney General Eric Schneiderman against Trump University and Donald Trump.
Four days after that, Bondi's political committee received the $25,000 check from the Trump Foundation. A month after receiving the contribution, the Attorney General's office said "there was no consideration of whether to join" the New York lawsuit. OAG also may have decided around this time not to investigate the complaints it received.
"The apparent timing of decisions not to take legal action against Trump University or the Trump Institute are deeply concerning," said CREW Executive Director Noah Bookbinder in a statement. "Before the donation arrived, the Attorney General's office told the press it was considering taking action against Trump University, but soon after the money came, the office made it clear that no action would be taken."
CREW has sent letters to Florida Inspector General Steve Rumph and Stanley Wesson with the Florida Commission on Ethics, calling on both offices to investigate immediately.
"The facts remain murky, but if decisions not to investigate Mr. Trump's businesses were linked to Attorney General Bondi's solicitation and acceptance of a $25,000 campaign contribution from the Trump Foundation, she may have violated Florida law and the state's standards of conduct for public officials," said Bookbinder.
Last month, Bondi's office rejected allegations the campaign donation from Trump was in any way connected to her office's decision not to pursue action against Trump University.
"While there was never an investigation, staff, doing due diligence, reviewed the complaints and the New York litigation and made the proper determination that the New York litigation would provide relief to aggrieved consumers nationwide," Bondi spokesman Whitney Ray told CNN. Bondi said her office has "made public every document on this issue, which shows no one in my office ever opened an investigation on Trump University nor was there a basis for doing so. Any news story that suggests otherwise is completely false."
Bondi endorsed Donald Trump for president March 14 in Tampa, the day before the Florida presidential primary election. The controversy has not dampened her ardor for the presumptive GOP presidential nominee, as Bondi appeared at a Trump rally at the Tampa Convention Center last month.
This is not the first complaint filed against Bondi regarding Trump University.
Last week, Politico reported Massachusetts attorney J. Whitfield Larabee filed federal complaints seeking criminal indictments tied to allegations Donald Trump "bribed" Bondi by donating $25,000 to her political committee as she was reviewing complaints related to his now-defunct real estate school. Larrabee's charges included the same allegations included in complaints he filed with Florida ethics and elections officials earlier in June.