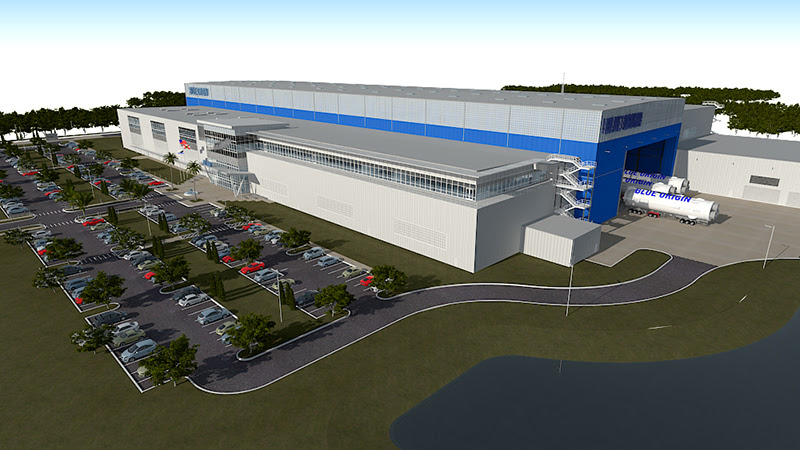 The Space Florida board of directors approved three emergency measures Wednesday to keep two huge space port developments in the works, including a deal to use state money to help build a road and another to provide short-term financing.
At a special meeting called to handle the three requests, the board approved the road improvements, to cost up to $2.7 million, to help provide transportation improvements between Blue Origin's planned rocket manufacturing site in Space Florida's Exploration Park industrial center, and the company's leased launch pad at Cape Canaveral Air Force Station.
Blue Origin, founded and operated by Amazon billionaire Jeff Bezos, plans to build a $200 million factory at Exploration Park and to operate a rocket assembly facility and launch complex at a launch pad it is sub-leasing from Space Florida at Cape Canaveral at the old Launch Complex 36.
The state is providing up to $26.4 million already, and that would include the road money, which will come through the Florida Department of Transportation and Enterprise Florida.
Space Florida also signed onto a bond deal for up to $3 million to provide a short-term bridge loan to help OneWeb develop its planned satellite factory at Exploration Park. This will allow the company to accelerate its construction, according to Space Florida President Frank DiBello.
OneWeb's $85 million satellite factory was pitched earlier this year with plans to produce 250 jobs paying an average of $86,000 apiece. Florida, through SpaceFlorida, already is providing $17.5 million in incentives for the company, which will be building hundreds of communication satellites there.
The third action involved granting the city of Titusville the power to do building code inspections during the Blue Origin construction.