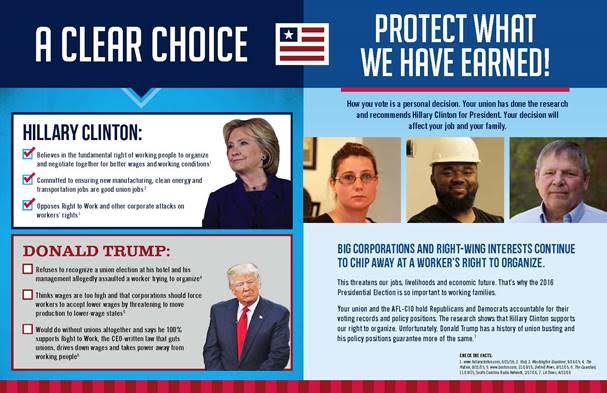 The AFL-CIO today dropped a mailer in support of Hillary Clinton in Florida and four other states. The piece contrasts the differences between Clinton and the presumptive Republican presidential nominee, Donald Trump, when it comes to the right to organize.
The organization endorsed Clinton last month.
"Hillary Clinton is a proven leader who shares our values," AFL-CIO President Richard Trumka said after endorsing Clinton. "Throughout the campaign, she has demonstrated a strong commitment to the issues that matter to working people, and our members have taken notice. The activism of working people has already been a major force in this election and is now poised to elect Hillary Clinton and move America forward."
The labor organization had declined to endorse her earlier this year, when Clinton was being challenged by Vermont Sen. Bernie Sanders for the nomination.
The AFL-CIO represents 56 national and international unions, including large groups like the American Federation of State, County and Municipal Employees, the American Federation of Teachers and the Communications Workers of America.