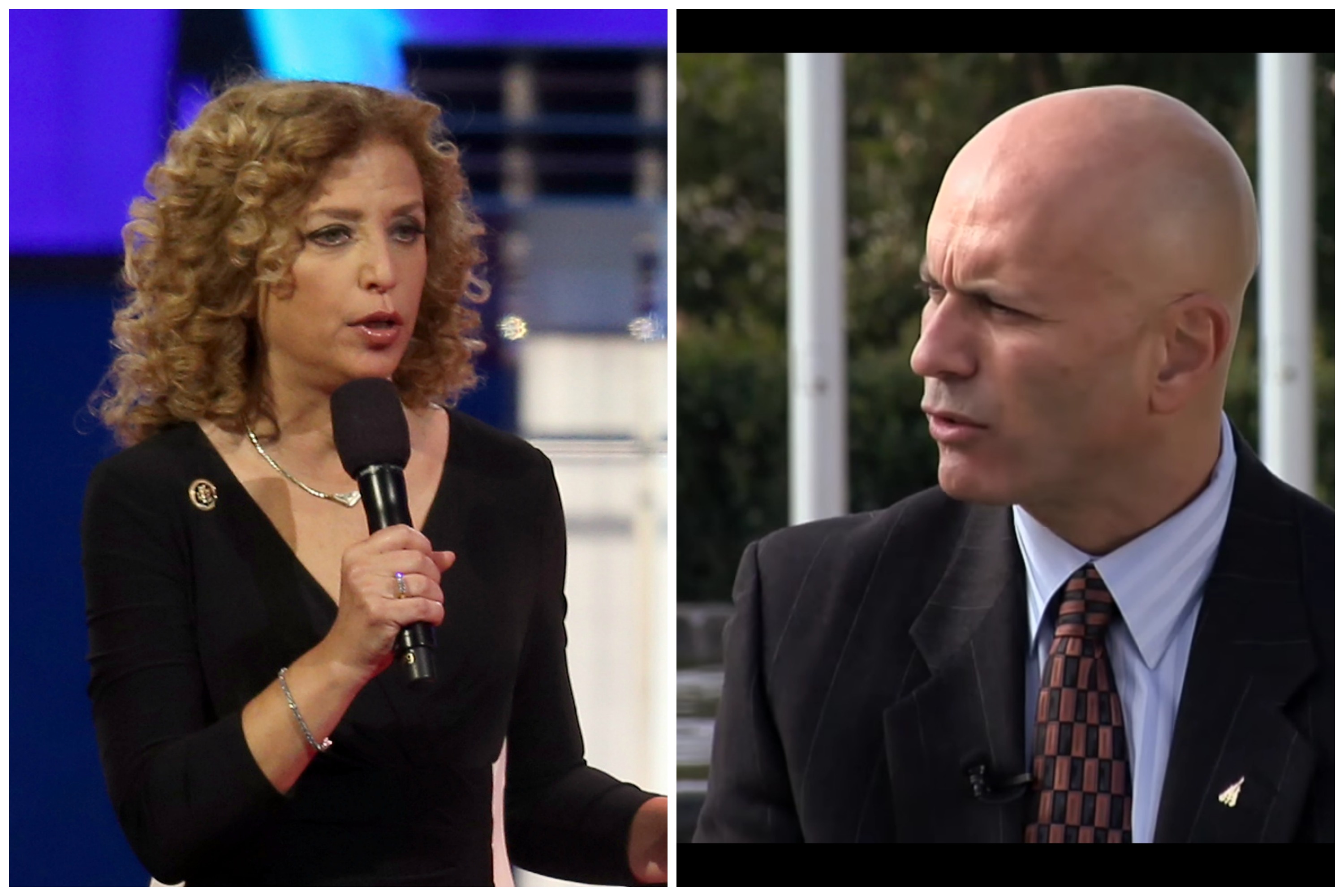 Frustrated by her refusal to entertain a debate with him in their Democratic primary in Florida's 23rd Congressional District race, Tim Canova laid into DNC Chair Debbie Wasserman Schultz on Saturday, writing that she "doesn't want you to know that she is part of the problem" when it comes to the toxic algae bloom disaster along the Treasure Coast in Southeast Florida.
Canova made the statement in both a fundraising email and a lengthier post on Medium, which he writes is a response to her labeling his initial criticism of her "laughable," after he said she and other politicians were responsible in part for the environmental disaster by taking lots of campaign contributions from "Big Sugar interests."
"Unfortunately, Wasserman Schultz's response to the crisis is to divert attention and blame to others," Canova writes. "She doesn't want voters to see that she's been taking lots of campaign contributions from the Big Sugar companies and other agribusinesses that have created this environmental crisis by polluting Lake Okeechobee with chemical fertilizers, particularly phosphorous and nitrates, and pesticides. Nor does she want us to know that she has voted for huge subsidies for the sugar industry and other agribusinesses, as well as for delays in cleanups, while failing to deliver federal funds for any real solution."
In Canova, Wasserman Schultz is facing the first serious challenger to her since she was elected to Congress in the Broward/Miami Dade district in 2004. A professor of law and public finance at Nova Southeastern University, Canova has been able to raise over $2.5 million in his contest for the Democratic nomination against the incumbent, who also serves as chairwoman of the Democratic National Committee.
So far, she has virtually denied Canova's existence in the race, refusing to engage in a debate with him and resisting opportunities to respond to his various criticisms he has made of her since he began campaigning in January. But his attack on her for being in bed with sugar and agricultural interests compelled her campaign team to send a statement to South Florida Sun-Sentinel reporter Anthony Mann to combat his recent charges.
In his Medium post, Canova notes Wasserman Schultz has received more than $133,000 from Big Sugar companies in the past eight years, and has voted "on multiple occasions, for hefty federal subsidies to the sugar and agricultural industries. "These subsidies  —  more than $100 million a year to the two largest sugar companies  —  are some of the worst forms of corporate handouts in America today, with taxpayers propping up industries that now threaten to drown much of South Florida in endless pollution," he writes.
In her response to the Sun-Sentinel, Wasserman Schultz said, "People who truly understand, care about, or have worked on the issue know that Gov. Rick Scott and Republicans in Tallahassee are the reason Floridians are suffering through another algae bloom crisis. Rick Scott and the leadership of the Legislature have dithered, delayed, and derailed responsible steps to restore our famed Everglades," before mentioning the work she has done to provide resources for key Everglades restoration projects.
But Canova responds Wasserman Schultz' "own record of dithering and delay goes back much further than Scott's," and refers to 2003 votes in the Florida Senate where she voted for an amendment to the Everglades Forever Act that delayed Big Sugar's deadline to clean up the Everglades for years and placed a greater burden on ordinary taxpayers for cleanup costs.
At the end of his lengthy riposte, Canova again refers to his frustration with not getting a single debate with the incumbent to date, writing, "These issues are of enormous proportions and they merit debate. But Wasserman Schultz has dodged debates in this campaign. In fact, she has never had to debate a primary opponent in her entire Congressional career. She is clearly afraid to debate because she cannot defend her record of bathing in corporate money and ignoring the interests of her constituents and neighbors."
"It's time for Wasserman Schultz to realize that there's more to politics than serving corporate interests and her own career advancement, that life and livelihoods are now at stake. Voters should tell her that this is not a laughing matter."