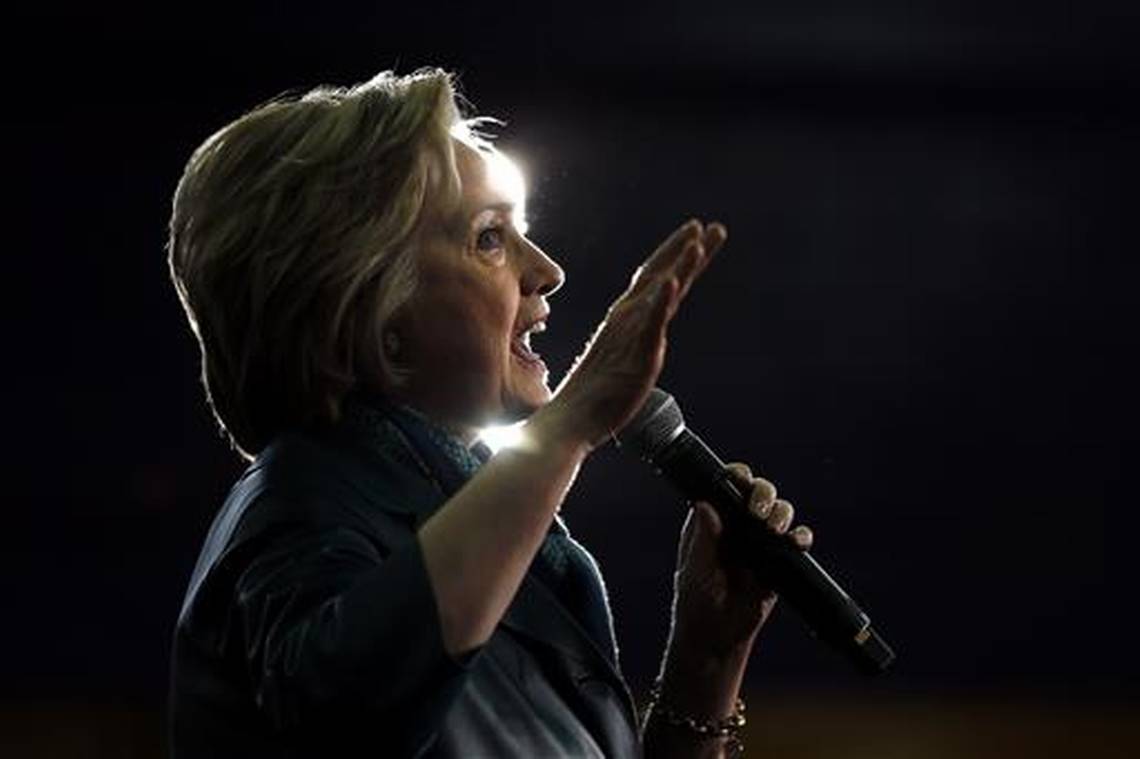 The Latest on the 2016 presidential campaign ahead of the Republican and Democratic national conventions (all times EDT):
1:30 p.m.
Indiana Sen. Dan Coats says Donald Trump hasn't made up his mind about who to select as his running mate.
Coats told The Associated Press Wednesday that he spoke with Gov. Mike Pence late Tuesday — one of the names on Trump's shortlist of potential running mates — and Pence told him there's still no decision.
"I think he's the front-runner," Coats said, adding, "I think he ought to be the front-runner."
Coats said Pence is "pretty calm about the whole thing."
He added that Trump is cognizant that he needs to make a decision by Friday given gubernatorial succession rules in Indiana.
But he concluded that "reading Donald Trump's mind is not the easiest thing to do."
___
1:20 p.m.
Hillary Clinton says the Republican Party of Abraham Lincoln has been transformed into "the party of Trump."
Rattling off a series of attacks against her GOP rival, Clinton says Trump is "dangerous," "divisive," "fear-mongering" and is "pitting American against American." Even stalwart Republicans, she says, should be alarmed by Trump's policies and racist rhetoric.
Clinton is casting Trump as ignorant of the Constitution, dismissive of U.S. law and lacking the character to be trusted with American security.
"Imagine if he had not just Twitter and cable news to go after his critics and opponents, but also the IRS – or for that matter, our entire military," she says. "Do any of us think he'd be restrained?"
___
1:07 p.m.
Hillary Clinton is calling on the country — including herself — to "do a better job of listening" rather than fueling political and other divisions after a series of high-profile shootings.
Clinton says the country must address both gun violence, criminal justice reform and find ways to better support police departments.
"I know that just saying these things together may upset some people," she says. "But all these things can be true at once."
Clinton is speaking in the Illinois Old State House chamber in Springfield, the site of Abraham Lincoln's his famous address about the perils of slavery. She is trying to use the symbolic site to contrast her call for civility with what she sees as rival Donald Trump's polarizing campaign.
Clinton said she has work to do, as well.
She says that as someone "in the middle of a hotly fought political campaign, I cannot claim that my words and actions haven't sometimes fueled the partisanship that often stands in the way of our progress."
Clinton adds, "I recognize that I have to do better too."
___
12:29 p.m.
Donald Trump is meeting with finalists for the job of his vice presidential running mate.
Trump met Tuesday with New Jersey Gov. Chris Christie and his family. Early Wednesday, Trump and his children met with Indiana Gov. Mike Pence and his family. Former House Speaker Newt Gingrich also was said to be a finalist.
All three have auditioned for the job by opening for Trump at campaign rallies over the past week.
Trump was expected to make an announcement on Friday.
___
10:20 a.m.
Republican Donald Trump huddled with Indiana Gov. Mike Pence at the governor's mansion in Indiana on Wednesday morning amid swirling speculation about Trump's vice presidential deliberations.
Pence and Trump walked out of the residence together just before 10:30 a.m. The pair was joined inside by Pence's wife, Karen, as well as Trump's daughter, Ivanka, and his son-in-law Jared Kushner.
Trump is said to have narrowed his short list down to a trio of top contenders, including Pence.
Pence joined Trump at a fundraiser and a rally on Tuesday where he received a warm reception from the crowd.
___
10:15 a.m.
The lead super PAC backing Democratic presidential candidate Hillary Clinton has begun targeting Spanish-speaking voters in Colorado, Nevada and Florida as part of a $35 million online effort it announced earlier this year.
An online ad from Priorities USA features video clips of Trump calling Hispanics "drug dealers" and "criminals" and leading his supporters in the chant: "Build that wall! Build that wall! Build that wall!"
In Spanish, an on-screen message declares that "hatred is growing in our country."
The ad campaign also includes a website: unidoscontratrump.org, which means "united against Trump." The same message will appear in banner ads on social media.
The three targeted states all have significant Latino populations. Trump insists he can do better among Hispanics than the less-than-30 percent Republican Mitt Romney drew in 2012 after calling for "self-deportation" for immigrants in the country illegally.
___
7:35 a.m.
Bernie Sanders says he agrees with the harsh remarks that Justice Ruth Bader Ginsburg has made about Republican presidential candidate Donald Trump.
The Vermont senator declined to say whether it is appropriate for a sitting Supreme Court justice to openly criticize a White House contender. But he tells ABC's "Good Morning America" that he agrees Trump is a "total opportunist" and said "the record clear is quite clear that he lies just a whole lot of the time."
Ginsburg in a series of interviews with The Associated Press, The New York Times and CNN has called Trump unqualified to be president and joked that she would move to New Zealand if he won. Trump said in a tweet that Ginsburg should resign.
Sanders's comments came a day after he formally endorsed Hillary Clinton as the Democratic nominee for president.
Asked if he is open to being her running mate, Sanders said, "I doubt that will happen." He said his focus is on helping Clinton win. He says, "We cannot have a man with Trump's temperament with the nuclear code and running this country."
5:25 a.m.
Hillary Clinton is turning to the symbolism of Abraham Lincoln's "House Divided" speech to argue that the nation needs to repair its divisions after high-profile shootings in Texas, Louisiana and Minnesota.
Clinton's campaign says the Democratic presidential candidate will talk about the importance of uniting the country at the Old State House in Springfield, Illinois, later Wednesday. It's the site of Lincoln's famous address in 1858.
Clinton plans to say the nation needs to determine ways to close the divides exposed in the recent shootings.
But she will say that the problems facing the country are much broader and show the need to heal divisions in the nation's politics and culture.
Heading into the Democratic convention, Clinton has tried to present herself as a unifying figure against Republican Donald Trump.
12:40 a.m.
Donald Trump is urging Supreme Court Justice Ruth Bader Ginsburg to resign in the wake of harsh remarks she's made about his presidential campaign.
"Justice Ginsburg of the U.S. Supreme Court has embarrassed all by making very dumb political statements about me," he tweeted on @realDonaldTrump.
Ginsburg had said that she felt Trump was unqualified for the position. In an interview with The Associated Press last week, she said she didn't want "to think about that possibility."
In his Twitter post, Trump said, "Her mind is shot — resign."
Senate Majority Leader Mitch McConnell said that it was "totally inappropriate" for Ginsburg to criticize Trump.
McConnell said that members of the Supreme Court shouldn't weigh in on American elections.
Republished with permission of the Associated Press.