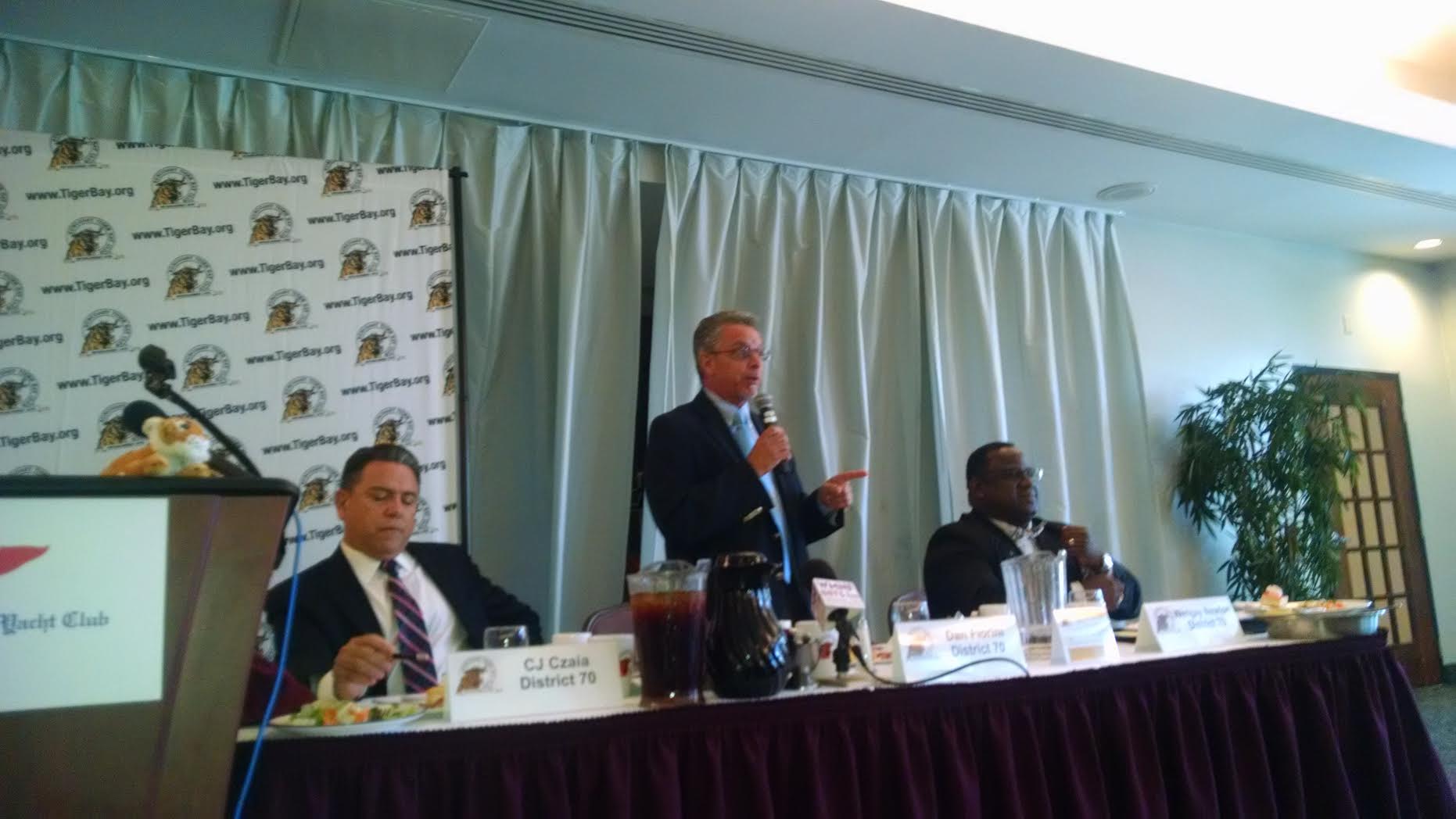 Although many polls show the presidential election could go either way, the Democratic candidates in Florida's Senate District 19 and House District 70 at Friday's Suncoast Tiger Bay Club meeting say they can't fathom an America with Donald Trump leading the nation.
"There are 45 million Republicans in this country, and that's the best they can come up with?" asked an incredulous Dan Fiorini, a first-time candidate in HD 70 who served as a legislative aide to former Democratic state Rep. Helen Spivey two decades ago. "Whatever happened to the greats of the Republican party? He is preying on hate in this country," he said, before declaring "this guy doesn't have a chance."
"I don't foresee Donald Trump being the president. I don't," said former St. Pete City Councilman Wengay Newton.
"I don't envision him winning," added Darryl Rouson, the current state Representative of HD 70 now running for SD 19. "We don't need to feast on rump of Trump roast. This is serious!"
Referring to his selection of Indiana Gov. Mike Pence as his running mate, current HD 61 state representative and SD 19 candidate Ed Narain said there would be attacks on the women's rights, LGBT rights, and it would result in the most conservative Supreme Court in the nation's history. "Folks, we've got to mobilize to ensure that, whether you like Hillary Clinton or not, the future is secure for our children, and we stop Donald Trump," he said.
However Augie Ribeiro, the wealthy civil justice attorney running for his first elective office ever in SD 19, chose not to trash Trump, but instead seized on the outsider element of his candidacy to link as as evidence that the populace could also embrace his candidacy. "I'm funding this campaign with my own money and friends and family. I'm not taking any money from outside businesses or corporations like utility companies, insurance companies, and I think that message is really, really important."
Ribeiro again decried the Public Service Commission as being "in the pocket of the Legislature," approving insurance rate hikes, and even cable TV rate hikes. "And no one is saying anything!"
Fiorini, Newton, and Palmetto-based personal injury attorney C.J. Czaia are all vying for the HD 70 Democratic nomination for the seat which encompasses many of the lowest income areas of Tampa, St. Petersburg and parts of Manatee and Sarasota Counties. They were joined by the three of the four Democrats competing for the Hillsborough/Pinellas SD 19 seat — Narain, Rouson and Ribeiro. The fourth candidate in the race, former state representative Betty Reed, did not attend.
Neither did many regular Tiger Bay Club members on Friday. Perhaps because it was because it was an all-Democratic lineup of candidates who are running for seats in minority-majority districts, but the audience at the St. Pete Yacht Club was noticeably smaller than usual for a Suncoast Tiger Bay Club debate.
No one was showed more passion on the dais than Czaia, a former Manatee County Democratic Party chair who lost in his one and only bid for office in 2004 to Jan Schneider in a Democratic congressional primary (who later lost that year to Katherine Harris).
"It's disgusting what we see with law enforcement," he said, referring to the incidents between police and the black community. "It is what it is. And we need to change it. At least now it's out in the open. Because nobody is a racist! Ask them. But they ain't going to marry a black man. You know what I'm saying? I'm going to speak the truth. When you get C.J. Czaia, you're going to get the truth."
Czaia said if elected, he would push for an enactment of a "Marshall Plan" for the inner city, saying it should work along the lines of the Agenda 20/20 plan that St. Petersburg and Pinellas County are working on to attempt to alleviate poverty in South St. Pete. He also called for reparations for minorities, a request that would likely fall by the wayside on Day 1 in Tallahassee if he were elected.
When asked by Pinellas County Democratic Executive Chair Susan McGrath what they could accomplish if elected to the minority party in Tallahassee, Newton proudly spoke about his lone opposition on many votes on the St. Pete City Council, which he said, showed his independence. And he came up with one of the funniest lines of the day when discussing how he's fine with term limits that limit his time in the Florida House if successfully elected and re-elected:
"I think politicians are like diapers. Full of crap and should be changed often."
Fiorini boasted of his two years as a legislative assistant 20 years ago that he would say would give him an inside track on how to bring home appropriations to the district. "You have to know how things work in Tallahassee to get things done." He's raised the most cash in the HD 70 race, and said his experience in government, the private sector and the nonprofit world make him the best candidate for the job. He said his priorities if elected would be to restore state funding for Planned Parenthood, restore civil and voting rights for ex-felons, and improve health care in Florida.
Narain has proudly discussed legislation and appropriations he's brought home to Tampa during his first term in office. He said it was all about working with the majority Republicans to get his bills passed. "I don't see D's and R's. I see people, and I appeal to the goodness and the conscience of people when it comes down to legislation."
The candidates in both races all were on the same page regarding restoring voting rights for ex-felons (they're for it) and some form of gun control (also for it).
Both HD 70 and SD 19 strongly lean Democratic, meaning the winners of the Aug. 30 primary are expected to easily win their respective general elections in November.
(For more on the SD 19 race, you can read our stories here and here posted within the last week).