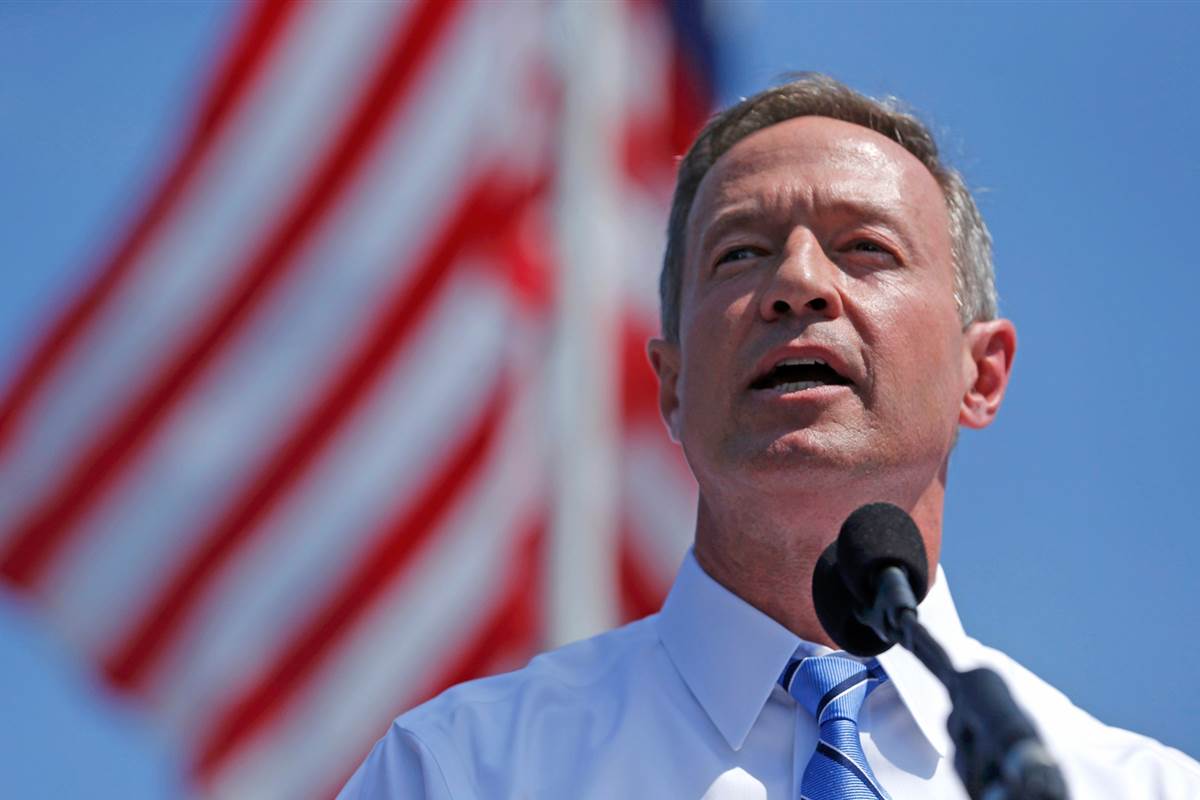 Although it's not much discussed much (and absolutely not at this week's Democratic National Convention in Philadelphia), one reason why Bernie Sanders was so successful this past year in his quixotic bid for president is that he became the only candidate challenging Hillary Clinton that had a message that resonated.
But it's not like there were that many Democrats who even attempted to run against her. That's because, for the past four years, she's been the establishment choice in the party, freezing out most aspirants who realized that raising money and getting endorsements was going to be a herculean task. And that's not including what we've learned about what the favoritism she received from the Democratic National Committee.
The only other major candidate that joined Sanders and Clinton in 2015 was former Maryland Governor Martin O'Malley, who put all his chips on Iowa. Once he failed big time there, he bailed from the race the next day.
On Wednesday night at the DNC, O'Malley and some other Democrats of national stature with ambitions took to the stage at the Wells Fargo Center. O'Malley took relish in attacking Donald Trump." Anger never built a great Republic," said O'Malley, referring to Donald Trump." I say to hell with Trump's American nightmare."
Referring to Trump's comments that "wages are too high," O'Malley got energized.
"Wages are too high? I'll tell you what's too high: … College tuition is too high. The cost of child care is too high. The number of American children who live in poverty is too high."
"Donald Trump's opinion of himself … that's way too high!!" as the crowd cheered heartily.
New York City Mayor Bill DeBlasio was once hailed as the great progressive hope after his election in 2013, but his Mojo has stalled of late. Hillary Clinton's campaign manager for her 2000 election to the senate in New York, DeBlasio was dissed in a fashion by getting a 5:30 p.m. time slot, far, far away from prime time.
In his address, DeBlasio compared Clinton with another New Yorker, Donald Trump, and you can bet that the comparisons weren't very favorable to the GOP presidential candidate.
"When she graduated from law school, she could have begun a lucrative career at a prestigious law firm of her choice," he said. "Instead, her heart led her to do the noble job at modest pay at the Children's Defense Fund, where she advocated for children and poor families who needed a champion."
"What did Donald Trump do?" DeBlasio continued. "He was born rich; he made a career out of ripping people off, racking up debt and bankrupting his companies."
Gavin Newsom could become the next governor of California, which used to make someone an automatic possibility for national prominence. The former San Francisco Mayor became a hero to the LGBT community in 2004 when he declared same-sex marriage legal in his home city (the courts later overturned his decision).
Newsom spoke at 7 p.m. Eastern, which he joked beforehand was "C-SPAN 2 status."
In his speech, he called it "refreshing" to finally see an openly gay man — PayPal founder Peter Theil — address a GOP convention, but said it didn't remove the "stain" of the selection of Indiana Governor Mike Pence as the Republican vice-presidential nominee, who he deigned "America's most anti-LGBT Governor."
Newsom, currently California's Lieutenant Governor, blasted Pence for advocating for the controversial "conversion therapy," which he said was not about "pray away the gay." Instead, it was an "emotional torture" against our most innocent citizens. Our children."
California's current Governor, Jerry Brown, has previously run for president on three previous occasions — 1976, 1980 and 1992. And yet, the 78-year Democrat was being mentioned in some circles a year ago as a potential challenger to Clinton's hegemony.
Greeted by chants of "Jerry, Jerry," Brown told the crowd that he appreciated the positive buzz, but he only had five minutes to get his message out.
In his speech, Brown took on Trump's views on climate change, and though not by name, Rick Scott.
In referring to how the GOP presidential candidate never mentioned the words "global warming " or "climate change" in his 76-minute acceptance speech in Cleveland last week, Brown said what did you expect from a party that has banned state employees from mentioning those words in Florida," which was reported that officials with Scott's Department of Environmental Protection did in early 2015.