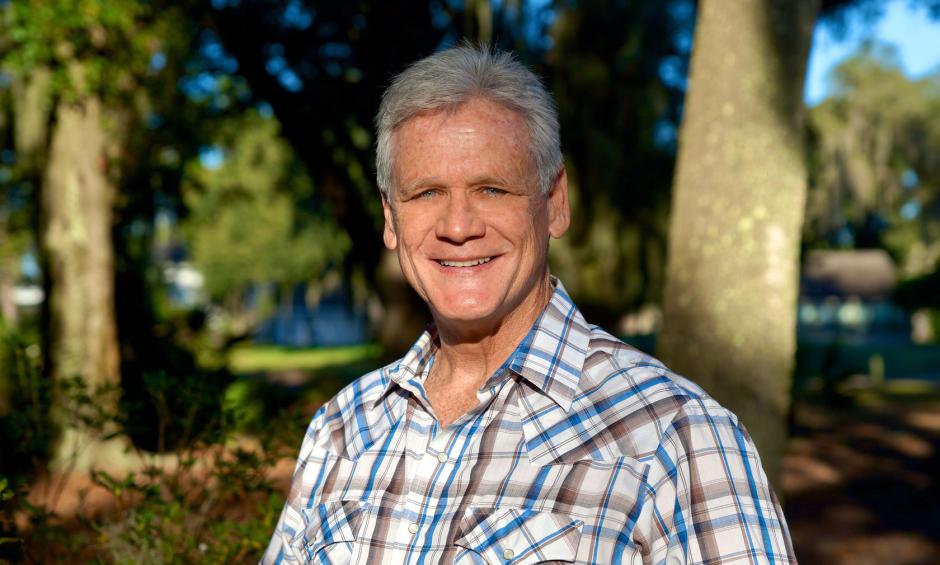 They'd reached closing statements at a recent forum for Hillsborough County Commission District 6 Democratic hopefuls in Bealsville, near Plant City, and Pat Kemp, the Tampa lawyer and serial candidate, was feeling magnanimous.
The town center was a thing of beauty, she said, praising the town hall, expanded library, a roundabout with a flag at its center, and lovely boulevards linking them all.
Just marvelous, she said. People of Plant City must be proud.
As Kemp finished and took her seat, John Dicks rose for his turn at the mic, his grin irrepressible.
He thanked her, adding: "We are proud. And we did all of that while I was mayor of Plant City."
You might think this delicious episode was simply a slice of political serendipity, and Dicks won't deny his splendid fortune.
But Kemp's inadvertent endorsement of her rival's resume goes to the heart of Dicks' campaign argument.
In a crowded Democratic field for the countywide seat, Dicks has the distinction of having wielded executive authority on a board dominated by Republicans. In fact, because Plant City Council members appoint the mayor, Republicans were responsible for entrusting Dicks with the gavel for a third of his nine years on the panel.
What this suggests is, at a time when our politics have rarely been more fractious, Dicks, 63, is a soothing throwback, a seeker of middle ground in pursuit of his vision of the greater good.
As a Plant City councilman and mayor, he never tired of asking, "What's it going to take to get this done?" — a question he thinks rises too rarely among current Hillsborough commissioners.
Consider "Go Hillsborough," the board's three-year attempt to put a transportation revolution before county voters. Commissioner Al Higginbotham was at one time leaning; Victor Crist was, to the end, on the brink. In the end, neither would commit, and the plan failed by a single vote.
"Three years and a million dollars," Dicks says, "and nobody says, 'OK, Victor, what's it going to take? What do you need?'"
Compare that, he says, to Brian Willis, the 33-year-old lawyer and transportation activist who hopes to use a seat on the board to launch a petition drive to put a transit overhaul on the 2020 ballot, essentially promising as his first official act an end-run around current commissioners.
That ought to promote comity. Oh, wait. The complete opposite.
Moreover, Dicks notes, securing ballot space by petition would require about 44,000 signatures. Getting it there through commissioners would take switching one vote. "Which one," he says, "do you think would be easier?"
So, what's an old dealmaker like Dicks, whose hands are sufficiently full with other pursuits to satisfy most mature baby boomers — a little cattle ranching, blueberry farming, financial advising, writing a monthly column for "The Field," Hillsborough County's agriculture magazine — doing rejoining the fray when we're so very far apart and so openly hostile to compromises?
Setting an example for his granddaughter, he says. The same example his grandfather, longtime commissioner Earl W. Simmons, set for him. An example of service, of leadership, of trying to make things better than he found them.
OK, full disclosure: Dicks and I, who met as members of rival Key Clubs in high school, became Sigma Chi fraternity brothers at the University of Florida.
(Also noteworthy: If Dicks wins in District 6, he will become the third Sig on the board, joining those transportation-plan wafflers Higginbotham and Crist; ultimately, they might seal a pact with the fraternity handshake.)
Let me say this as well: Dicks is a resolute Old-South Democrat, devoted to the idea that center-left policies guided by an activist government are the surest path to the best outcomes for the most people, immunizing him against my conviction that smaller government is almost always better government. Sometimes, our only area of agreement involves a shared passion for the Gator Nation.
Then again, we also agree on this: In the four-way free-for-all primary that will be settled Aug. 30, Dicks has a puncher's chance.
His theory of the race begins with Tom Scott, the pastor and past county commissioner and city councilman, hoarding the black vote in central and east Tampa. Kemp, the former Hillsborough Democratic Party chairwoman, and Willis — both lawyers, both heart-of-Tampa residents, both unapologetic progressives — will divide the county's less-pigmented far left.
That will leave more middle-of-the-road Democrats — Bill Clinton's third-way Democrats — many of whom occupy the suburban crescent that runs from Westchase and Carrollwood through New Tampa, and down east Hillsborough to Apollo Beach and Ruskin, for the moderate Dicks.
In his projection, the winner, in an extremely tight race with no runoff, will emerge with about 27 percent, which might amount to no more than 18,000 votes.
East County admirers of Plant City's downtown renovation might be enough to do the trick themselves.