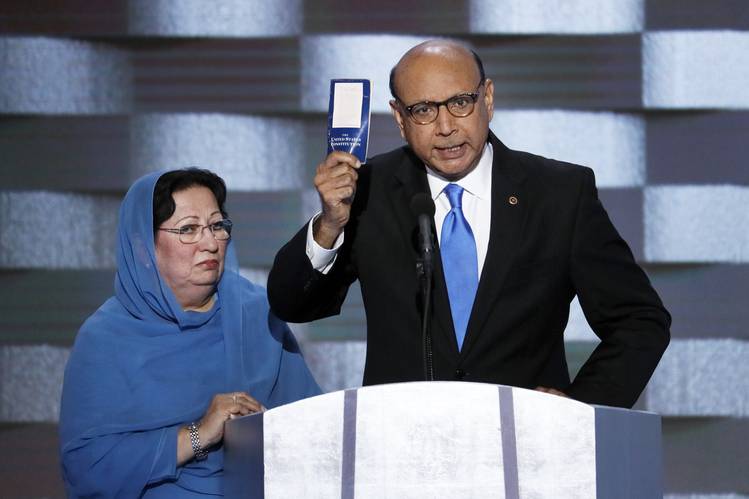 The Democratic Congressional Campaign Committee (DCCC) is calling out a number of House Republicans for failing to issue a statement in the wake of Donald Trump's attack on Khizr and Ghazala Khan over the weekend.
The Khans were the parents of Army Capt. Humayun Khan, who was killed in Iraq in 2004.
The couple became nationally famous after they appeared at the Democratic National Convention last Thursday night, where Khizr Khan dramatically unveiled a pocket copy of the U.S. Constitution and challenged Trump if he had ever read the document.
In response, Trump disparaged Mrs. Khan Sunday, claiming on ABC's "This Week" that she "wasn't allowed to have anything to say." (Ghazala Khan said speaking about her dead son is too painful for her to do in public.)
The DCCC said Wednesday that when Trump insults the family of a war hero, it's the responsibility of leaders to condemn his comments and his candidacy.
"The total silence of so many House Republicans in the wake of Trump's attack on the Gold Star Khan family dramatically fails on both counts," said Meredith Kelly of the DCCC Wednesday. "This is not only reprehensible on a moral level; it's further proof that House Republicans are willing to place party loyalty over the good of our country."
The DCCC lists a slew of House Republicans who they claimed had not spoken out in reaction to Trump's comments. Among those listed included vulnerable GOP members in Florida like John Mica, Carlos Curbelo and David Jolly.
However, Jolly did issue a short statement Sunday regarding the matter.
"Capt. Humayun Khan gave his life in defense of our nation," Jolly said. "His heroism should rise above today's political debate and the loss borne by his parents is shared by a grateful nation. We can never repay the debt of one who gave the ultimate sacrifice for our country."
In fairness to the DCCC, Jolly's statement was not picked up Sunday by very many — if any — media outlets.