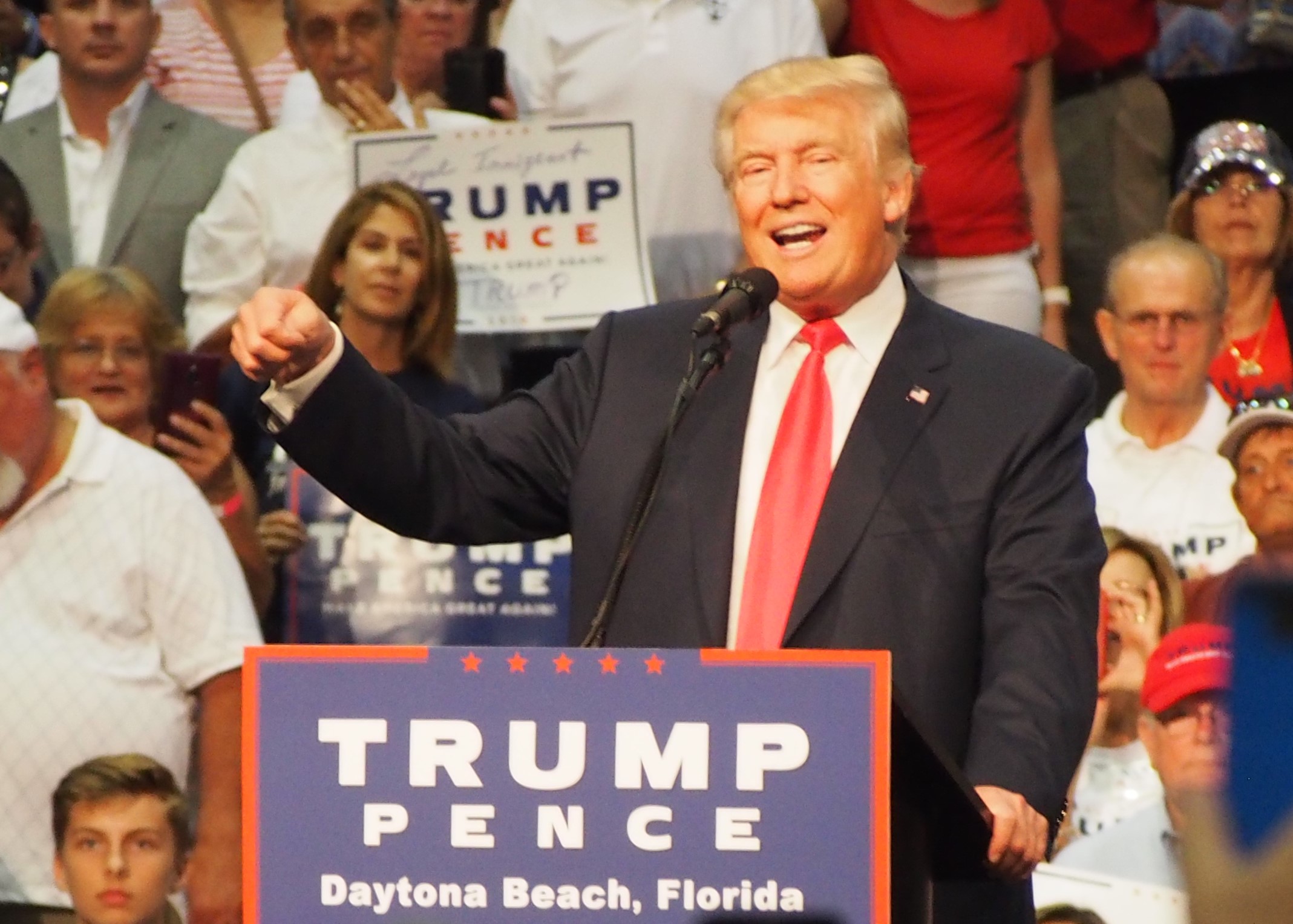 In Donald Trump's return to Central Florida after officially winning the Republican presidential nomination, his message and thunderous appeal are still all about the wall. They're still about America's diplomatic and trade deals destroying America, and "crooked Hillary," and incompetent Washington leaders, and lying media, and his promises to fix everything. And they're still about Megyn Kelly's blood.
In a 52-minute rambling speech to 7,000 or so rowdy and angry supporters in Daytona Beach Wednesday afternoon, Trump fed their worst fears and promised all of that will come to an end, without getting into many specifics of how.
Trump began by blasting the administration of President Barack Obama for delivering $400 million in cash to Iran early Wednesday as depicted in a video, calling it ransom money for the hostages released last year, and declaring it one more American humiliation. He used it to turn the tables on Obama, who Tuesday declared that Trump was unfit to be president.
"You know, we have a president who, frankly, is incompetent. OK? incompetent!" Trump said. "We've been humiliated by Obama and  his policies. We've been humiliated by the Iran deal to start with, where they get back $150 billion. We've been humiliated as a country when they took our sailors. They force them to their knees. And the only reason we got them back is we hadn't paid the money back. That's the only reason. Otherwise they would have had to wait until I became president, believe me, they would have come back fast."
The crowd roared, as it did frequently, while also regularly chiming in chants of "Build that wall!" and "Lock her up!"
Trump also criticized Obama for the low rate of home ownership, the doubling of the national debt, taxes and trade deals. And he blamed Democratic presidential nominee Hillary Clinton for all of Obama's other international issues.
"America has been humiliated in so many different ways," Trump said. "Take a look at Libya. What a mess. That was Clinton telling Obama what to do. I guarantee if he had his choice again for secretary of state, he'd love to have a do over. You have Libya. You have Cuba. Look at China, building fortresses in the south China Sea, and just taking your jobs, taking your jobs, Daytona."
Except for the Iran money deal, Trump broke little new ground after a week in which he repeatedly made statements that brought outrage from opponents — and even a few Republicans.
Another possible exception was when he took about five minutes to discuss the latest TV commercials from Clinton's campaign, attacking him. One features children watching lowlights of Trump's prior comments, including his infamous discussion of Kelly's blood, during his feud last year with the FOX News personality. "You know you can see there was blood coming out of her eyes. Blood coming out of her, wherever," Trump stated in that discussion.
Wednesday he blamed the media for misrepresenting what he meant by "wherever."
"I meant her nose. Or her ears. Or her mouth. But these people are perverted and they think it was another," he said. "Unbelievable."
With the storm of criticism he has received in the past week, Trump's media attacks might seemed topical, but they have long been standard fare, and Wednesday he again repeatedly called out the media, accusing journalists of lying and being dishonest. More significantly, given his comments in Columbus Monday in which he suggested the election might be fixed, Trump said the media may be the one factor that could cost him the election.
It was a theme even several of the warmup speakers used. Trump was preceded by Florida Attorney General Pam Bondi, Republican National Committee Co-chair Sharon Day of Florida and his Florida campaign co-chair Joe Gruters, among several others. But it was Pastor Webster Barnaby, a former Deltona councilman, who brought the most heat, in, of all things, his invocation prayer for the event.
Webster prayed that God help Trump overcome the media whom he called "a den of vipers," crooked people who have no love for America and who have the "stench of evil." Democrats, he prayed, are worse: "Dear God, we know this party is  evil …. They will have an awakening experience."
Trump became the first presidential candidate to address the space program in Florida, although he said nothing of substance. Space Florida was seeking to talk with his staff Wednesday, and Trump said he spoke with someone about the space program, and acknowledged its importance to Florida and the Space Coast, specifically to Daytona, in his speech.
"Look at your space program. Look at what's happening there. Somebody just asked me backstage, Mr. Trump, will you get involved in the space program? Look what's happened with your employment. Look what's happened with our whole history of space and leadership. What's going on folks? We're like a third-world nation."
He then moved into a discussion of attacks on police and terrorist attacks, including referencing Orlando and San Bernardino, without going into any detail.
"Take a look at what's going on! And then worldwide. And we let ISIS take this position. It was Hillary Clinton. She should get an award from them as the founder of ISIS," he said. "Her weakness. Her weak policy."
That brought down the house for about a minute of applause. And then Trump moved on to the next criticism.